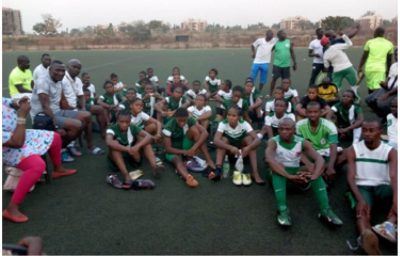 …but we will not give up – captain
By Amaechi Agbo
Head coach of the Nigeria female national Under-17 team, the Flamingos, Bala Nikyu has declared that the return leg match between Nigeria and Cameroon in the on-going Uruguay 2018 FIFA Women Under-17 World Cup qualifier in two weeks' time, is not a do or die affair.
Coach Nikyu stated this in an interview yesterday after his ladies played a warm up match with the FCT Coaches Association. The coach who described the match with the male coaches as an experience for the girls, emphasized that the team will go to Cameroon to play a good match and come back with good result adding that Cameroon is not a spectacular team.
The coach started by emphasizing the importance of the warm up game.
"There is no match that is small and there is none that is big; any time you play a match, small or big, you are using it to gain something," the coach started.
On how his girls would be able to stop the high scoring Cameroonian who had scored in 13 goals in three matches against Nigeria's 3 in the same number of matches, the coach said "Cameroon scoring 11 goals in two matches, I think if I am not mistaken, in 2016, we scored 19 goals to qualify for the World Cup, so Cameroon is not a spectacular team as people think. They happened to meet teams like Algeria. If Nigeria meets a team like Algeria, we will be counting goals. Their scoring 11 goals is not a concern for me. The match we played in Cameroon recently, if we had a better referee, we would have beaten them. I don't have any doubt about that. And even as we are going to Cameroon now, I don't even have any doubt. I am just praying that we have somebody who can stand neutral in the game.
"If Cameroon can come to Benin and score two goals, what stops me from scoring two or three goals in Cameroon? Under 20 have done that in 2014, with South African. They played 1-1 in Nigeria and went to their home and defeated them 2-0. So there is nothing that is not possible in football.
"We are going out to play. The first leg did not go the way we wanted and we are desperately in need of the ticket, so we are going out to play and get what we want," Bala Nikyu said.
Responding to a question on whether the return leg would be a do or die affair considering the huge task against the Flamingos who need to beat the Cameroonians by alone goal at least or get a high scoring draw to guarantee their passage to Uruguay, the coach stated "You can decide to give any match any type of name you want, the only thing you need is the result. Whatever they call it, that is not my concern; all I need is result. It is not a do or die affair. When you talk of do or die, you are looking for people who have guns and machetes and knives but we are going to a football field to play and come back with result," he concluded.
Oh her part, captain of the side, Obia Christiana Chinazaekpere, said her team mates had learnt from the lapses noticed during the first leg adding that they have improved in such areas especially defensively.
The young skipper, who was not unaware of the daunting task ahead of them in Yaoundé, asserted that the team was not under pressure but would not give up as they would do everything to get the ticket for Nigeria.
"In every game you have to see your flaws, where you are not getting it right and make amends and progress. We must get result in Yaoundé, it is compulsory. We have to qualify Nigeria to the World Cup.
"There is no pressure. But it is compulsory that we qualify and we are going to do that by the special grace of God.
"As players, we have to be confident in ourselves. We have to believe in ourselves. I believe by God's grace, we are going to get a good result and qualify Nigeria for the World Cup.
"We have the squad to defeat Cameroon in Yaoundé. We have learnt our mistakes from the first leg and we are improving on it. We are working on our deficiencies. Our defence line is improving. Not scoring goals is a concern for the team but the coaches are working on it and there are improvements. Like it is said, never say die or never give up. So, we will not give up here and I believe we are going. We have been qualifying and we will not stop; that is the spirit," she concluded.
The Flamingos will take on the Cameroonians in the 2nd leg last qualifying match for Uruguay 2018 FIFA Under-17 Female World Cup in Yaoundé on February 17. The ladies played a 2-2 draw with the Cameroonians on Saturday in Benin and will need an outright win or a high score draw to book their ticket for Uruguay later in the year.
Highlights of the friendly was the presentation of 25 sets of jersey by five members of the FCT Coaches Association – Emmanuel James, Joseph O. Daniel, Mustapha Mubdiyi, Bala Nikyu and Haruna Usman Ilerika.