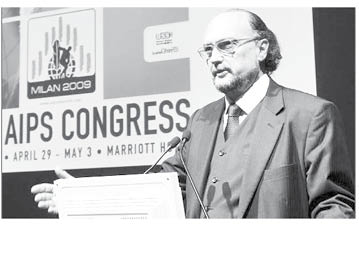 By Amaechi Agbo
The President, International Sports Press Association, AIPS, Mr Gianni Merlo has charged media practitioners particularly sports journalists across the world to rise up against forces and groups seeking to silence the unaligned media, Bestchoicesports.com.ng can report.
Mr Merlo made the charge in a speech tagged "Let's Fight Those Who Want To Silence An Unaligned Media" he sent to the Sports Writers Association of Nigeria, SWAN yesterday to mark this year's World Sports Journalists Day.
Mr Merlo who noted that every day "we must clash with those who do not accept free and independent journalism" condemned the action and postulations of those who believe that "everybody/anybody" can become a journalist just because the world has gone digital with internet making information generation and sharing a lot easier and faster.
"This 2nd of July invites us to reflect on what our future will be if we do not react to the attacks that come at us from many quarters.
"Those who have a tight grip on power, hand in hand with the great social media gurus, want to convince the public that journalists can be replaced by anyone. That the profession does not exist any longer, because everyone can be a journalist. They want us to become timid and resigned peons of information.
"Of course everyone can become a journalist, but so too can everyone become a surgeon, or a scientist. If first they study and apply themselves in order to enter the profession, or propose research. So too it is for journalism: it is necessary to study, develop intellectual honesty, practice in the field. There is no improvisation.
"Every day we must clash with those who do not accept free and independent journalism, pushing back against lobbyists that cannot afford the truth to circulate undisturbed, who use their power to silence an unaligned media.
"We are here to defend the transparency of sport, which has great social value. We must not be afraid, because fighting corruption in sport means defending civil society. Sport is also education, not just muscular exercise," he said.
World Sports Journalists Day, WSJD, is celebrated on July 2, to mark the services of sports journalists for the promotion of sports. This day has been earmarked as the official day of celebration because of its significance as the date when the International Sports Press Association was established at the 1924 Paris Olympics.
The International Sports Press Association (AIPS) was established in the year 1924 while Olympic Games took place in Paris and emphasized on strengthening the companionship, bonding and liking and disliking between sports journalists all over the globe.
Sport journalism has flourished as different kind of sports activities all over the world have taken a new shape in terms of power, wealth and influence.
World Sports Journalists Day is celebrated to urge members of the sporting media to strive for excellence in their professional work. They should grab hold of every opportunity to use sport as a vehicle for world peace, and to be fair and impartial goal. World Sports Journalists Day is the responsibility as journalists to set an example to the world. A journalist can add value not only to the world of sport, but to the world at large – to culture, to peace, and to good values.