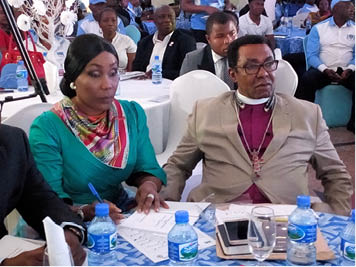 By Amaechi Agbo
In its determined effort to ensure that the fight against trafficking in persons in Nigeria gets wider spectrum via its slogan, the National Agency for the Prohibition of Trafficking in Persons, (NAPTIP) yesterday launched its new slogan in Abuja.
The launching of the new slogan was part of the agency's one-week long activities to mark this year's World Day Against Human Trafficking which holds every 30 July each year.
With the theme: Human Trafficking: Boundaries of Uncertainties; the agency through its Director-General, Dame Julie Okah-Donli said that the need for the change in slogan has become imperative so as to give the agency a broader spectrum in its fight against trafficking and slavery in the country.
In her address of welcome, the DG emphasized that the agency through the World Day commemoration against human trafficking occasion also used it to mark the agency's 15 years of establishment since July 14, 2003.
"This occasion presents us with yet another opportunity to review the journey so far. We deliberate on this issue because it is a debasement of our common humanity; an issue that concerns every community because it distorts markets, endangers public health, fuels violence and organized crimes.
"We are talking about injustice, man's inhumanity to man, the outrage of human trafficking which must be called by its true name – modern slavery.
"The theme of this year's celebration is quite instructive. Early this year, the federal government commenced massive evacuation of over 2000 Nigerians (many of whom are victims of trafficking) trapped in Libyan camps in exploitative conditions. The sore testimonies of the returnees re-echo the theme of uncertainties surrounding their departures, intensified by the gruesome experiences at destination countries.
"The condition of mind of the victims all through the trafficking phases spells uncertainties. Uncertainties of what the future holds for them in their locality or countries of origin, uncertainty of what they will experience on transit and uncertainty about what fate awaits them in their destination country. Hence, victims are trapped within this boundary of uncertainties. We must collectively work to put a stop to this bondage.
"Today, after painstakingly looking into our slogan from its current form – Empowered To Protect You we decided to adopt a new holistic one which is ENSURING A HUMAN TRAFFICKING FREE NATION," she said.
The DG added that the agency has been able to record successes in its fight against trafficking via its 5Ps strategic policy approach – Policy, Prevention, Protection, Prosecution and Partnership – that led the agency in rescuing over 13, 000 victims of trafficking in persons as well as arresting, investigating and prosecution of 359 suspected traffickers in the country since 2003.
In delivering his lecture, the guest lecturer, His Grace, Dr Emmanuel Chukwuma, Archbishop of Enugu, Anglican Communion, said that slavery and human trafficking are intertwined with almost no difference noting that human trafficking was as old as human history.
While enumerating the causes of trafficking in the country, the Archbishop called on the federal government to ensure good governance at all levels so as to curb the increasing rate of trafficking in the country.
"Human trafficking is as old as humanity. Expansion of trade in the 19th century gave rise to increase in human trafficking in Nigeria and Africa. Human trafficking or slavery can take various forms such as sexual enslavement to forced/hard labour.
"Military conscription during war is also a form of human trafficking. Illicit adoptions of children in hospitals, when nurses lie to their mothers that their children were still born. The things that cause trafficking include armed conflicts, lack of adoption and practice of total human rights, greed, unemployment, poverty and hunger.
"Human trafficking is not insurmountable. Government should be sincere with the people and render good governance. Eradicate armed conflicts, provide jobs, make food abundant, and eradicate poverty," he said.
In his goodwill message, the Vice President of the Economic Community of West African States, (ECOWAS) Mr. Edward Singhatey, who was represented at the event thanked NAPTIP for coming up with the event adding that ECOWAS is leveraging on NAPTIP to ensure total eradication of the scourge in the sub-region.
"I congratulate NAPTIP for organizing this timely and important parley on issues of clear significance to all decent persons. Human trafficking and child abuse are violations of human rights and crimes that impact on the victims in the worst way possible. The physical, psychological, emotional and economic damage to victims (mostly women and children) are a sufficient justification for our collective outrage at these violations and determination to eradicate them.
"This event offers us the opportunity to recommit to the elimination of human trafficking and child abuse as an important contribution to attaining our goals in the area of human security."
It is estimated that about 12 million people are living in slavery worldwide, and about 700,000 persons are trafficked across various international borders annually. Trafficking in persons is the third most lucrative illegal trade in the world, behind trafficking in illegal arms and hard drugs.
The United States Government in its 2017 report on human trafficking placed Nigeria in the tier 2 Watch list.
The report added that the "Nigeria government does not fully meet the minimum standards for the elimination of trafficking; however, it is making significant efforts to do so. The government demonstrated significant efforts during the reporting period by investigating, prosecuting, and convicting traffickers; conducting anti-trafficking training for law enforcement officials; and repatriating some Nigerian trafficking victims identified abroad.
"However, the government did not demonstrate increasing efforts compared to the previous reporting period. During the reporting period, credible observers reported for the first time that some elements of the Nigerian security forces (NSF) used children as young as 12 years old in support roles, and NSF continued to detain and arrest children for alleged association with Boko Haram, some of whom may have been forcibly recruited.
"The Nigerian military also conducted on the ground coordination with the Civilian Joint Taskforce (CJTF), non-governmental self-defense militias that continued to recruit and use children – possibly unwillingly and mostly in support roles – and at least one of which received state government funding.
"Government officials – including military, police, and federal and state officials – were involved in widespread sexual exploitation of Borno State women and girls displaced by Boko Haram, at times forcing women and girls in IDP camps to provide commercial sex acts in exchange for food.
"Furthermore, despite identifying a large number of labor trafficking victims, the government only convicted two labour traffickers and it decreased funding for the National Agency for the Prohibition of Trafficking in Persons and Other Related Matters (NAPTIP), including its budget for victim services. Therefore, Nigeria was downgraded to Tier 2 Watch List," the report noted.
Highlights of the commemorative event were unveiling and launching of four books two of which were written by the DG and unveiling of the new slogan.