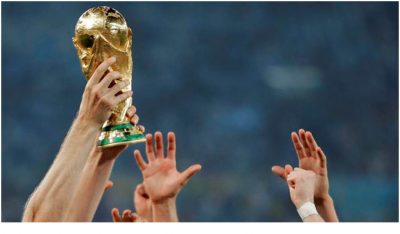 By Albert Akota
The original FIFA World Cup, which will be handed over to the captain of the victorious team inside the 80,000 –capacity Luzhniki Stadium in Moscow on 15th July 2018, as prize for conquering the world at the 21st FIFA World Cup finals in Russia, will arrive in Nigeria today.
We have learnt that the trophy, on a tour of 91 cities in 51 countries across six continents before the finals, will touch down at the Nnamdi Azikiwe International Airport aboard a chartered flight at 11am.
Officials have said that the Honourable Minister of Youth and Sports, Barrister Solomon Dalung; the Permanent Secretary, Mr. Olusade Adesola; President of Nigeria Football Federation, Mr. Amaju Melvin Pinnick; NFF Vice Presidents Seyi Akinwunmi and Shehu Dikko and; NFF General Secretary Mohammed Sanusi will have the first view of the trophy on the aircraft before it leaves the airport.
From the airport, the trophy, accompanied by several top officials of Coca-Cola's Global Office and Coca-Cola Nigeria Limited, including Coca-Cola Nigeria Managing Director Bhupendra Suri and Managing Director of Nigeria Bottling Company Georgios Polymenakos, will make its way to the Transcorp Hilton Hotel for a press conference.
The iconic prize of world football will then be on its way to the Aso Rock Presidential Villa, where President Muhammadu Buhari (GCFR) will have a feel of the trophy and deliver a welcome remark, and Vice President Yemi Osinbajo, Dalung and other members of the Federal Executive Council will view the trophy as from 4pm.
Coca-Cola Nigeria Limited officials have confirmed that there will be a dinner at the Banquet Hall of the State House for invited guests, and on Thursday, a whole day consumer viewing of the trophy is planned for the Old Parade Ground, Abuja.
The trophy and its accompanying team will then fly into Lagos on Friday morning, to be received by Governor Akinwunmi Ambode and members of his cabinet as well as NFF President Amaju Pinnick and NFF 1st Vice President Seyi Akinwunmi.
A dinner is planned for the Eko Hotels and Suites, Victoria Island the same evening, while there will be a consumer viewing of the coveted diadem at the Tafawa Balewa Square on Saturday, before the trophy departs Nigerian shores in the evening of Saturday.
This is the fourth Global Tour by the FIFA World Cup Trophy, and the third time it would be visiting Nigeria.
Meanwhile, Liberian President has also warned Ministers especially that in-charge of the Sports ministry to desist from the habit of tampering with money meant for the welfare of players during any tournament.
He expressed dismay over the attitude of African leaders who always complain when it comes to investing in sports, and thanked President Buhari for the qualification of Super Eagles to the World Cup. He said he was amazed when he met the President of France, Emmanuel Macron who spoke passionately on his sports agenda and how he plans to build capacity through sports. He said, "I have been fighting for so long for my national team to qualify. Imagine, in the world best here in Africa, the only world best.
And I said to President Macron, that FIFA built one stadium in Liberia and we have one Balloon d'Or, so if you build 10 stadia in Liberia, you will have 10 ballon d'Ors.
"I think Nigerian team is a model, we all followed them. I have played with great Nigerian players, I played against them. Now you have a new generation, the fact that they qualified is a good thing for Nigeria.
"But I hope that they will prepare very early because they are going to represent Africa and we will be there to watch them, for them to bring the trophy for the first time if it is possible.
But I think the seriousness to go to World Cup is not to pay players to go, I want every African government to know, if you win World Cup is a pride to Africa, it is not just to Nigeria, so we must do everything to ensure that the players are not stressed, make sure they concentrate, make sure their incentives are given to them to motivate them.
"Some of the things you see at the World Cup, you will see an entire team go to represent a whole country and you will hear that one minister took the money, they did not pay these players and the players are causing problem.
When players are going to camp, it is to relax and focus. And for them to be in camp they must have everything there for them not to worry. "Remember I played in European setting, when we go camp we have nothing to do. The only thing we have to do is to take a shower and prepare for the game, everything is laid down here and so you have no excuse.