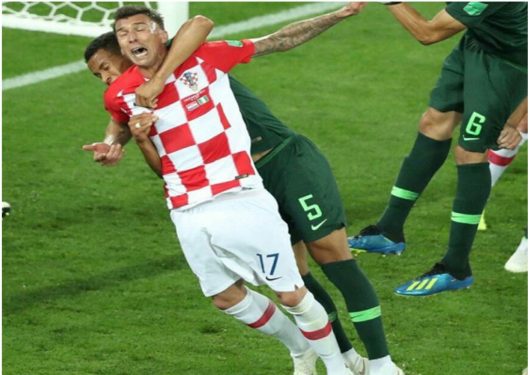 By Albert Akota
Following the lethargic 2-0 loss to Croatia in their opening game of the 2018 World Cup, the Super Eagles have been adjudged as the 29th best of the 32 teams participating at the World Cup after the first round of games.
British newspaper Daily Telegraph, in an appraisal of all the teams, rated Nigeria has only better than Saudi Arabia which lost the opening game of the competition 5-0 to host country Russia and debutants Panama who lost 3-0 to Belgium.
Of Nigeria's listless performance, the paper wrote thusly" A horrible performance from a group of players who didn't seem to grasp quite how important their opening game at the World Cup was.
Whether the manager's fault or those in green shirts, there was no urgency, no great surge to try and rescue a point, an isolated striker and full-backs who weren't allowed to get forward. Nigeria should be so much better than this."
Spain and Portugal, who played out an enthralling 3-3 draw came in first and second while Mexico, which defeated reigning champions Germany were rated third.
Nigeria will play her second game on Friday against Iceland at the Volgograd Arena. Only an outright win can keep the Super Eagles hopes of staying in the competition alive.
Meanwhile, despite the surprise 1-1 result against Switzerland, it is still Brazil, among the four favourites Germany, Spain and Argentina that looks like the likeliest winners.
Despite all the data available, it is always hard to predict who will win a football match, much less of a tournament but the Selecao with a functioning Neymar will take something special to get beaten in Russia.
Football is no respecter of ranking whether it is the country ranked No.1 versus the one ranked No. 70, there are always 90 minutes in which many things [unintended] can happen.
Brazil, under Adenor Leonardo Bacchi Title, since he was installed in June 2016, has managed 22 matches for just the one loss – a 1-0 friendly defeat to Argentina in June 2017.
In that time, his team has scored 48 goals and conceded just six goals, scoring three or more goals in 10 matches. Situated in Group E, the Brazilians should have an easy passage against Costa Rica, Switzerland and Serbia.
If they top their group, they are likely to face either of Germany, Mexico, Sweden, or South Korea. Apart from Germany and Mexico, who would be stiff opponents, the other two countries cannot [at the moment] hold a candle to the five-time world champions.
Argentina looks overly dependent on Lionel Messi, with the supporting cast paling in comparison with what he plays with at Catalonia.
Germany should recover from the 1-0 loss to Mexico though they look winded. For Spain, the squad looks like the ones who can really give Brazil a run for their money.
The dark horses Belgium, Croatia, Portugal, and England will do very well to get to the last four stage though it looks like managerial naivety will become an obstacle to some of these countries.