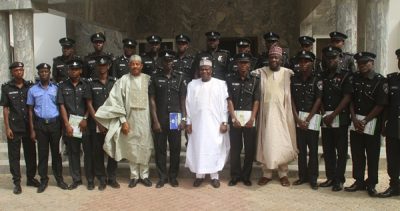 By Usman Shuaibu
Governor Aminu Waziri Tambuwal has tasked police officers of Sokoto origin who recently graduated from training colleges to play their part in changing the negative image of the police in the society.
Speaking when he received the 36 officers, made up of 17 Assistant Superintendents of Police (ASPs) and 19 Inspectors, Tambuwal commended the officers for accepting to serve as law enforcement officers.
"By agreeing to dedicate your lives to protect us, you have continued in the tradition of your forefathers from this state who have served this nation diligently.
"I urge you to refuse to be infected by anything denting the image of the Police. The entire Police structure is undergoing rebranding as such, I want you to play your part well in enhancing the image," he added.
The Governor assured all the officers that the state government will continue to cater for their interests even after their passing out from training colleges.
Speaking on behalf of their colleagues, ASP Abubakar Shehu and Inspector Yusuf Adam commended Tambuwal for his care and concern for them since from their time in training colleges.
"You visited some us while in training in Jos, and kept regular contact with others who trained elsewhere. We thank you for your efforts, and we assure you that as we start life in the Force, we will continue to make Sokoto state and our families proud," they added.