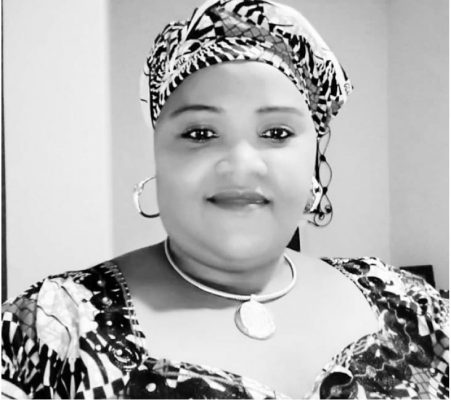 Politician and Business Development Expert, Hajiya Sa'adatu Abdullahi is the President of Northern Women Support Development Initiative, the umbrella body that birthed the Northern Women in Politics group. She tells Miriam Humbe that since its impossible to do politics without resources, women must financially empower themselves via indulging in economic activities. Excerpts:
How did your meeting with the Women Affairs Minister go?
We went to the ministry on Oct 10 which was a very special day to meet with the Hon. Minister of Women Affairs, Her Excellency, Dame Pauline Tallen. First, we went to congratulate her on her noble appointment. As I said in my speech, the President is lucky to have her as the Minister of Women Affairs. Our organization, the Northern Women Support Development Initiative deals with developing the entrepreneurial skills of the northern women. We say northern not because we are trying to be divisive, but we are trying to build up the capacity of the less privileged region. Everybody knows how the north is, economically, politically, educationally and otherwise. The women of the north are left far behind expectation. Not because there are no educated women, or politically enlightened women and so on but we are few in numbers. So the organization now has a brainchild project that is called Northern Women in Politics which comes together to support the women of the North to have a political conscious mind to be able to participate in decision making of Nigeria so that we should be able to contribute our own quota diligently. We use the Northern Women in Politics as a measuring stick, so to say to have women from the ward level, state and the national level.
This organization has people from APC, PDP, AD, APP, SDP and all other political parties. Every woman, whether you are a civil servant, politician a farmer, or housewife, if you align with our aims and objectives, then you are a member and you are welcome to be on board. If you see the calibre of women that were there yesterday, there were doctors, nurses, housewives, politicians, farmers, entrepreneurs and even the unemployed, who agreed that its timely for us to come together to pursue a goal of development of the Northern woman. The honourable Minister, being the Minister of Women Affairs, who I prefer to call, "Our Minister", has a lot to do with this organisation, being the first woman to be elected democratically as a Deputy Governor. Also, we know how she is, very hard working and down to earth, very friendly. She is a woman who knows what she is in that ministry. Am sure she will not behave like her predecessors who thought that after becoming the Minister of Women Affairs, they didn't know why they were there.
We know Pauline Tallen will not do that. Yesterday, she demonstrated that to us, and we will continue to check on her. Just as we told her that "we know that you will perform far above those that were here before". And we believe so. And fortunately enough, she aligns with our program, and she applauds the initiative and promised to be with us all the time in terms of support, advice, counselling and she immediately invited us to take part in the walk for the girl-child education that took place on October 11. Our Northern Women in Politics were there heavily represented. It was fun and we felt at home being with her and we had a fruitful discussion with her. She also unveiled some of her programs for us which includes going round the states to talk to the governors to ensure that they also give the women in their states appointments. That's what our group is about. Increased participation of women in the strategic positions of decision making in the country. Be it in the civil service, we didn't say if you don't earn it, it should be given to you just because you are a woman. If it is in the army, the police, we said by merit. If you merit it, they should not deny you because you are a woman, and they look for a man who is supposed to be two steps below you and place him above her. That is not acceptable. And by appointment, if they appoint people in governance, why can't they appoint women?
How would you rate the state governors in terms of appointments as per gender?
She told us that Lagos was the first place she visited because Lagos governor has impressed her by giving women almost 46 percent appointments in his cabinet. It was supposed to be 50 percent but something happened, one woman was dropped and then women got 46 percent, almost 50-50. We also give kudos to Malam Nasir el-Rufai of Kaduna state. He is the most gender friendly governor in the North. If you look around him, women are all over. In his cabinet, he gave about five women, Commissioners, not to talk of Special Assistants, and every appointment even at the federal that was meant for Kaduna, he brought up a woman. If all the northern governors will emulate el-Rufai, the North will be better off. Yes, we know there are some women who have disappointed us by virtue of when given appointment, they went and did something else, but that cannot be qualified for all the women because they are very few compared to the women who have performed. You can count them on your fingers, they are not up to three or four. Overall, you can say that women are excellent performers, trustworthy, and can deliver. And in our own case, we are talking about the northern woman and if our women can be elevated, then Nigerian women are elevated.
Why is your Initiative not carrying along women from the Southern parts of the country?
We also know that our southern counterparts will not feel anything by us focusing our strength on the northern woman because if we are up there, am sure they will be happy for us to see that we have also been elevated because if you look at even the Senate today, in the entire North, we have only one woman as a Senator, Aisha Dahiru. If you look at the House of Representative, you will also count how many are from the North. Not more than five. It is worrisome. If you look at the entire North West, only one woman is elected to the State House of Assembly, which is Kaduna. We have a lot to do, that is why we are coming together, coming up with this organization for women to be part of it. The Northern Women Support Development initiative has a lot of programs because you can't do politics without resources. That is why we are into developing and empowering the northern woman. Because if you want to be in office now, if you are not in the civil service, then it only has to be through politics. So if you have to be elevated to the highest status, make your business visible around Nigeria and globally. You have to be sound. You have to be educated. We are doing that. Building the capacity of the Northern woman in business. We are also building the capacity of Northern women in politics and in the civil service. We are into all these things and very soon, we are putting our women together to see, what kind of business do you do. If you are a farmer, we look into what you do and see how we can scale up your activities in farming for you to be known, first from your local government, your state and up to the national level.
What financial organizations are you liasing with to source for funds?
We are also working with financial organisations mainly, Central Bank has channelled some resources for entrepreneurship. Nobody says that you as a politician cannot be in business, because that is where you will get resources and if you have your resources and you go into politics, when people see that you have your resources, they will rally round you and start giving you their kobo to support you because they know that you. If you don't have resources, nobody will put a dime and you will be left alone running from pillar to post. You cannot contest election if you don't have money. Also, politically, we are saying women should belong to political parties. How can you belong to a political party, its by registering for a political party of your choice. If you are going to be in a party, try to work hard and be a stakeholder, either from your local government, your ward, your state to the national level. Being a stakeholder, you may seek to hold party position. This also means you will need resources because most of the time, you will have to contest for these positions. Nobody will give them to you for free, even if the party says they have allocated seats for women, you still have to struggle for it. That is why women should work hard and earn some financial resources.
How far has your organization gone in building the capacity of Northern women?
In the last three months, our women have participated in five development programs to build their capacity and their personal capacity to know how to interact with other people and their business capacity, entrepreneurial skills. We have been attending so many. We have been organising so many. Even as we speak, tomorrow, we have a line up of programs, one at the International Exhibition Centre, another one at the Nigerian Airfoce Centre. Every time, I as the President, I am on the look out. Some of our members don't know how I get the resources to put together to say okay, since the aims and objective is to develop the women so before we start getting assistance from somewhere, as I said earlier, if you are doing something, before somebody can put his money in it, he will have to see what you have achieved so far. That is why I am on the look and other members are also on the look to see whatever we can put to develop our capacity. Then people will now believe in us to say yes, these people are up and doing before they could come in and assist us and we are on it.
There is the N1.6 bn special intervention fund for women, under the federal government's General Enterprises and Empowerment Program, GEEP. What is your organization doing to access the fund?
Well we don't know the criteria for assessing that fund. With this information, we are going to work on it to see how we can access it. Having said that, I know there are other funds available, not only for women but those entrepreneurs and I also know that there is a kind of deliberate program that is created by the Central Bank through some of the agencies to build the capacity of women entrepreneurs and that we are into it. There is this Central Bank project, SS 20-20-20. NASAL has called on women to put their heads together to form a national organization that can be used to channel funds to women entrepreneurs and that is why I said earlier that women politicians have to be entrepreneurs and this body, Northern Women Support Development Initiative has registered with them and luckily, about two weeks ago, election had taken place. It is called the Federation of Women Associations in SMEs, (FWASMEs). I was lucky to be elected the National Publicity Secretary. It is an affiliation organization to which you register as a member of an organisation and we are part of it. So I know that women from this group are going to be beneficiaries of what comes through this organization but knowledge sharing is very important. I have gotten something from you which I will follow up to see how we can be part of it.
How many entrepreneurs have you made of the women, so far?
So far, from the states, we intend to do a kind of audit of what we have achieved by the end of the year, precisely in December. Even tomorrow, we are holding a meeting to review our achievements so far, that is for the third quota. But roughly, I can tell you, so far, we have been able to train over 60 women, from the national level. From the state level, we are getting it in December. That is when we will come with a a holistic number that so far, from the 19 northern states and the FCT, this is what we have achieved. And we will make a review of what to adjust and what to adopt and if there is anything to change, etc.
You seem concerned about non-inclusion of women in national issues. What are doing to encourage women participation?
Let me correct an impression. Anytime I am able to have the opportunity I always say it. There is misperception about the northern women. Generally, let me tell you. The entire north, whether Christian or Muslim, or free thinker, we have the same culture. On the culture of the north, number one is respect for the head of the family. This could be a man, your father, husband, etc. For the married women, even the Christians. I believe there is no single Christian woman who will come out of her house without her husband's knowledge. Definitely, if no woman can do that from the north, it means as a married woman, you will seek for the consent of your husband. Your husband will be happy. Personally, I feel happy to know that my husband gives me attention. That doesn't mean he will stop me from achieving my goals. When you carry your husband along in your endeavors, you achieve it easier. Let me come to politics, if you want to contest election, the women may not even vote for you in some cases, but your husband will be shoulder to shoulder with you to get his friends and family support for you. I don't believe that the women are being oppressed in the north. In the north, we have it in our upbringing, to respect our men. People only misinterpret these things. In the north, the women are very respectful. If you see some people doing otherwise, it is not a reflection of the culture of the north. I agree with you that there are women who draw back when things are happening. Some men don't even like these types of women. That is naivety and lack of self confidence. That is why we are building their capacity, through education and sensitisation.
What will you tell government as we mark the international day of the Girl-Child in terms of violence against women, rape cases?
You see, as I told you before, there was this walk for the girl child that took place. I think it's timely and government should put some kind of incentives attached to it. Let's say, if you have three girls in your house, take them to school, the first one to graduate will be given a free scholarship to go abroad for education, for example. People will be taking their girl child to school. Two, anybody that does not take his girl child to school, will be penalized with a fine. That may step up the parents to take their girl-child to school. Also, any man that marries a woman, below the age of 18_ must make sure that she finishes her secondary school. If she didn't finish secondary school from her parents house, you must sign an undertaking that she must go to school even if she is in your house. All the men that are marrying the small girls will now look at it that there is a huge burden on them. They must take their wives to school. As for the rape cases, I will advice the federal government to give capital punishment for any man that rapes a woman, be she a minor or adult or even if she is his wife. This is because I am a woman and come to think of it, a man that will go and defile a small girl or rape an adult must be a beast, because this thing that is created by the Almighty God is supposed to be between two people who are married. It is through this process that there is procreation. If you go and force yourself on somebody, then where is the love? If really, you are a human being as a man, what could be running through your head? Enjoyment? Happiness? You must be a sadist or a mad man, to have thought of doing that to a woman or a small girl.
But I have a problem with Human Rights activists. When a man is being caught to have defiled a minor or even an adult, and when they say he will face capital punishment, they will quickly come up and begin to make case for his human rights. What of the rights of that minor or even the adult woman? Even these kidnappers, if they kidnap women they must rape her. How can government allow this to happen to members of 50 percent of their population? It is disheartening. It is possible that the rapist might be sick with an infectious disease because going to rape that woman without thinking whether she is infected, you don't bother, means you also must be carrying some form of disease. Look at the trauma, and torture. For me, capital punishment is most suitable for the culprits.