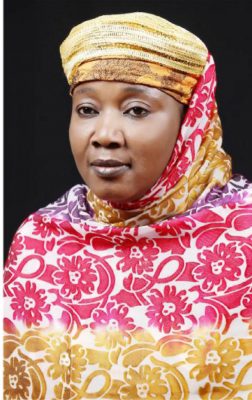 Hajiya Baheejah Mahmood, a Politician and Philanthropist, was also former Director General, Bauchi State Orphans and Vulnerable Children Home. She is presently aspiring to contest for Governorship seat in Bauchi State in 2019 on the platform of GPN. In this interview with reporters in Bauchi, she expressed why she is in the race and how she is going to contest with men. She also expressed the importance of Women in Politics. Our correspondent Ahmad Mohammed was among the newsmen she spoke to. Excerpts:
What will be the roles of Women in 2019 general election?
In Nigeria today women are the pillars and integral part of Nigerian Politics, because when it comes to dealing with human beings Women are expert in that aspect; they have a soft mind pitiful heart to deal with all humans even small children, youths and adult. For that, they have a very important role to play in 2019 general elections, ranging from mobilizing youths and adults to make a right choice and vote for credible candidate who has the interest of the society at heart; and participating in election themselves to vote for a candidate of their choice.
Every politician knows the population of women that comes out to vote during election. Secondly, since 1999 when you observed you will understand that Women play a very important role, because of the large number of Women that comes out to vote for male candidates. But most of the candidates, after election, they left women behind in terms of political appointments and delivery of dividends of democracy. But for 2019, women are now united; they said we have been electing male representatives; they have done their best, and most of them left us behind. Now let's try our own gender and see how she will carry all along; probably, our own, a woman, will address basics problems that our society is battling with since1999. Such problems include, lack of adequate provision of infrastructure for development, lack of provision of required essential social services to the people, problems of hunger, unemployment and poverty, lack of provision of quality health care service, education, and even common portable water, Take, for example, in the area of education; we are still battling with the problems of congestions in the class rooms, in some places students and pupils are still learning under the shade of trees and challenges of unqualified teachers. We are still facing the problems of malaria, maternal mortality, lack of adequate learning and instructional materials in schools. In the area of Health care, we are still battling lack of manpower both Medical Doctors and Nurses; lack of required medical equipments and lack of drugs in the hospitals. There are also other challenges such as lack of water and electricity in most of our hospitals; we have so many socio economic problems that we are still battling with since1999; even evacuation of refuse is a problem, We now feel it's time to allow women to show case their Potential and use their wisdom to rescue our State and the country at large, to address these challenges for the betterment of our society.
What encourages you decide to contest against men in 2019?
Well, I don't think majority of voters are fully satisfied with the performance of all elected representatives, especially those at the helm of affairs. If you look at the situation critically since 1999, as I told you, only men are Governors, Presidents etc. To some extent, those leaders, as I said, have done their best, we have seen their score cards; but still there is a lot to do. We now want the best hand that can address these challenges, to enable him touch the lives of majority of voters by improving their living standard through addressing many of the problems I listed before. I am coming out because of good hope and determination and desire of many Women groups to rescue our society, and they know who I am and my commitment. They asked me to contest, and after wide consultations with both men and women, youths and leaders across the State, I came out with a good vision and clear mission to rescue my state from these problems, since I will come with genuine project that will definitely touch the lives of everyone in the state by addressing societal problems that hinder our socio economic development growth.
If Allah helps me and I become the Governor of Bauchi State 2019, I will address these problems. At this juncture, I need the prayers of everyone in the State; I need the support of all to succeed and to be able to govern the state with the fear of God and just to the people. I f I became a Governor, common man will never complain of such problems again, because I will solve it for them.
If you become the Governor, do you have any project in mind that you intend to do to rescue the state?
Since the beginning of politics, did you ever heard of a Woman Governor in Bauchi State? No matter how hard working a Governor can be, there are areas where a woman can make a difference, because there are types of works that only a woman can do. To me, as everyone knows me, I specialize in the area of building a human life. Rehabilitating a human life, improving the living standard of a human being or whatever you call it. I will do my best to succeed, because I know so many ways that I will improve the living standard of people. My programmes will improve the living standard of all Bauchi People – youths, women, adults and old; because, when you look at what all the governors who governed the state did was they concentrate mostly on beatifying the state, as their projects. Ours will be a dual approach: To build the society and at the same time build the state.
We will also look at the way to create ways of getting wealth to the people, and we will boost the economics of the state to reduce hardship experienced by the people today.
Do you have any advice to the youths?
Youths are the leaders of tomorrow; they are the foundation and pillars of any country. I want them to focus on their education, both western and Islamic education. Some politicians use youths through lawful and unlawful ways and dump them; and the way they dump them that's what led them in to so many activities that are not good. They should stood their ground and resist any attempt to use them not on the right way and dump them. We want them to obtain their voters' card to enable them elect leaders of their choice. So if Allah helps us and we win the 2019 election, we will find ways to address all their problems and challenges; we will assist them to be doing something positive that will improve their living standard.