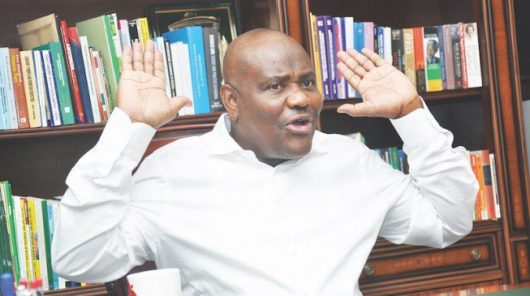 TuesdayColumn By VICTORIA NGOZI IKEANO
vikeano@yahoo.co.uk | 08033077519
In a piece I wrote last year and titled, "The language of our politicians" I outlined some of the coarse language being deployed by many of our politicians then, submitting that it was undignifying and unworthy of a human being, not least one that is a leader that other people look up to as a role model. It was at the heat of the election calendar when politicians were jostling and fighting tooth and nail for governorship and presidential tickets, hurling foul language on perceived opponents or those seen to be stumbling block to their ambitions. I wrote then in part "While it is said that hell hath no fury like a woman scorned, I think hell hath no fury like a Nigerian politician scorned or one who loses out". One is happy to note that many of those concerned have since mellowed down so to speak, jettisoned their indecent language at least in public, after the electoral and judicial conclusions of the general elections. Time heals all wounds? But there appears to be one exception which stands out. And that is Governor Nyesom Ezenwo Wike of Rivers State which is Nigeria's treasure base because of its oil and gas resources.
Port Harcourt its capital, is headquarters of the South-South/Niger delta zone. Governor Wike prides himself as governor who sits atop Nigeria's riches which wealth is used to develop Nigeria and without which wealth Nigeria cannot exist, survive literally speaking. In my reading of him from afar (I have not been to Rivers state for years) because of the 'fact' that Rivers State is the backbone of Nigeria, epicenter of its wealth he desires (and by extension the state) to be accorded a little more respect and treated somehow specially. By jove, Governor Wike and Rivers state deserve full respect. However, when the governor seeks this, (even for things that are due to Rivers) in an obtrusive, combative manner, using coarse language, he could put off people. One thought that the Rivers chief executive would have deciphered this from his experience during last year's PDP convention in Port Harcourt. He had railed against the party's officials for allegedly plotting to move the national convention venue to another state, vowing that should that happen those of them found to have a hand in it would taste Rivers' fury. Although he later apologized for his undignified outburst, not a few believed that the apology was not genuine.
Nevertheless, Governor Wike continues with his rather combative posturing to-date, behind which I suspect lay some subconscious fears within him. This ravaging coronavirus, COVID-19 pandemic apparently triggered his latent predisposition and mistrust of the federal government. He once queried why no testing lab has been set up in the state. "The NCDC is building laboratories in Lagos, Ogun and Kano without building in Rivers", the governor charged, adding, "This is a state that is exposed to several foreign and local visitors with no single federal intervention". The NCDC had before then established a COVID-19 testing laboratory to serve the south-south zone. The international oil companies rallied by the minister of state, Petroleum Timipriye Silva and the NNPC managing director had donated medical equipment and supplies to the Bayelsa State government as part of their contributions. I think Governor Wike's grouse without explicitly saying so is that these things should have come to Rivers State since it is the capital of the south-south region and the country's treasure base. As at the time of writing, the NCDC website showed that Lagos state, Kano state and the federal capital territory have the highest number of COVID 19 cases with 1,107; 342 and 278 patients respectively. Ogun state is seventh and Rivers State 17th with 14 cases.
Before then the governor had rhetorically asked why the federal government was giving some N10 billion to Lagos for COVID-19 while literally abandoning Rivers. His words, "One wonders why Federal government should single out a state out of 36 states to give support. Does it mean that support will come when a state has a record of over 50 infected persons? No state should be seen as more important than any other state. This is a federal republic; no state is superior to others". Continuing, he said that whilst Lagos is Nigeria's commercial hub, Rivers state "produces a greater percentage of the nation's wealth". Here Governor Wike is implying that Rivers should get same financial backing as Lagos if not more because the country stands to be hurt more should coronavirus overrun it. He feels that he and Rivers is being slighted. Governor Wike had earlier frowned at the federal government's decision to allocate N11 billion to the Nigeria Police stating that it should have consulted the states because the money belongs to them. Hear him, "…We will go to court. Nobody says you cannot support the police but you must get the consent of the states before taking their money… you must let me know when you are taking my money". I think Governor Wike is saying to himself here that he has to take the initiative in suing the federal government because Rivers State produces the bulk of the nation's funds from where this money was taken.
It is no longer news perhaps that the governor rejected the federal government's palliative asserting that the rice has expired. He said, "The rice has expired and we cannot go to Cross River to go and collect contaminated rice". Crux of the matter here seems to be that the governor considers it rather demeaning that the state has to go all the way to another state to collect its own allocation. Why was its share not delivered directly to it? We remember the tit-tat between Rivers state and the federal government over arrest of some pilots and oil workers flying into the state as the governor insisted on their being tested for coronavirus being proceeding further.
Nothing perhaps best describes Governor Wike's distrust of the federal government than his remark during a courtesy call to him by the new Rivers state police commissioner, Joseph Mukan, namely that Mukan would be transferred "immediately Abuja discovers he is working well". Governor Wike should disabuse his mind of this distrust, he should be broad minded and should not mind stooping in order to conquer. Also he should endeavor to be civil in the way he talks On its part the federal government should not do anything that could be misinterpreted to mean that it is slighting him.