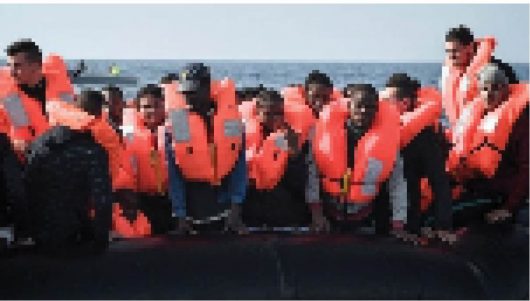 By Festus Adedayo
The execution of the Nigerian woman in South Africa recently, the arrest of another five for armed robbery in the United Arab Emirates (UAE) and the xenophobic attacks on Nigerians in South Africa are tripodal issues that call attention of Nigerians to their worth in the outside world. Eight Nigerians were earlier executed in Saudi Arabia in recent time and twenty other Nigerians are listed today on death row in the same country while many others are in various prisons in other prisons in Saudi. These are critical social issues that should bother us as a people and which invariably point fingers at the deteriorating situation down here at home. They also underscore the absence of Nigeria in the day-to-day affairs of Nigerians and why successive governments have killed thousands of Nigerians vicariously in the last decades.
The five Nigerian men were arrested in a seven-minute armed robbery said to have taken place at about midnight on March 20, 2019, at a money exchange house in Sharjah, UAE. In their 20s, they were alleged to have stolen currencies of about Dh2million in the robbery. Armed with hammers, they reportedly smashed the panel of the exchange, jumped into the safe box site and had access to the cash therein.
South Africa has over the years been at the fore front of violently bringing out muck from Nigeria's eye and derogatively hoisting it for her to see. This it does by unleashing xenophobic attacks on Nigerians living in that country. Beginning about 2015, a bloody wave of attacks against blacks stirred up unprovoked in this country that Nigeria spent millions of her patrimony rescuing from apartheid. The widespread hate was shot up by derisive racial remarks by the Zulu King, Goodwill Zwelithini, which stoked the fire of resentment against the black population in the country. The major complaint of the attackers against the black is that they had always had upper hands in job placements and were the hub of crime. Nigerians resident in South Africa are held to be in the majority, especially in an area called Hillbrow, Johannesburg. Areas most affected by the anger of the locals and victims of this hatred are said to be black foreigners in the North West Province of Brits and the Kwazulu-Natal province of Durban. A few weeks ago, three Nigerians were said to have been shot at Sands Hotel Area of Berea in Johannesburg and two of them died immediately, with one of them in a critical situation. These issues are not isolated; they are matters that crop up almost periodically in all parts of the world against Nigerians.
Since the era of brain drain under the regime of President Ibrahim Babangida when Nigerian professionals began an unprecedented exodus out of the country in search of greener pastures outside the country, there has been no let in the migration of Nigerians out of their fatherland. Virtually all countries of the world where Nigerians have constituted immense and consistent embarrassment have expressed disgust and exasperation with them. In January this year, the Czech Republic promised to pay Nigerian immigrants so that they could leave their country and never to return. Under a programme it tagged 'Returns,' Nigerians and their immigrant counterparts from Afghanistan, Iraq, Mongolia, Russia and Vietnam were cajoled to leave the country for their gross fouling of all immigration laws of the country.
A US- based research firm, Pew, in a recent survey, disclosed that almost half of Nigerian adults have indicated their willingness to leave the country in the next five years. Conducted in the year 2018 and spreading across 12 countries and tagged, "Many Nigerians, Tunisians and Kenyans say they plan to leave their countries in the next five years", Pew said "In Nigeria, Africa's most populated nation, nearly half (45 percent) of adults say they plan to move to another country within five years, by far the highest share among 12 countries surveyed across four continents."
The above are not in consideration of other Nigerians who die in the process of crossing the Mediterranean. Only recently, a report claimed that no fewer than 10,000 Nigerians died between January and May 2017 in the process of illegally migrating out of the country through the Mediterranean Sea and the deserts. The report claimed that 4,900 of them died in the Mediterranean while others died while crossing the deserts, all in an attempt to leave Nigeria and cross to Europe. Many of them, when told about the dangers in their bids to cross the Mediterranean, were quoted to have said that it was better for them to perish in the sea than to continue enduring life in Nigeria.
In saner countries, these global embarrassments by Nigerians of Nigeria should call for attention of governments and stakeholders in general. The questions to be asked are, why is it that Nigerians do not care a hoot about Nigeria? Why do Nigerians find it more honourable doing dishonourable jobs outside the country rather than doing modestly honourable ones at home? Why does Nigeria count little in the estimation of Nigerians once the issue of emigration is at issue? Ultimately, why is Nigeria absent in the life of a Nigerians?
The issues involved in this social crisis revolve round the crisis of leadership in Nigeria in the last few decades, the mismanagement of the country's resources by these selfsame leaders and the inescapable recession that has gripped Nigeria in its aftermath. All governments in Nigeria, from General Yakubu Gowon, down to Muhammadu Buhari, have millions of pints of blood of Nigerians on their hands, especially the youth who have been killed in the process of or aftermath their decisions to exit the country. Beginning with Gowon, whose myopia about the challenges of the future that is today, manifested grossly, Gowon had once said that Nigeria's problem was that it had too much money. In the Cement Armada where Nigeria lost equivalents of today's billions, Nigeria was just on a frolic with her money which ought to have been invested to take care of today. The cluelessness of Gowon's and successive military and civilian administrations in investing in Nigeria's tomorrow was one of the foundations of the current calamity which did not begin today. Successive governments, especially the Babangida government, also squandered the resources of Nigeria that were needed to fortify the future that is today of Nigerians.
Thus, the crisis we have on our hands today did not just happen today. Perhaps the most tragic aspect of it is that even today, government doesn't see that there is an impending calamity which will fall on us all, its route being the consistent hopelessness in the land. For instance, is there any particular state in Nigeria that is making any attempt at securing the future of Nigerian youths? Is there any one of them that understands that the abandonment of the youths and their future is a bomb that will soon explode? The central government is not faring better. Its policies are less than short-term and there is no manifest plan for averting the manifest danger ahead. For instance, is there anyone in government who is bothered that the various Nigerian higher institutions churn out multiple of graduates every year and there is less than two per cent of them who get employed? They are rather investing in the future of their children and wards, neglecting the future of million others.
The situation is apparently worse than we may think. Nigeria is not part of the calculation of any Nigerian, talk more of the youth who daily seek to migrate out of the country. How can anyone blame these youths who pine away daily in Nigeria every minute, with no job and future?
Nigeria is not attractive to Nigerians to live because it has become a Hobbesian world where life is nasty, brutish and short, a 17th century phrase which described the life that mankind lived in a state of war. Unfortunately, Nigerian governments and leaders do not see this as a ticking time bomb and prefer to spend the Nigerian commonwealth on elephant projects which will apparently not endure. The truth is, until governments and relevant stakeholders see these cases of killings and disaffection with Nigerians abroad as an emergency, we will continue to be embarrassed, killed and get destroyed in the Mediterranean in the process of escaping from the tragic Nigerian situation.
Festus Adedayo is a Public Affairs Analyst.