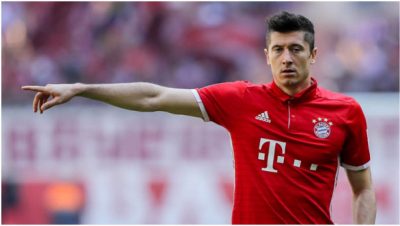 The captain of Poland's National Team Robert Lewandowski faced the cameras yesterday afternoon at a press conference and commented on whey they are playing Nigeria in a friendly ahead of the World Cup.
The Bayern Munich goal machine believes the choice of opponents, Nigeria and South Korea, for the matches in March is very good as they have been drawn with Senegal and Japan in Group H at the 2018 World Cup.
"For sure the choice of opponents was dictated by the one we drew in the group. But each team plays differently and will never find an opponent who would play the same,'' Lewandowski told reporters, including Przegląd Sportowy.
"Teams have similar styles and we hope that this will be a lesson for us what to expect at the World Cup.''
Lewandowski believes that matches with Nigeria and Korea will also allow the Polish national team to test themselves at a different level.
"We have to prepare in the same way, because it is often the case that we play with teams from the same continent. We must also focus on ourselves.
"The analysis before the game should be enough and it should not disturb us that we are playing with a rival with whom we do not meet every day.
"If the result in these matches is not perfect, it does not mean that it is bad. After the game we have to draw conclusions,'' he added.