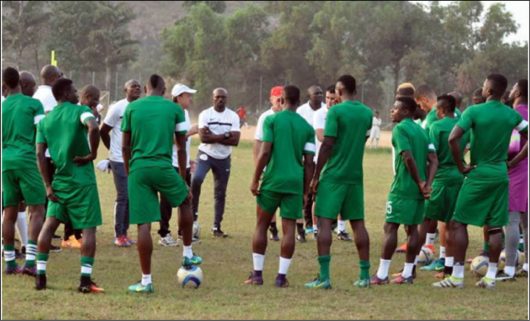 Libya will host the Super Eagles in an Africa Cup of Nations qualifier in Algeria the Confederation of African Football (CAF) has not permitted the Mediterranean Knights to play their games in Libya as a result of the political upheavals in the country and the North Africans hosted Seychelles in Tunisia last year.
According to Libyan newspaper, Al-Wasat, Libya will face Nigeria at the Omar Hamadi Stadium in Bologhine, Algiers, Algeria on October 16, 2018 and Libya Coach Adel Amrouche requested that the important qualifier should be played in Algeria and not Tunis.
Amrouche is an Algerian citizen and is counting on the support of the Algerian fans in his bid to beat the Super Eagles for the first time in his managerial career, hence his request to transfer the game to Algeria.
In addition, Omar Hamadi Stadium is the home ground of Algerian Ligue 1 side USM Alger, a club Amrouche represented in the 1990s and he managed the team in 2016 before he became the Libya coach.
Libya lead Group E of the 2019 Africa Cup of Nations qualifiers with four points, same as South Africa, but one point more than Nigeria ahead of next month's double-header.
Their first game of the 2019 Afcon qualifiers was played at the Petro Sport Stadium in Cairo, where they defeated Seychelles 5-1.
The team spokesman disclosed that they have opted against entertaining the Super Eagles in the aforementioned countries with Algeria preferred for the October 13 match.
Furthermore, the Meditteranean Knights will not be playing any friendlies ahead of their third-round clash in Nigeria on October 10.
Libya top Group E with four points, having thumped Seychelles and picked up a point away in South Africa. Nigeria, after Saturday's victory over the Pirates, now has three points but remain in the third spot.