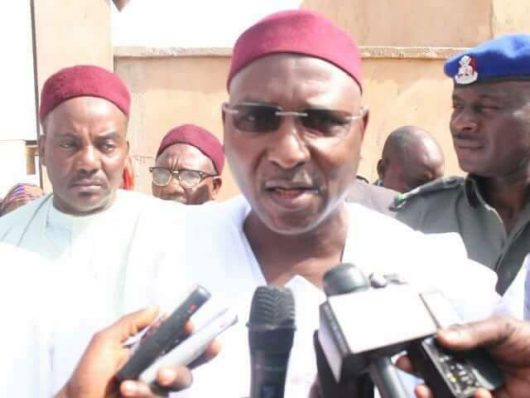 From Mustapha Adamu, Kano
The Kano State deputy governor, Professor Hafizu Abubakar has resigned from his position, yesterday.
Peoples Daily gathered that the erstwhile Deputy Governor resigned from his position as he got hints that 31 members of the State House of Assembly have signed his impeachment which would be tabled before the State Assembly today.
This newspaper reported last week that the immediate past deputy governor petitioned the police and State Security Service (SSS) alleging threat to his life and plans to impeach him.
Abubakar's resignation came barely one week after rumours went virile in the social media that he resigned from his position as the deputy governor and dumped APC – a speculation that he swiftly debunked, while he was on a state assignment in Abuja.
In the resignation letter dated August 5, 2018, and obtained by Peoples Daily, the deputy governor said he had desired to remain in office until the end of their tenure, but chose to resign due to irreconcilable differences with the governor.
"I regret to write and notify you of my decision to resign my position as deputy governor of Kano State with effect from Saturday 4th August, 2018.
"Your Excellency, I would have desired to remain up to the end of our tenure, in order to fulfill the aspirations and expectations of the good people of Kano State as expressed in their mandate given to our joint ticket in 2015, but with the current and persistent irreconcilable differences on matters relating to governance and government operations, personal opinions, and the concept of, and respect for, democratic ideals and values, it would be unfair to my conscience, to the good people of Kano State and to you as the head of the government to continue to remain in my position as the Deputy Governor of Kano State.
"Your Excellency would recall several instances I had to draw your attention to the need to understand and appreciate these differences in order to avoid drifting into the kind of unnecessary crisis we are facing today, but to no avail," the letter read in part.
Abubakar, a loyalist of former Governor, Rabiu Musa Kwankwaso, has been reportedly at loggerheads with the state governor, Abdullahi Umar Ganduje, for siding with Kwankwaso in the political impasse in the state.
The embattled deputy governor would be expected to defect from the ruling All Progressives Congress (APC) to the opposition Peoples Democratic Party (PDP) to join his political godfather, Kwankwaso, who recently defected to the opposition party.
It was gathered that Abubakar may likely seek PDP ticket for the state governorship as he would be, upon defection, the most ranking member in the Kwankwasiyya movement after his godfather, Senator Rabiu Kwankwaso.
Peoples Daily also gathered that Abubakar has been under pressure from the loyalists of the state governor, Abdullahi Umar Ganduje to resign or face impeachment.
The beliguared deputy governor, was recently heard on BBC Hausa Service saying he was suffering from political persecution by Ganduje administration over his loyalty to Kwankwaso.