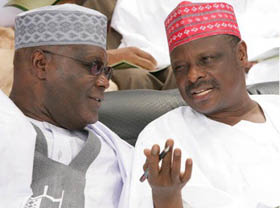 GUEST Columnist by Odilim Enwegbara
First, don't misunderstand me, I'm a realist when it comes to politics. In 2000, while in the US I supported Bush Jr. because I saw how the Clintons were doing everything to ensure that Al Gore never won because from their calculations, should Gore win and do two terms it would be extremely difficult for Hillary to come out as another Democratic Party candidate to win the US presidency.
In 2016, I continued to insist on Trump because he was telling American electorate that his government would be all about restoration of the dwindling bread and butter being taken away by China while Clinton was preoccupied with global diplomacy and reinforcement of globalization.
In 2015, I knew that a massive protest voting was going to make Buhari the president, coupled with the fact that Buhari was cleverly marketed by El-Rufia and Jimmy Lawal as someone with an impeccable leadership records.
As a result everything was cleverly done to make sure Nigerians never had the opportunity to scrutinize these carefully built falsehoods about Buhari, which Nigerians have discovered by themselves.
Thank God that PDP has truly learned from its 2015 unexpected electoral losses. I'm sure that for it to regain power from the crumbling APC, which was created as an emergency party to help Buhari win 2015 presidential election in full protest of Jonathan failure to relinquish power to the north as agreed in 2011, PDP should ensure that it's biggest masquerade a man that has national outlook and likeness.
Should PDP miss this second chance, I'm sure that Sheriff's intruction to destroy the party would be a child's play to the kind of political bulldozer that Buhari would send to ensure that there nothing like PDP after his second term.
It's in order for PDP to prevent this political tsunami from happening that that I advise PDP to ensure that this time around the best presidential candidate is elected, someone with a national appeal can trigger excitment in millions of electorate, particularly south south, south east and middle belt (north central and some parts of north east.
Of course, come 2019, PDP will win Lagos because it's Nigeria's melting pot, where 55% Lagos electorate would be divided between APC and PDP with non-Yoruba southerners, who are predominantly Igbos (from south east and south south) will definitely line-up for PDP in 2019. Middle belt indigenes resident in Lagos mostly from north central and north east would definitely vote PDP.
But all these electoral excitements are only possible if and only if PDP presents it's biggest and politically smart masquerade.
I've looked at all the contestants so, Atiku remains that masquerade that has both the experience and that will excite Nigerians from all the geopolitical regions of Nigeria.
Kwankwanso no doubt will get the whole Kano and some parts of north west, but will have difficulty mobilizing southern electorate in particular. Of course, he will get a large chunk of middle belt. North east, with the exception of Taraba, I wouldn't see him beating Buhari.
Tambuwal will grab Sokoto and Kano possibly, but because his political position on issues like restructuring, I wouldn't see him mobilizing southerners.
Makrafi is a gentleman who has done well for PDP during the battle to rescue the party from Sheriff who was acting APC script, but he will have difficulty to prove his status as big political masquerade.
He is completely unknown to the south. So selling him to southern electorate will be difficult. And this is not the right time, when PDP needs to unseat a sitting president with all the incumbency power to be deployed by the desperate Buhari.
Saraki is a smart politician, but this is not the best for him to contest against Buhari. If I would advise him I would ask him to support a big masquerade like Atiku and wait for the next time power will return to the north and make the move which Atiku who is known to never forget old friends would then support a Yoruba from North central since by then both north east and west have had their turn of occupying the presidency.
Once Buhari is dislodged and APC collapses as a result, with Tinubu withdrawing from partisanship, and Buhari no longer there as the mover of the northern electorate, the likes of El-Rufia, will politically disapper and the house of APC built on two power blocs of Buhari and Tinubu will collapse without any rise again on Nigeria's political landscape.