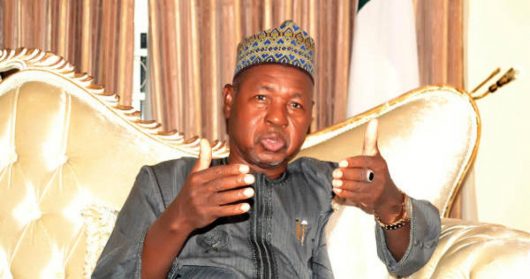 Governor Aminu Bello Masari of Katina State had last Saturday flagged off his second term campaign in Funtua and presented campaign flags to local government coordinators in the state. Later, he spoke with few selected politics editors of various newspapers. Ali Alkali is among them. Excerpt:
Campaigning for Buhari
I can campaign for President Muhammadu Buhari in Katsina and, however small, at the national level. Luckily enough for me, I was Speaker of the House of Representatives from 2003 to 2007. Within that period, I had the opportunity of meeting over 360 House of Representatives members. I visited all their constituencies before the end of our tenure and we maintained cordial and good relationship with most of them. I can safely say that I have a very wide reach, in terms of people I know within the political circle and business community.
In fact, as Speaker, I had the opportunity of meeting all the first class traditional rulers of this country. The Oni of Ife gave me the traditional title. I had one from Osun, Port Harcourt, Eleme Kingdom, Abakaliki, among others. I also had the opportunity of meeting religious leaders, both Christians and Muslims, and I still maintain cordial relationship with them.
I also had the opportunity of meeting labour leaders, as I played a role in resolving some of their issues. Some of them are still in the system. In fact, when I was campaigning to be Speaker in 2003, I went to Nigeria Labour Congress.
That's when I first met Adams Oshiomhole, who asked why I came to NLC, when I know it does not have a vote. I told him that he does not have to be a voting member to be a stakeholder, as the NLC comes to the House for legislative concerns.
I met other stakeholders, including the Nigeria Guild of Editors and Newspaper Proprietors. I went round and reached critical stakeholders and everybody I could possibly reach, because I know that you gain more by establishing relationships than by not establishing relationships.
When President Buhari was campaigning under CPC, there is no state we went to that I did not meet people that I knew and people who knew me; without my even knowing them.
Therefore, when it comes to how I can assist the president, I think that the friendship I have built across the country will help. I recently met with some Senators and former colleagues in the House in Bui. Some of them were in the Constitutional Conference with me in 1994/1995; and I met and recognized them. So such connections come handy in this politicking time.
On his Second term bid
People usually ask why 2nd term? I ask why not a second term?
I am going for a 2nd term because in our 1rst term we came up with a restoration agenda – to restore the lost glory and pride of Katsina State. Consider Education for example: Even before the coming of Whiteman, the first Islamic institution that was built in this country was in Gobarau, which is over 1,000 years old now. So, Katsina was only second to Timbuktu, in terms of Islamic education at that time. So, when the colonialists came, they found this level of education in Katsina and found the people very receptive of education.
That's why there is the first post primary institution in Katsina in the Northern part of the country.
But unfortunately, If you look at the WAEC and NECO results, by 2015 when we came in, Katsina was among the last three in terms of academic performance. So, we have lost it. The people of Kaduna cannot compete in federal appointments, businesses, academics, name it, while in Katsina over 40 years ago, we had a pilot from Daura who was piloting 747. I think he died last year.
If you go to the members of the armed forces, you could see the array of Katsina people, the same in the judiciary and higher institutions. But this is declining seriously. So, the best we can do is to lay a solid foundation that will recapture, especially the area of education, because it is critical.
What we call Katsina State was Katsina Province, made up of Daura Emirate and Katsina Emirate. At that time, Daura Emirate, which was brought back from Kano and Katsina brought from Zaria, were joined to form Katsina State from Katsina province.
All our education, health, judiciary institutions, police and prisons were being run by the native authority, including the bureaucracy of the native authority. Agriculture and livestock was the revenue. So, if it was like that 40 years ago, who says it can't it be like that today? The only place we had problems, just like in other parts of the country, probably, to a large extent, except South-West was leadership. We have declined in the quality of leadership. It was not that particular in the South-West.
The educational foundation laid by Chief Obafemi Awolowo was what gave South-West an edge over others. You can't be in serious business or telecom without education. We have the largest population in the Northwest, but if care is not taken, it will be a liability in population.
Plans for Katsina
People have accepted what we are doing as a party; that is why they turned up en mass for the presidential flag off campaign in Uyo. As a leader, you have to be sincere with your people. Dishonesty partly kills leadership in this country. Leaders don't have trust, as they tell lies. What we are trying to do is to match our words with action. The time has come for us to answer what we promised the people of Katsina State. We cannot do it in a crowd. We will go to local government by local government. In 2015, I slept in almost all the 34 local governments in Katsina. People have recorded me and they are bound to ask me questions about what I promised.
Achievements
There were many achievements we are proud of. But our greatest achievement, to be specific, is what we have done in education.
Before we started, we commissioned a committee that visited all the primary and secondary schools in the state, checking the population of students and the qualification of teachers, to know who are teachers and who are not. We generated a report sponsored by DFID and other donor agencies, under the University of Abuja. Luckily enough, one of the research fellows was Professor Salihu from Katsina State. He availed me the complete copy of their assessment. Our state was one of the states they visited and took samples of the quality of teachers. Over 60 percent of the teachers they tested could not pass the test of the class they were teaching. Primary four teachers could not answer the questions meant for primary four pupils. I tried it myself. I visited a primary school and met a teacher teaching Hausa. He asked the students about 7 Hausa states and 7 Banza states. They could not answer; and he, too, could not provide the answer.
We looked at the infrastructure levels in the schools; and they were discouraging. All the walls had broken down and what was left of the foundation was breaking, because the DPC was not done at all. When you don't do DPC and then do flooring, it means even rainfall will break it.
In order to admit 50 students per class, we decided to have additional 13, 000 classes in Katsina State, across primary and secondary schools, apart from those that were rehabilitated. As for shortage of teachers, we are looking for over 16, 000 teachers in all subjects for primary and secondary schools. These figures are in an ideal situation, which may be difficult to get at the best of times; because, even if you have the resources, you may lack the manpower, as teachers need to be trained.
Not everybody is a teacher. You may have the qualifications, but may lack the principles. We are looking at 58, 000 chairs and tables to replace the shortages, especially the staff. We have many schools in the state without a single desk or chair. We have to measure how far we have gone.
I know we have provided more than 38, 000 seats. We have rehabilitated over 1, 024 schools and built over 726 additional classes for the primary school alone. We deliberately selected Girls Secondary schools in Katsina and renovated 8 new classes, built new dormitories, built kitchens and toilets for them, because they are schools where the girls were defecating outside, because all the toilets had collapsed.
We replaced all the teachers who retired. We did a survey in the local government system and removed over 723 graduates and transferred them to the Ministry of Education. We employed 1, 950 teachers and we are now replacing on quarterly basis. Even now, we are replacing about 58 retired teachers. Despite the fact that we had recruited over 1, 000 teachers for primary education, but we were not still getting the figures. We decided to start borrowing from what the Federal Government was doing in the N-Power program. We started to pay any NCE or Diploma holder in education N20, 000 per month. We replace any retired teacher with any N-Power graduate who has teaching qualification. When the graduates complained, we decided to recruit between 2, 000 to 3, 000 of them who have qualifications in education, especially Education English, Education Islamic Studies, Education Hausa, among others and we paid them N25, 000. We used them as a reserve for replacing retired teachers.
We have bought all instruction books for teachers in all subjects. We spent over N700m in purchasing all these instruction materials.
Renewing pledge
We are renewing our pledge. We will give the people our scorecard and unveil what we are going to do to them; because we have to say what we did in the last four years and what we hope to achieve in the next four years and give them our target. In education, we realized that parents are not taking interest when they say it is free, when it is not. We decided that government will pay for the WAEC and NECO of a candidate who scored a certain number of credits, but government will not pay if you repeat. If you take a chance by registering yourself and you pass, government will refund you. We have reached 87 per cent in terms of WAEC for those who have 5 credits, including English and Math. What we had when we came in was 10 to 11 percent, including our children who are in Lagos, Kaduna, Abuja, Port Harcourt. Once they put Katsina state, WAEC will give the pass mark and we will distinguish the figures. When we removed all the people from private school and discovered that the public schools have over 40, 000 to 50, 000 that are being presented for exam. but we have 3 percent exam success. Are we not breeding insecurity?