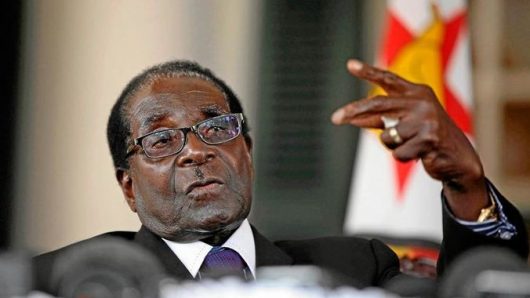 Monday Column by Emmanuel Yawe
royawe@yahoo.com | 08024565402
Last week, a news item which was first put in circulation about a year ago by an obscure website, The Zambian Observer was again in circulation. It proclaimed that "President Robert Mugabe Dies at 93."
My friend of many years, a patriot and conscientious journalist Nandi Bette was caught off guard. He gave the news item wide circulation on his facebook page. When he later realized that the news was fake, he offered a spirited apology.
Robert Mugabe is a man the world will not forget in a hurry even though many will and are wishing him dead even as he is alive and kicking. This is the man who made history in 1980 as the second person in this whole wide world to fight an election – in a western style democracy – on a Marxist-Leninist manifesto and win. The first person to achieve that historic feat was Salvador Allande of Chile.
Mugabe was born into a poor Shona family and after an education at Kutama College and Fort Hare University worked as a school teacher in Southern Rhodesia, Northern Rhodesia and Ghana. Angered that Southern Rhodesia was a British colony governed by a white minority, Mugabe made an anti-government speech which led to his conviction and imprisonment between 1964 and 1974.On release from prison he fled to Mozambique, embraced Marxism and joined African nationalist protests calling for an independent black-led state. He established his leadership of ZANU and oversaw ZANU's role in the Rhodesian Bush war, fighting Ian Smith's white government.
As the war raged, there was international outcry on the loss of human life and a call for a negotiated settlement. He took part in the peace negotiations brokered by the United Kingdom that resulted in the Lancaster House Agreement. The agreement dismantled white minority rule but gave special protection to lands forcibly acquired from black Africans by the whites. Mugabe under heavy pressure from General Olusegun of Nigeria reluctantly signed the agreement on conditions that the United Kingdom would provide the funds to buy back the lands from the whites and redistribute it to the dispossessed poor black Africans.
This resulted in the 1980 general elections in which Mugabe contested on his Marxist-Leninist platform and won. He became the country's Prime Minister from 1980 to 1987 but worked to change the constitution and become President giving himself more powers after the British reneged on their promise to provide the funds for land redistribution.
Mugabe's administration in its first few years achieved a lot. He expanded healthcare and education and despite his Marxist rhetoric and professed desire for a socialist society initially adhered largely to orthodox, conservative economic policies.
But the fundamental problem of land remained unresolved. Frustrated at the refusal of the United Kingdom to provide the promised funds and slow rate of land redistribution, Mugabe encouraged the violent seizure of white-owned land. Food production was severely impacted, leading to famine, drastic economic decline and international sanctions.
But to many of us who attended Nigerian Universities in the 70's Mugabe remains the authentic revolutionary hero of the African liberation struggle. In those days, what made university life lively was not membership of cult societies as it is today but the war of liberation, particularly in Southern Africa. Zimbabwe, then known as Rhodesia was a complex situation. At the University of Ibadan where we had a large body of black students from Rhodesia, they kept briefing us about the fast-changing situation of the struggle in their country.
Unlike South Africa which was united by the almost cult personality of Nelson Mandela who was then imprisoned on Robben island, Rhodesia had a horde of liberation leaders, often contradicting themselves as they jostled to get the front seat once the Ian Smith racist regime expired. There was Abel Muzerewa, Ndabaninge Sithole, Joshua Nkomo and a host of others. But the situation became suddenly radicalised when Robert Mugabe joined the lot. He was tough and uncompromising, the ideal man we the students wanted.
We knew instantly that he was going to help free Zimbabwe from British colonialism, imperialism and white minority rule. This he eventually did to our great relief and that of those who believe in a free non-racial society. Bob Marley the great Reggae musician was in Harare to sing that hit song in which he said that "every man has a right to decide his own destiny". But as the years rolled by Mugabe became increasingly isolated as he was accused of being a dictator and responsible for economic mismanagement, widespread corruption and crimes against humanity.
But his greatest undoing was that which has befallen all great men in history. It began from Adam who was given the forbidden fruit by his wife Eve in the Garden of Eden; Samson who was a victim of Delila, the beautiful prostitute; Mohammed Ali who kept boxing till old age to make enough money to pay for the women who married and divorced him so as to chop his money. Mugabe's wife Grace sought to take advantage of the revolutionary hero who was now lonely and almost senile. She wanted to manipulate her way and succeed him as President.
In the midst of all this confusion, Mugabe made the costly mistake to sack his longtime ally and potential successor Emmerson Mnangagwa thus paving the way for Grace, his secretary turned wife to succeed him as President. The army moved in to prevent the creation of a Mugabe monarchy by forging an alliance with ZANU- PF and forcing Mugabe to resign and make way for a Mnangagwa presidency.
Still, this non-heroic exit of the great revolutionary leader does not make him a villain. He came, he saw, he fought, he conquered. Those white-supremacist whom he chased out of power and some out of the great country Zimbabwe will certainly want him dead. But they are not God.
Robert Mugabe is my main man, any day.