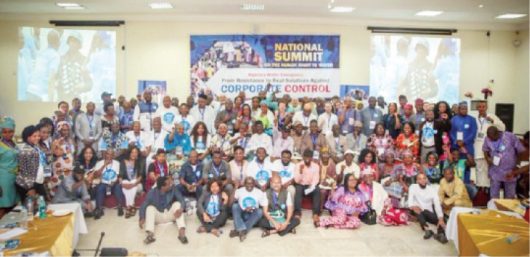 By Mashe Umaru Gwamna
On Tuesday, participants from over 150 countries across the globe converged on Abuja for a two-day National Summit on the Human Right to Water.
The stakeholders came together to discuss and find solutions to water privatisation schemes that have largely cut poor people off a basic human right and thrown their nations into debts .
The summit was organised by the Environmental Rights Action/Friends of the Earth Nigeria (ERA/FoEN) in conjunction with Corporate Accountability, Public Services International and other groups on the platform of the Our Water Our Right Coalition.
Consequently, the theme for National Summit on the Human Right to Water is titled "Nigeria's Water Emergency: From Resistance to Real Solutions Against Corporate Control". They said despite growing remunicipalisations as a result of failed promises by pro-privatisation forces, promoters of privatisation such as the World Bank and International Financial Corporation (IFC) have non challant attitudes, as such, advocates must bond together to stop them.
Speaking, the Executive Director African Centre for Leadership, Strategy & Development (Centre LSD), Dr. Otivie Igbuzor in his key note address titled: "The Nigerian Water Crisis and the Imperative of Rights-based Solutions", said that the July 28, 2010 General Assembly of the United Nations recognition of water and sanitation as basic human right entitles everyone to sufficient, safe, acceptable, physically accessible and affordable water for personal and domestic uses.
Igbuzor, stated that " the rights to water and sanitation, including that government will making laws to ensure that providers or individuals comply with human rights standards related to the rights to water and sanitation".
He said that the involvement of the private sector in water and sanitation issues since the late 1980s supposedly to enhance access has only increased the cost of water services since private firms charge full costs and must pay taxes and earn a profit.
He pointed out that, the claims that privatisation would actually enhance service delivery compared with the public sector has been proven false and not supported by evidence emerging from cases in Africa, Europe and Latin America where private sector participation was strongly promoted.
"On the contrary, private sector participation has led to rising social inequality and the weakening of democratic governance and substantive citizenship in the management of water and sanitation services", Dr. Igbuzor maintained
According to him, water is very important for life and human survival, the challenge is that the poorest of the poor do not have access to clean water and sanitation, hence a global water crisis and a Nigerian water crisis.
According to him, the Nigerian water crisis is exacerbated by the crisis of the Nigerian state which has gone beyond mediating the competing interest of elite groups or being an instrument of the ruling class to become an instrument of deception.
He also expressed worry, over what he termed a dysfunctional and deceitful Nigerian state with crisis in all the sectors: Political, economic, social, educational, health, water, among others.
He further said that since the UN has recognised water and sanitation as a basic human rights, the state has the obligation to respect, protect and fulfill the rights of their citizens to water and sanitation.
Earlier in a welcome address, Chair of the Board of ERA/FoEN, Nnimmo Bassey, said access to potable water remains a challenge to all humans on this blue planet earth, irrespective of race or locational space.
He argued that both the climate change and the water crisis were caused by individuals, governments and cooperations.
He said that the campaign against the privatisation of water has recorded notable milestones since the Lagos Water Summit that held in 2015. "They include the growing synergy between labour and civil society organisations in resisting water privatisation and the expunging of anti-people sections of the Lagos Environment Law following opposing views by the Our Water Our Right Coalition in 2017."
Bassey revealed that beyond Lagos which the private water industry was interested in grabbing as a poster child, other African nations are also being primed for water privatisation.
He said privatization has been the death of social service and now that the institutions and services to be privatized are dwindling, the drive is now to grab the very basis of live, which is the privatization of water and even the whole ecosystems through land and sky grabbing.
"There are strong lessons to learn from other African countries and elsewhere. After tasting the bitter waters of privatization,Gabon is being threatened with litigation as it plans to remunicipalise its water. Cameroon has take back its waters for decades of failed privatization promises and is now being pressured to go that path again".
He emphasized that "our water must be defended from community,national and regional levels. We have now reach a critical point where we cannot relax."
In his goodwill message ,the Second Special Rapporteur on the Human Rights to Safe Drinking Water and Sanitation, Leo Heller, emphasised that clean and safe drinking water is the right of every human being. "So it has be accessible and all the processes should be transparent and should not affect the populace.
"The people deserve their rights to potable drinking water and they should not be denied such rights".
On her part, Ms. Shayda Edwards-Naficy, the Senior Programmes Director, Corporate Accountability, noted that water crisis was a global crisis, saying there was the need for governments to prioritise access to potable water and sanitation facilities.
According to her, there is the need for all civil society groups to fight to promote human right to water.
"We are here to speak with one voice against privatisation and call for strong support for public water systems.
"We believe that the water problems that communities, states face are global in nature; there are struggles around corporations that stand against human rights across the globe, so we need to work together.
"Water needs to be in the hands of people, not corporations, movements around the world are demanding an end to the corporate control of this vital resource; it's time."
She said that there was presently a global solidarity to campaign for water justice for all, calling for governments and the World Bank to the heed calls and end the promotion of water for profit. That summit also had various sessions where grassroots groups from Lagos, Flint and Pittsburgh in the United States and India learned and shared experiences.
Mr Taiwo Otitolaye, the Executive Director, Community Outreach for Development and Welfare Advocacy, an NGO, urged Nigerians to resist the privatisation and commercialisation of water.
"We must resist the privatisation and commercialisation of water; and in unison work together to realise clean, accessible and affordable water for all citizens, no matter where they reside. Water is a human right issue.
"Research across the states in Nigeria confirms a yearly recycle budgets on water by most state governments without utilising the budgeted funds for providing water to communities,'' Otitolaye said.
Mr Mukaila Babarinde, the Head, Climate Change, Federal Ministry of Water Resources, noted that the role water played in all sectors of human development "cannot be over-emphasised''.
He underlined the need for stakeholder collaboration and advocacy to sustain momentum to improve access to potable water, saying that Federal Government could not do it alone.
Babarinde said that efforts of government to improve access to potable water include the completion of abandoned water projects in the country and inauguration of the Partnership for Expanded Water Supply Sanitation and Hygiene programme.
He urged state governments to step up efforts to reticulate water from completed dams across the country to help in making water available for the populace.