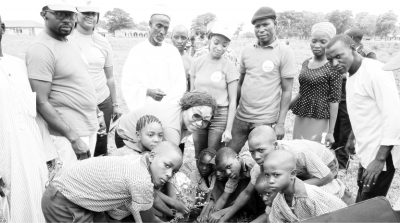 By Stanley Onyekwere
It was exciting exposure to environmental protection knowledge and skills when Non Governmental Organisation (NGO), Purplehands Empowerment Initiative, last week's Thursday took tree planting awareness to women and youth in Igu community, Bwari Area Council, of the Federal Capital Territory (FCT).
The environmental awareness campaign, which was part of a week-long activities to mark the this year's world Environmental Day, was organised in collaboration with the Abuja Environmental Protection Board (AEPB) and FCT Parks and Recreational, so as to regenerate and renew the environment.
At the event held at the LEA Primary school, Igu community, Bwari FCT, several speakers enlightened the women, school children and community leaders on the dangers of cutting trees without commensurate replanting effort, in the wake of the ravaging climate change.
In her remarks, Founder of the NGO, Max Nduaguibe Brenda, noted that the importance of tree planting cannot be overstated, as trees release oxygen and take away bad gasses that pollute the air.
Max said that the programme was in tandem with this year's world environmental Day theme, which was beat air pollution.
According to her, the Purplehands is an NGO that advances the course of women, youth and children in rural areas, which explains what they have done, by creating enough awareness about tree planting.
"We are here to replant trees, because most of the women in the community fells trees for a living, so it means that trees in forest are being cut down just for fire wood.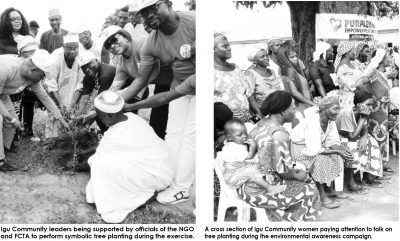 "While we are preparing alternative for them, we are teaching them replant these trees that have been cutted so as to regenerate and renew the environment. Being conscious of the fact that trees help check air pollution," she stressed.
Also speaking, AEPB Director, Baba-Shehu Lawan, who was represented by a senior staff from the Department of Environmental Conservation, Achesta Anita Ibrahim, said protection of environment is everyone's duty.
He opined that continued protection of trees which are source of livelihood promotes good living conditions for the people.
He assured that AEPB will continue to protect Abuja environment through proper sensitization and enforcement efforts.
On his part, District Head of the area, Tanzako Solomon, while describing the exercise as a welcome development, promised that the community leaders will intensify efforts to discourage people of the area from cutting trees for fire wood and charcoal.
According to him, said the awareness campaign will go a long way to instill culture of tree planting in their younger ones, women and other residents of the area.
The District Head however made a passionate appeal to the government to come to the aid of rural dwellers in providing alternative environmental friendly sources for cooking, which will help reduce the menace.
Not left out, speaking on behalf of the women, Maimunat Dan-Ali, who identified herself as women representative, attributed the tree felling practice to lack of environmental impact and protection knowledge among rural women.
She added that because of prevailing economic conditions, many women cut trees for economic and domestic purposes, as they could not afford other energy sources for cooking.
"As we have observed the tree planting method, so we are going to continue practicing it and teach our children to do so, so as to ensure that we have a good environment.
"Apart from we that are here today, we are going home to circulate this environmental protection knowledge to everybody particularly women, to encourage them to practice it too.
"However, it's with the same fire wood and charcoal gotten from the trees that we sustain ourselves in the community, but now that we have seen the value of trees, we are going to stop cutting them.
"We are poor, so, we need government to come and help us in our community, by providing things that can help us to cook and fend for ourselves, then we will try to avoid cutting trees," she stressed. Even