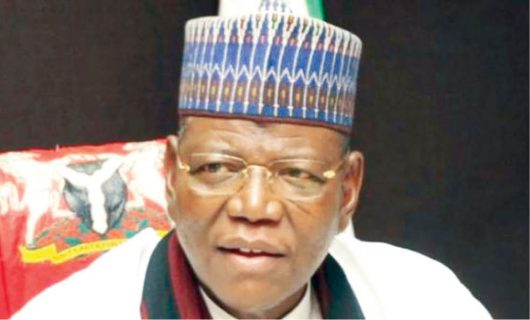 By: Adamu Muhd Usman.
When Sule Lamido took over power in 2007, Jigawa was at the peak of political, social, economic and even mental degradation. You cannot imagine seeing the condition of our schools, hospitals, roads and other infrastructures which were in total state of dilapidation. But within a short time Lamido restored a new social life for the people by providing succours that change the social, economical and mental thinking of the people of the state.
Even though, Sule Lamido is not a sectional leader but he did his best to promote and unite the northerners. For example, he appointed his first adviser on media who is from Benue state, an Idoma man and a Christian by religion. The first pioneer, Vice-Chancellor of the state varsity "Sule Lamido University, Kafin-Hausa" Professor Abdullahi Ribadu is from Adamawa State. None indigenes were giving scholarship and plot of lands to build even the security, free medical care of pregnant women and children under five none indigenes were beneficiaries under Lamido's administration.
Sule Lamido named some important places in the state after some prominent northerners. Ahmadu Bello Hall, the event center Malam Aminu triangle, Yakubu Gowon NYSC Orientation Camp and sport complex, Abubakar Rimi & Inuwa Dutse housing estates and Bilyaminu Usman College of Agriculture, Hadejia etc.
Sule Lamido is truly a patriotic Nigerian because he has been working for Nigeria to be united, efficient and great for over four decades. He was never accused of bigotry, nepotism, tribal/religious/regional or sectional sentiment. He undergo political witch hunt, intimidation, victimization, deprivation, oppression and humiliation in the process of bringing back democracy and its values in place and he was jailed severally especially during the military junta because of political and democratic struggles.
Sule Lamido supported a Hausa/Fulani man, Malam Aminu Kano of Peoples Redemption Party (PRP) in 1979. Lamido supported an Igbo man, Chief Nmadi Azikwe of Nigerian Peoples Party (NPP) in 1983 to be Nigerian president. He supported Olu Falae a Yoruba man to be Nigerian president under Social Democratic Party (SDP) in 1993. Lamido also supported Chief Olusegiun Obasanjo under People Democratic Party (P.D.P) in 1999 and 2003. Lamido also supported the Late Yar'adua in 2007. He supported Jonathan, an Ijaw man from the South south in 2011 and 2015. Also after Lamido lost to Atiku in the 2019 presidential aspiration, Lamido supported and worked for Atiku Aubakar to be the Nigerian president in 2019.
Lamido named a G9 quarters after prominent Nigerian politicians who initiated and struggled to form PDP and to bring back democracy in place from the military regime during Abacha's era in 1998. These are: Late Rimi, late Adamu Chiroma, late Solomon Lar, late Bola Ige, late Alex Ikweme, Ela, Ayu, Jerry Ghana & he himself, Sule Lamido.
Some places and streets were named after some prominent Nigerians like IBB, Abdussalami, Ahmadu Bello, OBJ etc and the G7 governors, governor Babangida Aliyu of Niger, Abdulfatah of Kwara, Murtala Nyako of Adamawa, Amaechi of Rivers, Wamako of Sokoto, Rabiu Kwankwaso of Kano and Sule Lamido of Jigawa state. They former governors who served the state were not left behind: Barr. Ali Sa'adu, Maimalari, Ibrahim Aliyu, Olayinka Sule, Rashid Shekoni and Sen. Saminu Turaki
Lamido has dined, but not wined, with the high and mighty all over the world. There is nothing he has not seen. He will keep on working for Nigeria to become efficient and great. These are some of the culture he imbibed, learnt from the Late Malam Aminu Kano and he is not going to depart from it." Lamido has made a lot of sacrifices for this country, Nigeria. His contributions have re-united and re-awakened Nigeria. And his agitation for change will continue as an act, dream and commitment
Thank you Sule Lamido for keeping history alive. You will always be remembered for the struggle you undergo, the hardship you encountered, the contributions you offered, the sacrifice you made, the institution you built, the legacies you left behind and the achievement you made.
You are truly the best Jigawa governor, a noble one northerner, a patriotic citizen, a genuine and reliable Nigerian politician.
Adamu write from Kafin-Hausa, Jigawa state amu3333@yahoo.com