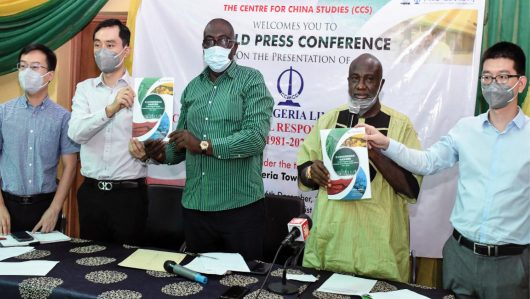 Corporate social responsibility (CSR) is defined as the act of incorporating environmental and social concerns into a company's planning and operations. These programs center around the idea that businesses can make the society better by reducing their negative social and environmental footprint on the world. The host country or community that hosts these companies benefits most from corporate accountability of any firm. Firms fulfilling its corporate social responsibility show their responsibility and responsiveness.
It was based on this that China Civil Engineering Construction Corporation Nigeria Limited, a firm known for its astuteness presented its CSR report to the public starting from 19 81 when it first started operating in Nigeria, Ochiaka Ugwu was there for Peoples Daily.
Addressing the press in Abuja Wednesday on the issuing of the first CSR report, the Deputy Manager, CCECC Nigeria Limited, Mr. Han Shuang said that since entering the Nigerian market in 1981, CCECC has actively responded to local market demands and fully deployed its resources and business strength in providing Nigeria with high-quality services relating to infrastructure construction.
He noted that CCECC has launched businesses in 29 states across Nigeria, covering railways, airports, highways, bridges, municipal projects, housing projects, water projects, and so on maintaining that it has successively undertaken and completed many key infrastructure projects in Nigeria as one can find in the Social Responsibility Report.
His words, "We are earnestly devoted to local development. Through near 40 years of development featuring win-win cooperation, CCECC. Nigeria has proven to be a truly reliable partner willing and able to support the prosperity and development of Nigeria.
"We help Nigeria build high-quality infrastructure projects and provide quality services to local areas, and continue to deepen China-Nigeria cooperation under the Belt and Road Initiative. "Insisting on localized development, CCECC Nigeria employs and trains thousands of local staff with great effort. We have realized win-win cooperation with local suppliers and subcontractors, supported local communities in improving livelihoods, and established close and deep ties with local people.
"We pride ourselves in integrity and compliance. We strictly abide by local laws and regulations, act in line with business ethics, protect the ecological environment, and integrate social responsibility concepts into the corporate management system.
"In the future, we will continue to remain a true friend and good partner of Nigeria and contribute to the sustainable economic and social development of Nigeria. CCECC will always stride with Nigeria towards a Better Future" he concluded.
Presenting the report formally, Chief Okey Jim Nwagbara, a consultant with CCECC said the company came into existence some 40 years ago and has remained largely unsung for its giant strides and contributions in the construction Industry to the physical, social and economic development of Nigeria compared to its contemporaries.
He said report is significant and symbolic to the theme of the event: "Striding with Nigeria towards a Better Future".
"The figure 40 in some esoteric traditions represents stability. And in the circumstance of this event that signifies CCECC Nigeria Ltd stability of developmental strides of Nigeria.
"The images depicted in the pictures shown on the Cover of the Report signify representatives of the areas of Company's corporate physical, economic and social contributions to the developmental strides of Nigeria over the long period".
Nwagbara said in promoting common development with sincere Action, CCECC Nigeria Ltd strives to honour sincerity of purpose, friendship, equality, and mutual benefits to the advantage of all.
He said it achieves this by leveraging on its business and resource strength to meet local development needs so as to support the implementation of the Nigerian National integrated Master Plan (NIIMP) and the Economic Recovery Growth Plan for 2017 -2020.
"Building Multidimensional and Sustainable Transport System which includes modernization of Railways-Lagos-Ibadan-Abuja-Minna -KadunaKano-Katsina -Madi, as well as Coastal Railways and Itakpe -Warri railway systems and their corresponding terminal station buildings. Others include Abuja and Lagos Mass Transit railways, ditto. Other civil/highway engineering transportation projects include Lagos Badagry Expressway, just to mention but a few.
"Multidimensional building engineering projects executed or being executed include, but not limited to New Airport Terminal Buildings for Abuja, Lagos, Kano and Port-Harcourt Airports; Athletics Games Village Housing Scheme, Abuja, Nigerian Communication Headquarters Building, Abuja, Central Bank Building in Asaba.
"In Diversifying and Boosting Investment opportunities, CCECC Nigeria Ltd continues to expand the frontiers of its business by providing engineering services for water-related and agricultural development projects and power infrastructures to boost local economic and social life of the people.
"The Lekki Investment Limited at the Lekki Free Zone is typical example of the Company's efforts at driving Nigeria's industrialization strides thereby creating job opportunities for the local people, and promoting local economy" he said.
He noted that CCECC strives to satisfy its customers, employers and the local people by executing high quality projects that can withstand the test of time by employing modern best practice technologies and methodologies under the Belt and Road cooperation Agreement between China and Nigeria.
He said CCECC had to create values and contribute to the development of the local people by engaging and training local staff as nuclei employees of the Company for development of engineering infrastructure.
"It is on record that Bai Yang, a Nigerian staff of the Company is the first female train driver in Nigeria".
He stated that the company undertakes to maintain and enhance people-people bond among staff. For example a football pitch exists within the premises of the Head Office of the Company where both local and Chinese staff engage in football tournament.
"The Company deepens the bond of friendship and cooperation through the engagement of local suppliers and subcontractors thereby contributing to the livelihood of local communities in Nigeria.
"Sincerity, honesty and consistency in outlook and conduct are the bedrocks of the Company's character in conducting its affairs of business. We observe and uphold business ethics of best practices.
"The Company strives to become trusted partners of local stakeholders, including local governments, employers, business partners, employees, communities and the likes by winning their trust and confidence
"The Company operates in compliance with the laws and regulations of the industries, and improve the management structure and system, by ensuring integration of social responsibility concepts into corporate governance" he noted.
Director of Center for China Studies (CCS), Charles Onunaiju who moderated the event informed that CCECC has proven to be a great partner in developing the nation saying that China is bridging infrastructural gap, opening new development corridor and spreading prosperity in Africa.
Chairman of Nigeria Union of Journalists (NUJ) FCT Council, Comrade Emmanuel Ogbeche who used the occasion to thank Chinese community for coming to the aid of the council during the Covid-19 pandemic said that CCECC is a construction firm to be reckoned with given its giant strides.
At the end of the event, the audience agreed that CCECC is certainly improving the nation's development especially in the area of job provision for the youth and opening opportunities for Nigerians in many ways.