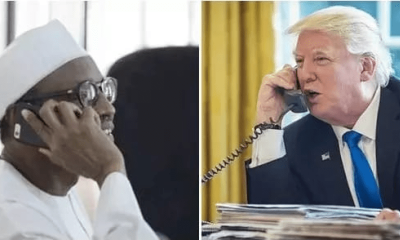 President Muhammadu Buhari left for the United States on Saturday at the start of a 3-day state visit that will climax with a meeting with American President Donald Trump today, April 30. The visit is at the instance of the host president. Buhari's Special Adviser on Media and Publicity, Mr. Femi Adesina, in a statement in Abuja, Friday, said the meeting would "discuss ways to enhance the strategic partnership between the two countries, advance shared priorities such as: promoting economic growth, fighting terrorism and other threats to peace and security.
"The meeting will further deepen the US-Nigeria relationship as the United States considers Nigeria's economic growth, security and leadership in Africa to be critical aspects of their strategic partnership". Later in the day, Adesina said, Buhari "will meet with a group of business persons in agriculture and agro-processing, dairy and animal husbandry.''
Before Buhari jetted out, meetings had been scheduled on April 26 and 27 between senior Nigerian government officials and executives of major US companies in the areas of agriculture, aviation and transportation. In aviation, the Nigerian officials would be meeting with Boeing, the largest aircraft manufacturer in the world, on the National Carrier Project.
On agriculture, the meeting with large equipment manufacturers will focus on harvesting and post harvesting equipment. In the area of transportation, the officials will meet with the GE-led consortium for the implementation of the interim phase of the narrow gauge rail concession. "In the interim phase", Adesina explained, "a substantive concession agreement will be negotiated and finalized to provide the consortium the opportunity to invest an estimated $2bn, to modernize the rail line from Lagos to Kano (Western Line) and from Port Harcourt to Maiduguri (Eastern Line). During the meeting, the concession framework and the interim phase framework agreements are expected to be signed.''
We note that Buhari's visit is coming two months after that of former US Secretary of State Mr. Tillerson. That meeting ended abruptly when Tillerson was recalled to Washington and then sacked by Trump. The circumstances of his dismissal are no business of ours. However, we must tell the Americans that much as we need them, we are not coming to them with a begging bowl. We shall not compromise our national interest just to receive a promise of American aid.
We recall that Buhari and other African leaders, while attending this month's Commonwealth Heads of Government Meeting in London, were arm-twisted by the British government represented by Prime Minister Theresa May to decriminalise same sex relationship. Nigeria banned it in 2011. We urged Buhari, in an editorial, not to succumb to the veiled blackmail. We have cause to believe he stood his ground as the matter never came up again in the course of the meeting. Nigerians are proud of him.
We suspect that in Washington DC, the same matter will be broached by Buhari's host, Mr. Trump. If he does not raise it personally, some senior Administration officials who have Trump's ears, are bound to bring it up. But a good majority of Nigerians expect Buhari to be "sure and steadfast", the same way as he did in London. Enjoy a safe trip. Mr. President.