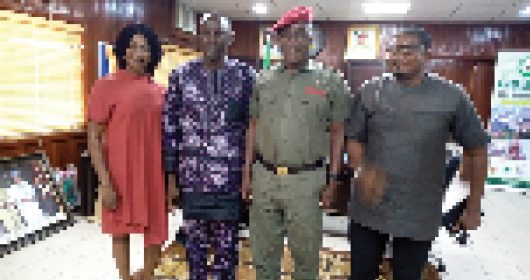 By Amaechi Agbo
The Honourable Minister of Youth and Sports, Barrister Solomon Selcap Dalung has stated that the sports sector and indeed everyone that had come in contact with former award-winning investigative journalist, Olajide Fashikun who died early this year.
The minister stated this on Monday when the management of Nigeria Sports Development Fund Incorporated visited him in his office in Abuja.
The team led by former Nigeria Olympic gold medallist, Mary Onyali was at the minister's office to pay appreciation visit and thank him for his support to the organisation and most importantly to late Jide Fashikun's family before, during and after the death of the former Director-General of the NSDFI.
Addressing the management, Barr Dalung thanked them for the visit which he said he did not expect and encouraged the organisation which Jide worked tirelessly for as well as the family he left behind to be strong.
The minister added that even though Mr Jide is dead and gone, all he believed in and worked for still remains alive.
The minister described the late publisher of Gongnews and a fighter for justice, a patriotic and committed Nigeria who will be missed by all for a long time to come.
"I want to thank you the members of NSDFI, the organisation through which Jide Fashikun launched his struggle for our athletes so that they can recover the lost sports glory of this country.
"Let me thank you for finding time to come. Of course, I did not expect you people to do what you have done this morning. This is not because I am unaware that you can do it, but I have been looking at it from the perspective of the very weight of burden that the departure of late Jide left not just to his family, friends but also to those who believe in the course of justice. To those who have been struggling for and fighting for what is right. Of course, his exit was quite unceremonious because as humans, we did not even anticipate any signal that he was going to depart at that time.
"But as mortals, we are all victims of that particular situation. So we will be incompetent to question it. However, we will still miss Jide and we will miss Jide for a very long time. Jide Fashikun was such a courageous, personality; very intelligent and very patriotic. He knew the consequences of standing for rights and justice. It was not that he did not know what could likely befall him, he knew. He opted to stand for justice even if it demands sacrificing his own life, he was willing to offer such a sacrifice.
"The blood of Jide Fashikun will remain an inspiring consolation in the minds of Nigerians who believe in this country and love justice and what is right and good.
"For Jide's family, I think he grew beyond the family definition because he built for himself a reputation, a network of friendship not limited only to Nigeria nor Africa but globally. While on vacation in USA, somebody got across to me was commiserating with me over the demise of Jide. So that is how far jide has gone.
"I want encourage the immediate family to be strong. Jide had gone but what he believed in is still living. Jide's spirit and soul is still living within those who believe in him. For those he left behind, in fact, the exit of Jide should not scare anybody.
"Right people should think rightly and defend what is right, what is wrong, is wrong and there is no way you can augment it.
"I celebrate Jide every time; as a great man, a patriot, his love for his country and justice was iconic. He died fighting and it is the aspiration of everybody in the struggle to die fighting. The worst thing that would befall anybody involved in the struggle is for history to record it for him that this is where he abandoned the struggle. It is our dream that it should be recorded in our favour when we are long gone that this is the print where he died fighting. And we can say it repeated without fear of contradiction that Jide died fighting.
"I welcome you to my office and I will say Jide Fashikun soldier on. Thank you for coming, God bless Nigeria," the minister said
Veteran journalist, Olajide Fashikun died on January 27, 2019 after a brief illness.