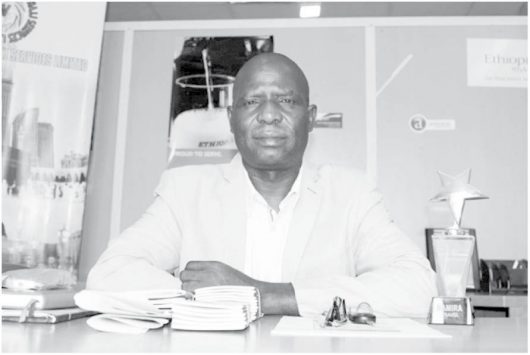 Alhaji Nasir Habib is the General Manager of NAMIRA UMRAH and HAJJ SERVICES based in Abuja. In this interview with Abba Ekku Onyeka, he spoke on issues concerning intending pilgrims.
Can you introduce yourself Sir?
My name is Alhaji Nasiru Habib. I am the General Manager of NAMIRA UMRAH AND HAJJ SERVICES based in Abuja, Nigeria ,our company has been incorporated since 2010,we offer hajj service such as passports and visa collections for hajj and umrah and all intending Nigerian pilgrims for lesser Hajj, not only individual intending pilgrims but also provide visas for companies and other agencies that are based in Abuja and in other states where there is no Saudi Arabian Embassy, because the Saudi Arabian Embassy is only located in Abuja and Kano. So, basically this is what we do.
What is the experience like, dealing with the traffic of your numerous clients?
Like i told you, I have been in this business for years and the level of experience is something to talk about because we have a direct link with the providers in Saudi Arabia, so we find it very easy as such we don't face most of the challenges other agencies pass through simply because we are closer to the service providers in Saudi Arabia so we can easily obtain visa for people between one to two days compared to other agencies that take a week or more.
So for us as a company, we don't experience too many traffic based on our long term experience and connections we have.
Apart from getting the visa been processed for intending pilgrims, what other side attractions do people enjoy when they come to your agency for their visa?
As i earlier mentioned, the speed at which the visas are been processed and the information we give to our passengers and sub-agents that go through us is always open; For example, I'll say in most cases when you need a visa and you meet with an agent, he might tell you in a week time or even more than and most cases it might take you some days to process travel documents. Sometime, they don't keep to the stipulated time given, but with us, it is very flexible and open. Our customers get proper information and some of the agencies in Saudi Arabia come to us directly to track the way we do things. So, they are not kind of delusional, so they know what's going on.
Aside getting your clients, managing them is another vital thing. How do you manage your clients?
The agency outside Saudi Arabia can obtain visa by itself, so all agencies signed an agreement with the agency based in Saudi Arabia in other for them to be able to get visa directly.
We obtain the visa and give you contacts of our agents in Saudi Arabia, so by the time you arrive they check your visa and automatically know the agency who issued you visa. Also we have different packages which include transportation, hotel accommodation and visa, but the VIP package doesn't require all that due to the fact that they can afford them. Most clients need five star, six star or even seven star hotels reservations. In situations like that, we issue them just the visa. But for other package, it is everything inclusive, to mention some, your transport right from the airport, hotel accommodation, for people going to medina, the agency will to take you straight to the hotel, and they're responsible for taking you to Mecca from there and return you back to the airport.
Let's come down to your amount and rates. How flexible is your package compared to others?
Like i told you, we have a direct link in Saudi Arabia, and it will interest you to know that we start first in the country. Because we make early preparations, so once the Umrah visa is launched we are usually the ones that start issuing visas and after a month two or three other agencies start issuing. So, usually prizes at that time is high, then when other companies come in we lower our rate.
Since your inception as the manager, are there any changes in the past few years?
Well, certainly there are a few changes, before now the hotels provided for passengers were usually far from the mosque, but you know things are changing. The regulatory bodies we have at the hajj commission ensure that their anchorage going round to see the hotels we provide for our passengers and the proximity from the hotel to the mosques. Unlike hajj, they will need to inspect what you are providing for your passengers but so far there are tremendous changes in the process. Saudi Arabia has their part, they applied changes likewise here in Nigeria as well, lots of policies are all just to ensure better service delivery.
So, taking us back to some of the news we've heard about stampede that lead to people dying including Nigerians, don't you think the organization should limit the number of people they issue visa to for hajj due to this situation?
You know it is like an allocation. So, Saudi Arabia needs to regulate that, because they give the number of people to be issued visa and they also regulate the number of people they issue visa, especially when we are approaching Ramadan [fasting period] which is like a month and some weeks away.
They have already started issuing visa for 15 days instead of the one month they usually give and that includes the validity so you have to travel between that time or the visa becomes invalid. There are a lot of regulations here and there.
In respect of the service you render and changes made, what should customers expect this year from NAMIRA?
Really, the new thing is just improvement in our service, like the hotel, usually passengers or pilgrim is more concerned about the hotel over there. You know the issue is proximity from the mosque, so the hotels we are giving now are closer to the mosque rather than before. Most of the hotels are new ones and is just five minutes away from the mosque; visas can be obtained within 24 hours of request.
Is there anything outside what you have earlier mentioned you want the world and your numerous customers to know concerning your services?
Every year pilgrims face lots of challenges especially when they have left their country to the Kingdom of Saudi Arabia. The moment they arrive sometimes in a new country they start looking for who will provide the services that was promised them. Sometimes they start looking for the agents they are supposed to meet, so what makes ours special is, at any moment you call, our agents' line are always open.
If you have any little challenge over there or the person you are meant to see that is our agents over there, you can call my number and I guarantee you that within the shortest time your complaint will be dealt with. Not just me, all our staff are always on standby, for emergency calls to attend to clients even when you can't reach me. So, I am saying we are set and prepared for hajj 2019 and our partners over there are set too which are one of the best in Saudi Arabia both in terms of experience and capacity, so I can boldly tell you that all our agents that have gone through us don't face any form of difficulty because we have the capacity to absorb anything and they won't have any reason to distrust or feel that lack of trust. We have made a name and our partners alike, thank you.