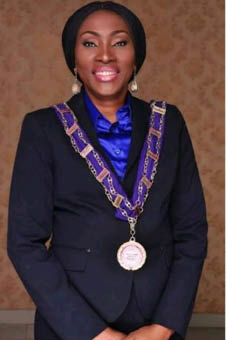 Engr. Felicia Agubata is the 15th President of Association of Engineering Women in Nigeria (APEWN), in this interview with Mashe Umaru Gwamna, she speaks on how APEWN gives primary school pupils hope of becoming engineers, including other national issues: Excerpts
What are the mandates and objectives of APEWN?
APEWN is a non-profit and nongovernment educational service organization; it actually promotes female engineers to achieve excellence in their profession. We also are concerned about making sure that more girls embrace science, technology, engineering and mathematics, because this will lead them to study engineering.
Why did you come up with this kind of idea?
This idea of APEWN was formed by a group of 6 women 35 years ago, of which I am the 15th President of the association. We are a division of Nigeria set of engineers. For us as women, we need to tell our story, we need to encourage each other, and we need more women into the profession. 5 years ago, one can assume that the profession is meant for men because we have less number of women that are enrolling in engineering profession. These women felt that they should be able to encourage one another and today we have about 30,000 registered members. We also have 27 branches all over the country, with 15 in the university chapters.
You are talking about partnering with some important stakeholders in the country, what have you done towards that and what more do you intended to do?
We have partnership with NNPC, which is the pinnacle of Nigeria Economy on a flat program called, 'Invent it and build it'. This is an educational program meant for primary school pupils, not for secondary students. We believe that there is need to demystify mathematics at a lower level; that is primary school level, because at secondary schools some of them are already afraid of mathematics. It is better to teach them what science, technology and mathematics are all about so that at secondary school level, they will not be afraid to read science. NNPC is our main partner in this to cover the 6 go-political zones in the country. More so, with this partnership, scholarship was given to 21 pupils. They are females who are desirous to study science from primary school to university level. Also, in Benin, scholarship was given to 10 pupils. The scholarship was named Engr. Makanti scholarship for Girls under the operation of APWEN, then we also made a foundation. Already we are building the ultramodern Science and Technology Laboratory for a primary school in the 6 geo-political zones. We are going to give scholarship to 10 students for Benin, the only issues there is with the school because we have no space to build, so they gave us 3 classrooms to equip for the science and technology lab, which we named Engr. Makanti Baru Science and Technology Laboratory because he responded to our cry of partnership, that is why we decided to name it after him. He was truly an APWEN leader presently. We have reached the lintel level for Mesiu Science and Technology Laboratory.
How do you encourage the girl child to pick interest in this kind of programme?
Basically, we are trying to model this programme after some women and men who have achieved much in the society. We use their success story to motivate the girl child; we tell them that if they do well they can be successful like these people.
What are the activities you want to undertake to achieve your objectives, and who are your role models?
The association has series of activities we want to achieve with the role models. In Masiu, APWEN set an example with the Group Managing Director of NNPC who was in Benin on the 14th of September. More so, we are going to Ogun state in honour of Engr. Adekunle and Engr. Adeyemi, they were the 4th presidents. On the 4th of October, we are going to the ancient city of Kano to honour the first NLC President in northern Nigeria, Engr I.K. We are going to the Gardi primary school, that is at the Emir palace, on the 17th of November we are going to Anambra state, south-east, to honour Engr. Ebele Okeke, the first woman head of service.
Also, the 2 past Presidents of the association, Engr. Onokoli and Engr. Nwakego will be honoured. We are honoring them with that particular honuor. We try to gain engineering role models for the girl child to know, we will bring them out in their local dialect, we will dress like them and speak like them, December 12th, and we are going to Akwa Ibom in honuor of 13th President of APWEN, Engr. Eni Uzor and Engr. Maryann. Both of them are from the same state, these are women who are pacesetter; you can agree with me that these women showed some kind of example. We also have other programmes we have done. On January first 2019, we are going to honuor the current President of COREN, Engr. Kashim Ali, at Leah Primary school.
What other such programmes do APWEN intend to initiate for secondary schools?
We also have other programmes that we have done. We have done boat camp for girls; it was a three days boat camp that involved secondary school students of various schools. We also have a program where we introduce a girl to engineering; we are having that one in Ebonyi state, because Ebonyi state is one of the entirely disadvantaged states in the country, so we want to go to the secondary schools in Ebonyi because we have already sold off the inventory building for primary school.
What are your challenges; will you also monitor them to stick to sciences?
We have a plan where we call Appeal Trust managed by the executive of the association. If our leadership ends after 2 years, the Trust still remains. The trustees are the ones that will disburse the scholarship fund through GTB bank, with submissions of their results every year. The girls will just go to the bank to receive their money with the presentation of their Identity card at their own location. They do not need to come to the headquarters, all we need to do is for the first phase to have a ceremony where they are, what we intend doing for the month of August, we are going to give out the first phase to have a ceremony, where we handover the claques because schools will resume by September. We are going to start their scholarship so that they can pay their school fees. We are also mindful of the fact that if they pay school fees, what about their school bags, their sandals, their uniforms, these are some of the burdens that some parents cannot afford but with this scholarship form, they will be able to use this money to pay for all these, even if they are not paying school fees.
What is your mode of selection for the pupils?
Our mode of selection is that we look at their skills, there are some experiments that are engineering, like to do like kite. This kite we do as children is a buoyancy experiment that they use paper to make boat and float on water. That is separation, and that is how these oil industries do their work. How can you separate oil from water and from sand? These are some of the things that we call electric experiments like service circuit and the rest of them.