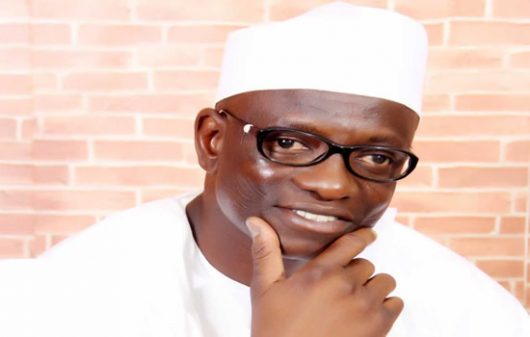 Tuesday Column By VICTORIA NGOZI IKEANO
vikeano@yahoo.co.uk 08033077519
Since its establishment and institution of democratic rule in 1999 all three senatorial districts in Nasarawa State have produced its governor except one – the northern senatorial district comprising of Akwanga, Nasarawa Eggon and Wamba local governments. This has led to clamour by especially many from that senatorial zone that it is their turn to occupy the number one citizen's seat in Government House on Shendem Road, Lafia. In early 2017, traditional rulers from that zone undertook a tour of the two other districts to canvass and elicit support for a power shift to their district. That zone is considered to be "marginalised" politically in that of the 13 local government councils in the state, five each are in the western and southern districts while those in that district is three. The five federal constituencies are similarly distributed, two each in the north and south and one in the north. Ordinarily this those concerned should also clamour/lobby for establishment of more local government councils and one federal constituency in that zone. Surprisingly, all the talk is centred mostly on power shift, the sing song being that someone from the northern zone is yet to bear the esteemed title, 'Governor of Nasarawa State'.
However, the zone has always produced the deputy governor, this being a certainty, more or less. The first democratically elected governor of Nasarawa State, Abdullahi Adamu (now a senator) whose two terms ran from 1999 to 2007 and who is from the western zone, had Professor Onje Wadje and Labaran Maku (former information minister) as his deputy. His successor Aliyu Akwe Doma of blessed memory, from the southern zone had John Michael Abdul as deputy. Akwe Doma did not succeed in his bid for a second term but incumbent Umar Tanko Al-makura who took over from him is nevertheless from same zone – southern. Al-makura currently in his second and final term, had Damishi Luka and now Agara as deputies. So, arithmetically the southern senatorial zone would have been Nasarawa State governor for a total of 12 years, western zone 8 years and northern zone zero. This is why perhaps the opposition Peoples Democratic Party in Nasarawa State has zoned its governorship ticket to the northern district and there is a preponderance of aspirants from that zone too, vying for the ruling party's governorship ticket in the hope perhaps, that it will be conceded to the zone because 'it is now our turn'. Fact of the matter is that there is no zoning in APC's constitution.
One of the leading contenders for the office of governor, Nasarawa State, Aliyu Ahmed Wadada has rubbished the zoning issue. Wadada, the Baraden Keffi and former House of Representatives member representing Keffi, Kokona, Karu federal constituency argues that people from the zone had always also vied for governorship position since 1999. This is a valid point because politics is not only a game of numbers but also of negotiation, give and take. If people from the northen zone did not for once withdraw their participation for any particular zone in the past how do they expect the others to step back for them now or concede it to them? The former House of Representatives Committee Chairman on Capital market vehemently disassociates himself from any zoning policy in Nasarawa State, describing it as undemocratic and "not acceptable at all". He pledges to be fair to all", remarking that justice and fairness is the key to enthroning security and social order in any environment.
What is his legacy during his time in the National Assembly from which one can assess him? Wadada points to many but two stand out for me. He intimates that he was instrumental to the formation of an 'under 40 club/association' which members have produced the Speaker till date, beginning with Dimeji Bankole through Aminu Tambuwal to the current Yakubu Dogara. He had campaigned for financial autonomy for local governments that is now being pursued, while he was in the House of Reps. In this connection the Baraden Keffi says that whether there is a law to that effect or not he will scrap the joint account between the state and local governments and replace with a distributive account to empower the local councils financially. The former lawmaker found himself in leadership positions from his youth days. He was the director of socials, Keffi Students Union; he also established the Association for Better Keffi.
Expectedly his manifesto which is rich, covering all sectors which means that he is prepared for the job of governor. A few areas catch my eye though – if he clinches the job he will return administration of primary schools to the local government authority, giving local councils "fullest" financial autonomy to be able to fulfil their mandate at that level; his administration shall collaborate and liaise with the Cuban government to boost the state's primary healthcare system (Cuba is said to have the best primary health care system worldwide); agricultural clusters shall be established in the three senatorial districts with each engaged in crops/products in which it has comparative advantage over the others, for local , national and international markets; ranches will be established in the state. Asked by this writer if the ranches shall be evenly distributed given that critics have lamented that the grazing reserves being revived by the current administration in the state are sited only in a part of Nasarawa state, Wadada replies that the ranches will be set up in areas where they are required, reeling out a plethora of economic benefits of ranching to consumers, herders and the environment alike. Also the state's investment company which to all intents and purpose is currently dead will be revived as he likens an investment company to the business arm of government.
Overall a Wadada government it is apparent, shall be private sector driven and this is due to his entrepreneurial spirit. He established the first and only polo club in Nasarawa and its first organised competition drew polo enthusiasts from Nigeria and abroad. Above all, his postulations are hinged on contemporary, 21st century model. But what is propelling him to seek the governorship seat of Nasarawa State? A craving for the title, 'governor'? A craving to raise his shoulders high among others in supercilious gaiety? "No; I have always been associated with people – growth and development of my society", he says with a distinct voice, adding that he is responding to clarion calls on him to contest for the post.