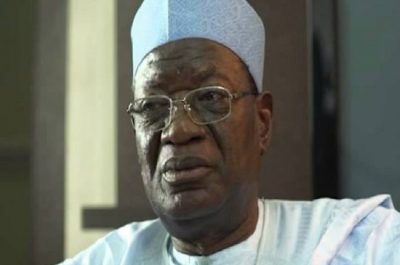 Malam Wada Maida was the chairman of two national news media organisations when he died Monday night, Aug. 17
He was the foundation chairman of the governing board of the Peoples Media Limited, the publisher of Peoples Daily newspaper. In 2017, President Muhammadu Buhari had appointed him as the chairman of the News Agency of Nigeria (NAN), a familiar turf where he once was Editor-in-Chief and Managing Director.
At 70, Wada was unusually strong, able to take up that dual role on his lean shoulders without a shudder. On the day he died, Wada had spent hours working in his office until 5pm. He returned home later that evening, did a light walkout and sat in a chair to watch the late night news on TV. He slumped in his seat and was gone.
Wada's funeral took place the next day, Tuesday, Aug. 18 in Abuja. Eulogies came in torrents for a man well deserving of them. To paraphrase William Shakespeare, the heavens themselves did blaze forth the death of this prince of Katsina. President Buhari whom Wada first served as Chief Press Secretary when the former was military head of state in 1984/85, led the flow of tributes. In a statement in Abuja by his Senior Special Assistant on Media and Publicity, Malam Garba Shehu, the President said: "Wada Maida was a very dedicated, hardworking and loyal professional for whom I have the deepest respect and admiration."The passion with which Maida did his job accounted for his professional success in life, making it possible for him to attain the pinnacle of excellence in his career."
Buhari commiserated with NAN, the Nigeria Union of Journalists (NUJ), Nigerian Guild of Editors (NGE), Nigerian Institute of Public Relations (NIPR), the International Press Institute (IPI), People's Daily, which he established and chaired. The list included the Pan African News Agency (PANA), which Wada founded and where he remained an inspiration for many years.
Information and Culture Minister Lai Mohammed described the late Wada as "a great journalist, a good administrator and a successful publisher" who contributed immensely to the growth and development of the media. "My thoughts and prayers are with his family and friends during this moment of sadness. May God forgive his shortcomings and grant him eternal rest," he said. Governors Adegboyega Oyetola (Osun), Abdullahi Umar Ganduje (Kano), Aminu Bello Masari (Katsina) and Mai Mala Buni (Yobe) paid tributes to the late media guru. Oyetola described Wada's death as "a huge loss" to his family, journalism and Nigeria. In a statement in Osogbo, the state capital by his Chief Press Secretary, Ismail Omipidan, the governor said Nigeria had lost one of its finest, credible and veteran journalists who contributed to the growth of Journalism in the country.
In a condolence message to NAN through Kano State Commissioner for Information, Muhammad Garba, Governor Ganduje said: "Maida's contribution to the development of the media in the country remains laudable, particularly his venture into publishing."Also, I believe that his commitment to peace and unity of the country, through his chosen profession, would always be remembered." In his tribute, Buni said: "Nigerian media industry has lost a media colossus who contributed immeasurably to the development of journalism."The likes of the late Maida gave the industry a huge support through his belief, practice and investments in the media sector."
Aminu Masari, the governor of Wada's Katsina State, said: "By Alhaji Wada's death, Katsina State has lost one of its most illustrious sons who had served not only Katsina but Nigeria meritoriously in various capacities, including holding the forte as spokesman for General Muhammadu Buhari when he was military Head of State."
Indeed, Wada's deeds were as impressive as was his height. Standing at 7 foot plus, he never failed to be noticed in a big crowd. Between him and Buhari, it is hard to tell who was taller. However, one thing is sure. As Garba Shehu said, "the Almighty gave Malam Wada two things many a man or woman would envy. He had the largest reservoir of patience on account of which I never saw him get angry. No matter to what extent he was provoked, Malam Wada would shake his head or both legs when seated, smile and then move on".
We want to add that the late Wada had the forthrightness of a man who fears the Almighty Allah.. One instance would do here. One day, he had received a report that workers of Peoples Daily were working to rule because a promised two months' salary arrears was not paid. Surprised, but not angry, he asked calmly who made that promise, because he never did. In his characteristic style, he did not apportion blame, but gave assurance that the board was doing everything possible to pay them. He drove out of the premises and the strike collapsed. That was objective exemplary leadership He had told the truth and it saved the company from a strike called, based on misinformation.
Wada was born on March 5, 1950 in Katsina State where he studied at Government College, Katsina, from 1964 to1968. His love for journalism led to his admission into the Nigerian Institute of Journalism (NIJ) in 1971, Indiana Institute of Mass Communication between 1972 and 1975, and Aberdeen College of Commerce, UK from 1975 to 1977. He was information officer of Kaduna State in 1971. He subsequently served as zonal editor from 1978 to1981 and later foreign correspondent of NAN in London in- charge of Western Europe between 1981 and 1983
Wada led a life that was well fulfilled, mostly in the service of his country and dedicated to the good of the entire humanity. We pray that Allah grants him aljana and his immediate family the fortitude to bear his irreparable loss.