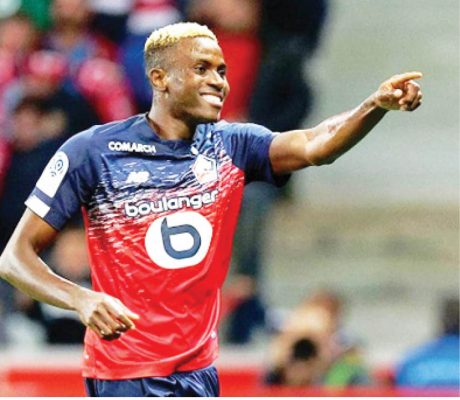 Super Eagles and Napoli of Italy striker, Victor Osimhen has come out to reveal what really transpired during his infamous birthday party in Lagos, Nigeria.
The Nigerian striker was filmed at a private birthday party while on holiday.
However, the former Lille of France forward says he didn't know anything about the controversial birthday party, he tested positive for coronavirus upon his return to Naples.
He had taken part in the surprise party without wearing a protective mask and Napoli have fined the striker.
"Before I went to Nigeria, I told my sister that I wouldn't celebrate my birthday," Osimhen said in an interview.
"I was not in the right mood because of my injury.
"On that particular day, I had been asleep for about six hours. When I woke up, my sister asked me to go downstairs.
"If you check what I put on, I was wearing the training jersey. I wouldn't wear that for my birthday party. I wouldn't dress so casually.
"I could celebrate my birthday in other ways too, but I wasn't in a good mood. I went downstairs and they were playing music, gospel.
"I was down there for about 10 minutes before my older brother called me back upstairs. I didn't throw a party.
"After I tested positive for COVID-19, I called my family and told them to get tested. All of them have done it and they tested negative."
Agent Blasts Critics
"The People Criticizing Victor Osimhen Hate Him Because Of His Money" – His Agent Blasts Napoli For Being "Racist"
The agent of Napoli and Nigeria forward Victor Osimhen, Roberto Calenda has defended the striker following his breach of Covid-19 protocols in Nigeria.
The forward tested positive for coronavirus after his trip to Lagos where he had flouted social-distancing rules and partied with friends and family without wearing a mask.
Calenda defended his family's decision to throw Osimhen a surprise birthday party and insisted that people must know 'the context' before judging the situation.
Calenda revealed how the 22-year-old had been going through 'a difficult period in recent months' after losing his father and that he had been struggling with injury.