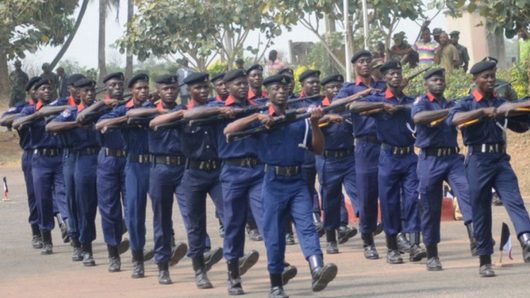 By Stanley Onyekwere
The Nigeria Security and Civil Defence Corps (NSCDC) has cautioned those who may be thinking of engaging in vandalism of critical infrastructure and national assets within Abuja, the Federal Capital Territory (FCT) desist from doing so.
Reading out the riot act against the menace yesterday, Commandant Patrick Ukpan, in charge of FCT Command of the Corps, warned that nobody will be spared, as any vandal caught in the act with be made to face wrath of the law.
Ukpan noted that vandalism is a major challenge in the FCT, because over the years the city has been experiencing cases of increasing rate of vandalism.
He spoke against the backdrop of an incident of vandalism around the Presidential Villa in Asokoro, during the yuletide season, where a vandal vandalized telecommunication underground cable.
He said the suspect, who was apprehended in collaboration with Department of State Security (DSS) officials is in the NSCDC custody, and he has made some useful confessional statement, with which he will be charged to court accordingly.
"I want to caution those who may be thinking of engaging in vandalism of critical infrastructure and national assets within the FCT to desist from doing so, because we have our operatives (both the regular and undercover personnel) deployed to guard such facilities.
"We are patrolling all the areas on 24 hours basis, to ensure that these infrastructure that government have taken time and resources to install are not vandalized.
"Nobody will be spared, any vandal that we catch we are going to properly investigate him or her, and ensure that they charged to court.
"We are also not resting, because we are coming with various measures to counter all their plans to vandalize infrastructure within the FCT. We will make sure that we put an end to vandalism within the FCT," he explained.
Meanwhile, the FCT-NSCDC boss opined that the yuletide season in the FCT was a peaceful one as the security strategy that they employed paid off, as no any serious security breach was recorded.
"Even though the yuletide season is over, I will advise tFCT residents to understand that security begins with us (everyone), you have to first secure yourself.
"Be observant of your environment; ensure that you don't make yourself vulnerable to be attacked;and whenever you have issues regarding security, promptly report to security operatives, so that prompt action can be taken,"Ukpan stressed.