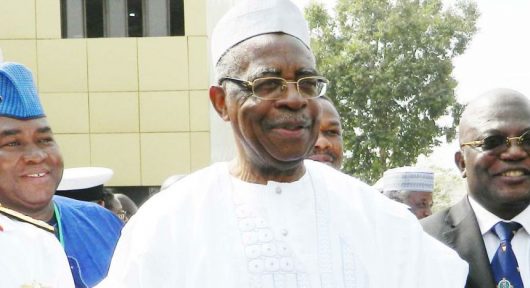 By Okanga Agila
The United Kingdom Parliament (UKP) has some difficult task on their hands in Nigeria, a formal colony. The initiative and wisdom of the "All Party Parliamentary Group for International Freedom of Religion or Beliefs, UK Parliament" (APPG-UKP) to request for written submissions on the recurrent crises in Nigeria, especially Boko Haram Terrorism (BHT) and herders/farmers crises is eloquent expression of the United Kingdom's inclination to peaceful nations and peoples around the world.
I construe the motive of APPG-UKP as a genuine quest to impact on the global congregation of nations in finding solutions to the threatening and perennial human problems of violence, killings and destructions. But as now focused on Nigeria, there is every reason for me and other Nigerians to suspect it might be misled by several self-seeking groups led by inherently self-centered personalities.
And the Nigerian Christian Elders Forum, (NCEF), led by the trio of Nigeria's former Defence Minister, Lt. Gen.Theophilus Yakubu Danjuma, (rtd); former Military Governor of Rivers State, Gen. Zamani Lekwot, (rtd), and Chief Solomon Asemota, SAN, smacks like one of such groups intent on misleading the Honourable Parliament of the United Kingdom. Its latest outing drapes with undisguised attempts to blur or twist facts on the ceaseless BHT and herders/farmers crises in the country.
So,NCEF presented a paper to the APPG-UKP on the multidimensional crises in Nigeria titled, "Competing Ideologies of Democracy and Sharia in Nigeria; The Nuance Understating of the Drivers of the Conflict in Nigeria by Farmers and Herders," in which they gleefully reeled out half-truths, blatant lies and hypocritic mouthing of accusations on President Muhammadu Buhari's pursuit of a jihad or Islamisation agenda in the country.
And to display a disordered mindset, Gen. TY Danjuma who led the group claimed to my utmost amazement that President Buhari is unserious about tackling insecurity arising from Boko Haram insurgency and herdsmen-farmers crises in Nigeria. NCEF has other members who are prominent Nigerians and former leaders of our country in different capacities. I conducted a profile check of the prominent members of NCEF and discovered they had rich credentials as former leaders in Nigeria.
It told me clearly that this assemblage comprise elders who have the history of every problem in Nigeria. Therefore, I least expected that they could forget yesterday's history this easily and mingle today's realities in a blemish manner, while consciously exonerating themselves of culpability simply because they angled to crucify and pin on President Buhari a non-existent Islamism and Sharia agenda in Nigeria.
Nevertheless, some of these NCEF elders were either part of the establishments which created these problems or ignored it to flower into its monstrous, nightmarish and tormenting levels to Nigeria now, to which President Buhari is having sleepless nights to re-fix. I feel among these misguided elders, Gen. Danjuma particularly is most guilt-ridden.
Let me pretend to overlook the pungently sustained indictment of Britain and Lord Lugard who was singled out for condemnation by the Gen. Danjuma-led NCEF's paper to APPG-UKP by their repeated harping on Britain's colonial favoritism to Muslims than Christians even before independence.
NCEF's scathed Lugard thus; "He hated educated black people and the South had many of them by 1914 dispensed with during a period of racism. Lugard created Muslim Northern Nigeria and annexed (not amalgamated) Southern Nigeria to provide access to the sea and sustenance for Muslim North. He would rather have traditional leaders to rule, than educated Africans. He ensured this, even after retirement from the colonial services."
These elders are really confused and haunted by past sins against Nigeria. The manner Danjuma and his apostates sounded, you would think part of Nigerian natives domiciled in the North were all illiterate people. I find it difficult to discern this wisdom, but it thus appeared to me that NCEF convicted Britain of bias in favour of the Caliphate or predominantly Muslim North in their pre-independence handling of political cum religious affairs in this former colony. But it is the same people they are seeking intervention in the present crises whose roots they have already situated in colonial times.
Its sounds to me like a deliberate mockery from a band of apparently and unjustifiably incensed elders of Nigeria. But the insight from NCEF, though unbelievable, but assisted me immensely in elucidating the mindset of the NCEF elders and which largely, has watered down the weight of their arguments before the UKP.
And to expatiate on their direction, but lucidly trumpeted preconceived mindset to cry wolf where there is none, a quote from the NCEF paper says inter alia;
"Democracy and Sharia are no fake news. Those who cry fake news are those promoting jihad and Taqiyya, so as to provide an excuse for stealth jihad and the protection of jihadists. An Imam in Plateau State was rewarded for saving hundreds of Christians from the jihadists which showed that not all Imams in Nigeria are Jihadists."
So, I asked myself, if the focus of President Buhari or the Sokoto Caliphate is to relaunch another jihad in Nigeria, which Imam presiding over a mosque anywhere in the North would not consent to the idea? It amplifies the fact that what is happening to Nigeria is the struggle of intertwined economic forces far severed from religion.
If Gen. Danjuma is not confused with his elders in NCEF Boko Haram insurgents' operations in the Northeast or anywhere in Nigeria, do not discriminate between Muslims and Christians. I know terrorists' atrocities have no apartheid policy. Before Buhari became a democratic President of Nigeria, he narrowly escaped death from Boko Haram insurgents in Kaduna when they targeted and detonated bombs on his convoy. Should I think, insurgents would be foolish enough to seek to kill their "sponsor and sympathizer?"
Can Danjuma recall why there was a split in the Boko Haram leadership between Abubakar Shekau, who succeeded the founder, Yusuf Mohammed and Musab Al Barnawi? It was because of differences in ideology, while Shekau killed indiscriminately, Al Barnawi advocated for the attacks or killing of infidels alone.
What it implied was that field dynamics defined the ideology of Boko Haram which the Republic of Iran has publicly confessed to its sponsorship. How is it is tenable to link Buhari to this devious sect, when I know, even as a serving Nigerian leader, Boko Haram threatened to kill him by attacking the Presidential villa in Abuja because he has fortified the military to stop them in their tracks?
No normal elders under any banner would be vociferous on such assertions except haunted by the blood of the innocent, which I believe is the yoke of Gen. Danjuma at the moment. Therefore, exhuming and quoting President Buhari's utterances or speeches before he became a democratic President is stretching the insanity too far. I don't think any law prohibits Mr. President from practicing his faith and holding tenaciously to its tenets.
And Gen. Danjuma who is mouthing sharia under Buhari has conveniently forgotten that Sharia had existed as a criminal law for the Muslim core North and enshrined even in the 1999 Nigerian Constitution. But the then-Zamfara State Governor, Sen. Ahmad Sani Yerima began the push for its implementation at the state level from 1999. It was under the Presidency of Chief Olusegun Obasanjo, a Christian southerner who held democratic power for eight years.
And strikingly, Gen. TY Danjuma was defence Minister under the Obasanjo presidency for four years when Sharia enforcement gained firm roots. How did Danjuma disagree with his boss over this matter, if he truly believed it was a clandestine plot to Islamize Nigeria and what did he do to avert it? Is Danjuma only getting to realize it under a Buhari Presidency because there is an easy plank to cross by falsely labelling him an "Islamic fanatic?"
Okanga wrote from Agila, Benue State.
In Danjuma's unrepentantly skewed mind, he mentions the "Maitatsine inquiry", and the violent El Zakzaky's Shiites in Nigeria movement outlawed in 2016. But he deliberately refused to acknowledge that in these two separate instances of state forces to quell religious fanaticism or Islamic expansionism in Nigeria, President Buhari was instrumental in the disparate phases of history. As a serving Army General in the early eighties, President Buhari obliterated the Maitatsine uprising by chasing its survivors to Chad Republic and under a Muslim President Shehu Shagari.
Therefore, an elder like Gen. TY Danjuma and his comrades should be sensible enough to have been circumspect to make berserk claims on Buhari promoting jihadism.
The Group alleges that, "This can be attributed to various acts of "stealth jihad" by the Federal Government whereby arms in the hands of law -abiding citizens mainly Christians were confiscated while the Fulani herdsmen and Boko Haram retain their AK47 rifles. When these terrorists are arrested, they are "re-habilitated" and sent back into the society. They are never prosecuted."
Its another flank of the brazen lies peddled by supposed elder statesmen. President Buhari recently issued an Executive Order directing the withdrawal of all arms licenses issued to Nigerians, except authorized security agents. In truth, can Danjuma and coy claim the order has been applied selectively to only Christians and Muslims have been left to possess the illegal arms?
But I know, some Boko Haram suspects have been charged to court and convicted; while those who voluntarily surrendered and renounced terrorism were accepted, rehabilitated and absorbed into society. It is based on the policy of "stick and carrot," as adopted by the Nigerian Army in combating terrorism.
And where I knew Danjuma has lost his senses completely is the self-indictment on claim of state financing of arms for Jihadism in Nigeria as reflected in the contents of this quote thus;
"The case of an arms dealer, a Nigerian who lives in Egypt was reported to the Department of State Security (DSS). The DSS did not carry out the directive of President Jonathan that the suspect be arrested and interrogated. Intelligence report in 2010, found (former governor of Borno) personal involvement in the recruitment, training and dispatch of Boko Haram fighters…."
The British parliamentarians would need to thoroughly examine Danjuma and his group because I suspect senility has dealt a fatal blow on their senses. Or most likely, the wrath of the gods has been unleashed against him for his past atrocities and conspiracy to shed innocent blood in his country. It is utterly incongruent with a matured mind like Danjuma to confess that the DSS under the then serving President and Christian, Dr. Goodluck Jonathan, who appoints the Head of DSS would have his order flouted over the arrest and interrogation of a Boko Haram arms supplier from Egypt and nothing happened?
Danjuma is also telling us today he did nothing as an elder statesman versed in national security? And that when former Borno state governor, Sen. Ali Modu Sherrif introduced and funded Boko Haram, Gen. Danjuma was Nigeria's Minister of Defence, but folded his arms and allowed the sect to nourish and fester only to undermine the current efforts to tame the sect and blame President Buhari today over plots to Islamize Nigeria? This is infantile and the British parliamentarians should be circumspect about NCEF's submissions.
Okanga wrote from Agila, Benue State.