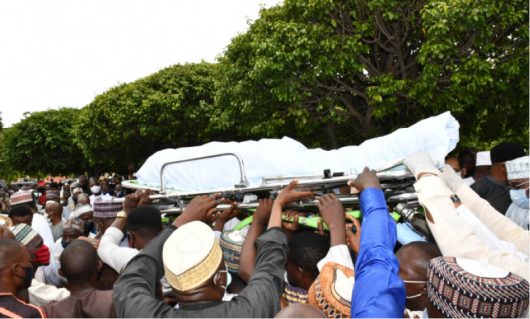 By our correspondents
Tributes and encomiums poured in as the remains of the late Ismaila Isa Funtua were laid to rest in Abuja yesterday.
Isa Funtua was said to have died of cardiac arrest on Monday night aged 78, and was buried in line with the Islamic rites.
Mallam Ismaila Isa Funtua, OFR, mni, was the founding Managing Director of the New Africa Holdings, publishers of the defunct Democrat Newspapers. The deceased was also the founder of the indigenous construction company, Bulet International Nigeria Ltd, and was life patron of Newspaper's Proprietors Association of Nigeria (NPAN). Funtua was the Minister of Water Resources in the defunct Second Republic. He was life patron of the International Press Institute.
The Salat-al- Janazah (congregational prayer for the body) usually held before the interment, took place at the Shehu Shagari Central Mosque, Area 1, Garki, Abuja. It was performed by the Chief Imam Area 1 Mosque, Sheikh Abdulahi Bala Yau, while prayer was offered at his graveside by the Chief Imam National Mosque, Abuja, Dr Kabir. He was laid to rest at about 1.47pm.
Among dignitaries present at the Janazah prayer and the burial were the Nephew of President Muhammadu Buhari, Mamman Daura; Yobe State Governor, Mai Mala Buni; former Governor of Ogun State, Senator Ibikunle Amosun; FCT Minister, Mohammed Musa Bello; Mr. Nduka Obaigbena; Senator Tunde Ogheha; former SA to President Buhari on Foreign Affairs, Ambassador Yahaha Lawal, former Governor of Zamfara State, Mahmoud Shinkafi; Publisher Leadership Newspaper, Sam Nda-Isaiah; former Chairman of National Hajj Commission of Nigeria (NAHCON ), Abdulahi Mohammed; former EFCC Chairman, Nuhu Ribadu; Publisher Abuja Enquirer, Dan Akpovwa, and Mohammed Idris of Blueprint Newspaper.
The early tributes that flowed in were from political leaders, captains of industry, media executives and state governors among others:
Buhari: He was greatly admired, respected
President Muhammadu Buhari expressed deep grief over the demise of his longtime friend and associate, Malam Isma'ila Isa Funtua.
In a statement, President Buhari referred to him as "greatly admired and respected."
The statement signed by the his Spokesman, Garba Shehu reads: "President Muhammadu Buhari received with deep sadness on Monday evening information on passing of his longtime friend and associate, Malam Isma'ila Isa Funtua, who was Life Patron of International Press Institute and Newspapers Proprietors Association of Nigeria (NPAN).
"The President condoles with family members, government and people of Katsina State, and all associates of the former President of NPAN, especially the media industry, on the loss, describing him as "greatly admired and respected''.
"President Buhari believes the demise of the publisher and businessman has created a huge gap as Malam Funtua consistently stood by him in his political journey.
"The President prayed to Allah for repose of Malam Funtua's soul, and to grant the family strength and fortitude to bear the loss."
President of the Senate: He showed great intelligence, energy integrity
President of the Senate, Dr Ahmad Lawan, described the late veteran journalist and businessman as a man of many parts who brought to bear his great intelligence, energy and integrity on everything he did.
Lawan, in a condolence message on Tuesday, said the late Funtua was a pioneer and trail blazer who established an authoritative national newspaper and a giant construction company through which he left indelible footprints on the physical and sociology-political landscapes of Nigeria.
Describing his death as a painful loss, the Senate President expressed his heartfelt condolences to the family of the late business mogul, community leader, social and political activist and nationalist.
"The news of the death of Mallam Isa Funtua left me with profound sadness. He was a man who touched many lives and impacted the development of Nigeria with his foresight, industry, enterprise, boundless enthusiasm, magnetism, friendliness and accommodating spirit.
"Mallam Isa Funtua made friends across tribe, religion, generation and class in Nigeria, and touched many lives in public service as well as in his private life," Lawan said.
Reps Speaker Gbajabiamila: He lived a life full of service to humanity
Speaker of the House of Representatives Hon. Femi Gbajabiamila, said Funtua lived a life full of service to humanity.
Gbajabiamila in a condolence message issued by his Special Adviser on Media and Publicity, Lanre Lasisi, prayed Allah to give his family, the people and government of Katsina State the fortitude to bear the irreparable loss.
Gov Masari: He was prince of the world
Governor Aminu Bello Masari of Katsina State expressed deep sorrow over the death of Malam Isma'ila Isa Funtua.
Governor Masari, in a press statement signed by the Director General, Media, Abdu Labaran Malumfashi, described the death of Isa Funtua as a loss of monumental proportion which impact will be felt beyond the shores of Nigeria.
He described the deceased as a prince of the world who, as a successful businessman, politician and a top notch member of the International Press Institute (IPI), had traversed the globe promoting and advertising the very best of Nigeria.
He added that Malam Isa Funtua, a Second Republic minister, was an iconic Nigerian brand who had acquainted himself well in business, media industry, politics and philanthropy, with hardly any place in Nigeria where his fame has not reached.
While condoling President Muhammadu Buhari, Isa Funtua's immediate family and business and political associates, Governor Masari prayed to Allah (SWT) to forgive him all his sins and other shortcomings, as well as admit him in paradise.
He also urged the bereaved to take consolation in the fact that Malam Isa Funtua had lived a fulfilled life which had impacted positively on the lives of many compatriots.
Northern govs: He stood for peace, unity, tolerance
The Northern Governors Forum has described the death of Mallam Isma'ila Isa Funtua, as painful.
The Chairman of the forum and governor of Plateau, Simon Lalong, in a condolence message by his Director of Press and Public Affairs, Dr Makut Macham, on Monday in Jos said Funtua's death was a loss to the nation.
"This is a great loss to his family, the Northern Region and the entire nation considering his immense contributions to national development.
"He is one person that has built bridges among people of different ethnic, religious and political persuasions and also encouraged unity, peace and tolerance,"he said.
The chairman said the deceased distinguished himself in the journalism profession where he played critical roles for freedom of expression and the press.
He said the elder statesman also encouraged responsible journalism practice aimed at promoting nation-building and propagation of truth, justice and the fight against corruption.
Lalong said the business acumen, humility and hard work of Funtua among his many achievements would continue to inspire the younger generation especially as a worthy role model amidst loss of confidence of selfless leaders in the nation.
He also commiserated with President Muhammadu Buhari over the loss of the deceased who was his long term associate, supporter and political ally and offered counsel to the government on many issues.
Lalong condoled with Funtua's family and prayed for God to give it the fortitude to bear the loss.
He said Nigeria, particularly the Northern Region, would miss his wealth of wisdom and knowledge which he offered during critical times while praying to God for his soul to rest in
Gov Bello: He was a highly respected personality
The Niger State Governor, Alhaji Abubakar Sani Bello has commiserated with President Muhammadu Buhari over the death of his close political associate Malam Isma'ila Isa Funtua.
Governor Sani Bello who expressed sadness over the loss of Mallam Isah Funtua in a press statement issued by his Chief Press Secretary CPS, Mrs Mary Noel Berje.
Governor Bello said, the deceased was an elder statesman, a successful businessman and a highly respected personality, considering his wealth of knowledge and experience which he said will be greatly missed.
He described the death as a great loss to his family, Katsina state and the nation at large, the Governor prayed Allah to grant the deceased Aljannah Firdausi and give his family and close associates the fortitude to bear the irreparable loss.
Gov Obaseki: He was complete gentleman, Nigerian patriot
The Edo State Governor, Mr Godwin Obaseki, expressed grief and shock over the passing of Ismai'la Isa Funtua.
In a statement, the governor described his death as a huge loss to the country and humanity, praying that God grants his family and associates the fortitude to bear the irreparable loss.
According to him, "I received the news of the passing of Ismai'la Isa Funtua with a heavy heart. He was a complete gentleman and true Nigerian patriot who showed tremendous interest and contributed immensely to the progress of the country.
"As a longtime close associate of President Muhammadu Buhari, Isa Funtua proved himself a worthy ally, who was loyal to any course he believed in. He will be greatly missed."
IPI: His colossal influence, contribution to Nat' devt unrivalled
The International Press Institute IPI said it received with shock and profound sadness, the news of the sudden death of Nigerian statesman, media icon, and IPI Patron, Mallam Ismaila Isa.
An IPI statement yesterday signed by Kabiru Yusuf, Chairman, IPI Nigeria, Wada Maida, Member, IPI Executive Board, and Raheem Adedoyin, Secretary, IPI Nigeria
Said the late Isma'ila's colossal influence and contributions to national development transversed the fields of public service, business, politics and the media.
A man of immense international stature, Mallam Isma'ila was a life patron of IPI- the global network of editors, senior journalists and media executives- with a lifetime devotion to a free press, the IPI statement said.
"Severally, he led Nigerian delegation to IPI events outside Nigeria. He was an elected member of the IPI Executive Board and a major financier and sponsor of the Vienna- based global body.
"Mallam Isma'ila will be most remembered as the arrowhead of Nigeria's successful hosting of the historic 2018 IPI World Congress & General Assembly in Abuja.
"IPI mourns the departure of this patriot and international media figure. We commisserate with his family, the Government and People of Nigeria and the media community. We beseech the Almighty Allah to grant Mallam Isma'ila Isa, Aljanah Firdaus. Ameen," the statement said.
NGE: His influence stretched beyond journalism, manufacturing, politics
The Nigerian Guild of Editors, NGE has expressed deep sense of sorrow over the death of the late Isa Funtua.
"The Guild is deeply saddened by his demise and prays the Almighty God to grant the family the fortitude to bear the loss of an elder statesman, newspaper publisher, a brilliant administrator, a former minister and a feisty defender of free press," a statement by Mustapha Isah, President, and Ken Ugbechie, Publicity Secretary of the NGE said yesterday.
"A friend and political associate of President MuhammaduBuhari, Mallam Ismaila Funtua has, over the decades, remained consistent like the Northern Star whose influence stretched beyond journalism to manufacturing and politics. In him, the nation will miss a forthright and bold patriot who deployed his defunct newspaper, The Democrat, to foster national unity, promote free speech and engender a culture of high ethical standard in journalism.
"The Guild mourns a friend and supporter whose appearances and seminal contributions at our annual conferences helped to deepen discourses and provide a compass for the younger generation of journalists in the country.
"The late Funtua was the Founder of Bulet International Nigeria Limited, one of the biggest indigenous construction companies in the country, which built most of the magnificent public buildings in Abuja.
"He founded the New Africa Holdings (publishers of the defunct Democrat newspapers). He was also a former President of the Newspaper Proprietors Association of Nigeria, NPAN. Until his death, Mallam Funtua was a life patron of both NPAN and the International Press Institute, IPI. Journalism and the nation would miss this rare patriot," NGE said.