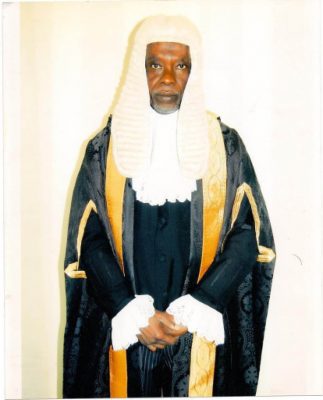 The first time I saw Alhaji Aliyu Umar SAN was on a Friday, sometimes in 2006, at the Mosque, in the Nigerian Law School, Abuja Campus, where he came to offer one of the obligatory prayers. He was then, the Attorney General of Kano State, a position that conferred on him a statutory membership of the Council of Legal Education. I think he was at the Law School for one of the Council's meeting. I can still visualise his attire that day, a white brocade without the cap and the babbar riga which I believed he must have left in his car. He was a jovial and down to earth personality.
Later in the same year, fate took me to his law firm -A. A. Umar & Co- for my 6 weeks mandatory chamber's attachment, a part of my one year vocational training at the Nigerian Law School. That was the beginning of my legal career with A. A. Umar & Co. It was that 6 weeks stay under the supervision of the then Mallam (now Dr.) Nasiru Adamu Aliyu that taught me the necessity of punctuality to work. One day, Dr. Aliyu came to the office at 8:00 with intention of going to court with us. None of us showed up until after he had left for Court. On his return he reprimanded us and lectured us on the importance of punctuality in legal profession. He also mandated us to always be at the office before 8:30. The attachment was indeed a memorable one because of the generosity of Dr. Aliyu as we were among the few students on attachment that were paid by our law firm. That was the reason immediately I was called to the Bar, I employed myself in A. A Umar & Co. Yes, A. A. Umar & Co did not employ me. Upon call to bar, I just resumed in the office and I was given a desk to start work. No interview, just the usual reception of A.A. Umar & Co
I first experienced the generosity of late Alhaji Aliyu Umar SAN during my short stay at the his office before I left to join banking sector. About a month or so before the end of Governor Shekarau's first term, the Governor dissolved his Executive Council, and the next day, Alhaji Aliyu Umar SAN resumed work at his private law office. I was one of the young lawyers co-opted into the election litigation team of Mallam Ibrahim Shekarau. In one of our meeting at Prince Hotel, Oga, as we fondly call him, noticed that I was having a problem with my phone. He gave me N20,000 to buy a new one.
Working under Oga Aliyu gave me the privilege of being part of legal teams of some high profile cases which greatly shaped my legal career and laid a mark in the legal jurisprudence in Nigeria. He also taught me that in practice, that higher calling of a lawyer is upholding justice, not necessarily wining for his client's case.
He is a compassionate man, a lawyer's lawyer and a true bar man. On one occasion, we were doing a case of wrongful confiscation of our client's asset by the EFFC. The lawyer to EFCC has not filed his brief and the appeal was billed for hearing at the Court of Appeal. The Respondent's counsel approached him and informed him that he was not able to file his brief owing to certain personal challenges. When the case was called, characteristics of Oga, he conceded to an adjournment and the Justices of the Court of Appeal, clearly told the opposing counsel that, but for Oga's magnanimity the case could have been heard on the Appellant's brief alone.
He never takes away a brief from a counsel. It is not in his character. One time, a young counsel was initially briefed to do a case, after the young man has filed the case, the client decided to approach Oga and informed him that he wants him to takeover the case from the young lawyer. Oga took the processes, read them and told the client that the young lawyer has covered the field and that unless the young lawyer is retained, he will not take the brief.
Another instance happened recently, when a certain Gubernatorial candidate wanted to debrief the counsel that conducted the case at the tribunal for Oga to take over. Oga told the client that he doesn't work that way. The other lawyer was of full praises to Oga. He gathered the juniors and admonished them to emulate Oga's noble conduct.
Oga was a courageous lawyer. He believes in the cab rank Rule, even if it will put him in the eyes of the storm. He doesn't mind whose ox is gored, he displayed that when he was briefed to prosecute the former Chief Justice of Nigeria on the allegation of breach of the Code of Conduct. He took up the matter and prosecuted it. He never cared about the side talks that he was prosecuting the highest judicial officer who was also his classmate at the Nigerian Law School. In fact at the Court of Appeal, the Justices of the Court of Appeal commended him for the professional manner with which he handled the case.
He is also very frank to his clients. He was briefed to prosecute the then President of the Senate. Dr. Bukola Saraki on the allegation of forgery of the Senate Standing Committee Rule. After reviewing the case file and proof of evidence, he came to the conclusion that the case as it was, without further investigation, was dead on arrival and he did not mince words in advising the government to withdraw the case in the absence of any other evidence. The government accepted his advice and proceeded to withdraw the case.
Oga Aliyu was a generous to a fault. He literally lived his life and earn his living for others. Out of every N100 Oga made, N70 will go to his relatives, friends and associates. Oga is one person that can have N5,000,000 today and may not have N10,000 in the next five days. Indeed oga was true depiction of the dictum "givers never lack". Oga was the only senior lawyer I know, every junior is eager to work with because of his generosity.
He cared less about accumulation of wealth. He was spartan even in his dressing. I once complained to our immediate boss -Dr. Nasiru Aliyu- about oga's simplistic way of dressing which I thought was not commensurate to his status. His answer was; "kai ka isa ka canza Oga? Ka rabu da Oga shifa na daban ne". and true to his words I tried hard, but succeeded in very little way. Whenever I objected his dressing to a particular meeting, he will just laugh and say, "kai Sunusi baka da dama".
On two occasions, it was at my instance that Oga agreed to buy a relatively good vehicle for himself. He rather spends the money on others. It is only Oga that will give me money and also give my wife. He will say "wannan ka kaiwa diyata".
My association with Oga Aliyu gave me many things that I will cherish to the end of my life. His leadership style, increased my confidence to believe in my ability to handle cases as a lawyer. Some of the invaluable people I have in my life are from his office. Dr. Nasiru Adamu Aliyu, -is a big brother one can always turn to. Dr. Musa Adamu Aliyu (the present Attorney General of Jigawa State) with whom I struck a great friendship that has metamorphosed to brotherhood.
He is humble to a fault. I learnt how to respect senior colleagues in practice from Oga. I recall a day I drove him to see Alhaji Bashir Dalhatu in his office. After their meeting, they came out together and what surprised me was Oga carried Alhaji Dalhatu's bag.
Oga Aliyu's 42 years of legal practice was very eventful and full of indelible marks. He rose through the ranks in the Civil service to the enviable position of the Director of Public Prosecution (DPP) within a period of ten years. He voluntarily retired from the public Bar and started his private practice with B M Dalhatu and Co. He later formed his law firm -A. A. Umar & Co- where he was entrusted with the prosecution of many high profile cases starting from the failed Bank tribunal cases. As Attorney General of Kano State, he made his mark as people's lawyer. One of his high point was getting justice for the victims of Pfizer trovan trial test. It was his stand for the right of masses that made Pfizer to settle the case out of court by compensating the victims and building a fully equipped standard hospital for the Kano State at Kwanar Dawakin Kudu, presently serving as COVID-19 isolation centre.
When Oga's illness started manifesting with the loss of his voice, I was utterly worried. Here was an energetic man with no sign of illness who lost his voice. My worries increased when after several diagnosis at one of the best Hospitals in Abuja, nothing tangible was found to be the cause of the loss of his voice. Eventually, Oga went to Beirut where he was diagnosed with cancer.
Oga was a dedicated family man and maintained close contacts with all his relatives. It is unfortunate that we lost him at a time when he is needed the most by all of us. It is indeed a big loss.
May Allah have mercy on his souls and grant him Jannatul firdaus.
Sunusi Musa Esq.
Protégé of Aliyu Umar SAN