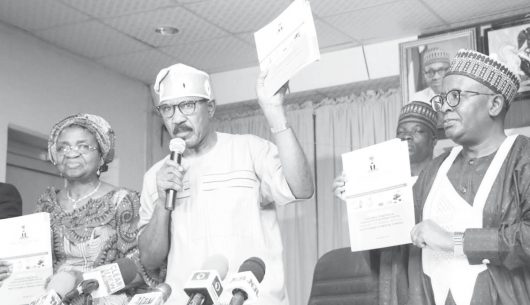 By Tobias Lengnan Dapam
Last week, stakeholders' in the health sector converged on the nations capital, Abuja, to jawjaw on better ways to strengthen the country's herbal medicine and encourage other herbalists across the country.
Nigeria celebrates the African Traditional Medicine day every August 31.
The theme for this year's event; "Integrating Traditional Medicine in Health Sciences Curricular in the African Region", was meant to revamp the sector and give it a new look so as to encourage the practice.
To this end, the Minister of State for Health, Senator Olorunnimbe Mamora, has called on Universities in the country to introduce Bachelor of Science degree programme in herbal medicine for better healthcare delivery.
Mamora made the call during the conference commemorating the 2019 African Traditional Medicine Day on Friday.
The Minister appealed to Nigerian universities to incorporate modules of herbal medicine in their curricular of health sciences.
He added that this could be achieved with support from the Tertiary Education Trust Fund.
Mamora, also unveiled the ministry's report on curriculum development for the training of herbal medical practitioners and medical schools.
He urged agencies and departments working on traditional medicine in the country to work together for the development of the sector.
He said the ultimate goal of government in the sector was to derive maximum economic benefits from traditional medicine like China, India and other countries.
The minister urged state governments and the Federal Capital Territory to establish traditional medicine departments for healthcare development.
He said the ministry was working on a traditional and complementary medicine bill to be submitted to the executive for approval and forwarding to the National Assembly for passage.
Mamora said such department should be complementary to medicine department to provide opportunities for rapid development and integration of traditional medicine into the healthcare delivery system.
In her welcome address, the Director , TCAM , Pharm Zaniab Shariff, from the Department of Traditional, Complementary & Alternative Medicine (TCAM), said Nigeria has over 8,000 species of medicinal plants which need to exploited.
"We cannot continue to allow the Chinese to take our raw plants cheap and package it back us to pay higher than than the price they got. We must wake up and appreciate what we have at home.
These plants are not only for health benefits, but also for nutritional value."
She added that 1billion dollars is generated annually from the sales of traditional medicine by China and India.
Also speaking, the Director General of the National Agency for Food and Drug Administration and Control (NAFDAC), Prof. Mojisola Adeyeye, disclosed that her agency has put in place a national traditional medicine product committee.
"We started that early this year. We gathered the academia and herbalist together in Oshodi.
"What NAFDAC is trying to do is to foster the translation of traditional medicine into product.
"We emphasized the importance of collaboration. There is no used to have a knowledge that dies with you. We are trying to gather the knowledge and sent it to academicians.
"NAFDAC is in the forefront of making sure that our medicines are translated into commercial product," she noted.
She revealed that: "I have given a directive that any herbal medicine that we are importing that has similar function as the one that we have on our data base is certainly going to be stepped down so that we increase our own development internally."
Meanwhile, World Health Organisation (WHO), has vowed to continue to work with, and support member countries to enable them integrate the practice of Traditional Medicine (TM) in national health care system.
The WHO Regional Director for Africa, Dr. Matshidisu Moeti, represented by the Health Emergencies Team Lead, Dr. Clement Lugala Peter, called on governments, the academia, research institutions and the private sector to strengthen collaboration towards the integration of traditional medicine into training programmes of health workers, students and researchers.