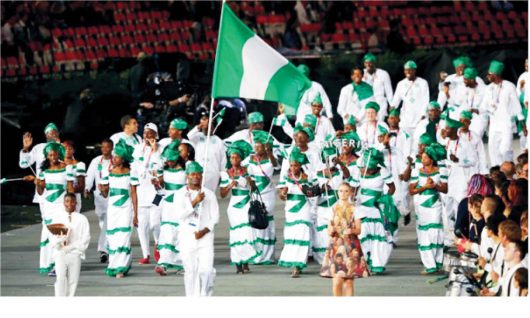 Stories By Amaechi Agbo
Ahead of this year's Tokyo 2020 Olympic Games in Japan, the home-based Nigerian athletes will camp in Europe and Kenya as the ministry of youth and sports development intensify preparations for the quadrennial global showpiece.
Minister in charge of the ministry, Sunday Dare minister disclosed on Monday while speaking with the press on preparations for the Olympics
Mr Dare state that the home-based athletes who will represent Nigeria in the Tokyo 2020 Olympics will be sent abroad to prepare for the world tournament..
The Minister said that the foreign based athletes will benefit from the advanced sporting facilities in their countries of residence, hence the need to provide same for the Nigerian based athletes.
"We are going to send a few of the home based athletes outside the country for the necessary training. Some will go to Holland, other parts of Europe, some will even go to Kenya."
The Minister also assured that the Ministry was doing all within its means to secure funding to support the athletes to ensure they give the best for the country at the competition later in the year in Tokyo. He added that the Adopt an Athlete was in full gear and would also serve to lift some burden off the Ministry.
In the meantime, suspended President of the Athletics Federation of Nigeria (AFN), Engineer Ibrahim Gusau is in for stronger censure as a panel of the Nigeria Olympic Committee (NOC) indicted him saying his declaration of AFN's autonomy from the Ministry of Youth and Sports Development was out of order and impossible because the Ministry will always supervise National Sport Federations.
The committee also endorsed the removal of erstwhile AFN Technical Director, Sunday Adeleye saying that he stands removed stemming from the crisis surrounding the appointment of Mr. Sunday Adeleye and the report of the Ministerial Panel on Doha.
The committee said it discovered that the leadership crisis in the AFN had been brewing since the last national federations' elections in June 2017 and worsened before the 12th African Games in Morocco in August 2019 when some board members asked Gusau to step aside as president and be investigated. Most AFN board members have scores to settle with each other in addition ego, emotions and sentiments that now threaten the sport.
The NOC Committee supports the fact idea that Ibrahim Gusau should appear the investigation panel set up by the December 3, 2019 AFN Board meeting even though it recommended to the ministry might consider the expansion of the investigative panel to include "representatives of NOC, Federal Ministry of Youth and Sports Development and the Federal Ministry of Justice" so that the suspended AFN president can defend the allegations levelled against him within two weeks.
It also recommended the removal of former AFN Technical Director, "The position of the Technical Director of the Athletics Federation of Nigeria is by appointment.