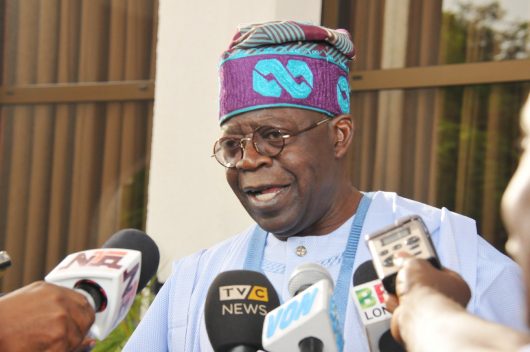 By Dr. Bisi OLAWUNMI.
Senator Ahmed Bola Tinubu celebrated his 68th birthday, Sunday, March 29, 2020 with eulogizing congratulatory messages from members of his constituency. I am an outsider, looking in. Tinubu, former governor of Lagos state, former senator of the Federal Republic and National Leader of the All Progressives Congress (APC) has been a major factor in Nigeria's political firmament for about three decades and therefore needs little introduction. Turning 68 is not one of those landmark birthdays, but then if you are a Bola Tinubu, every birthday is a celebrative event. Which explains why those who have benefited from his political patronage took a total of 64 full page adverts in THE NATION newspaper on 29 March 2020 for a public re-affirmation of their gratitude. They were effusive in their accolades, variously describing the celebrant as 'Leader of Leaders', 'Rare Breed', 'Prolific Hero', 'Grandmaster', talent promoter, mentor of leaders, on and on. Dr. Kayode Fayemi (PhD) Governor of Ekiti state and chairman of Nigeria Governors' Forum provided intellectual bent in his advert message with a quote of one of America's early presidents, John Quincy Adams : ''If your actions inspire others to dream more, learn more, do more and become more, you are a leader''. Very apt. As Fayemi is one of Tinubu's discoveries whom he lifted, to become more, from the anonymity of a frenetic, hustling activist to the dizzy height of a state governor in his first coming in Ekiti state. Today, Fayemi swaggers in his own self importance as a two –time governor of Ekiti state, and a former federal minister. And this leads to the topic of this write-up : What does Jagan Borgu, Bola Tinubu want ? It is rhetorical question with an open answer : which is that Tinubu's aspiration to the highest office in the land is an open secret. It is his right as a citizen of Nigeria. The other part of this question is : What is the prognosis for the actualization of this ambition, if it progresses beyond a mere wish ?
We can start the intellectual excursion by doing a content analysis of the 64 pages of congratulatory messages on Tinubu's birthday on 29 March, 2020. Only 10 of the messages are from persons outside of Tinubu's dominion orbit of Lagos state governance and party structure. These include messages from governors of Ogun, Osun and Ekiti states. Others are from Yobe state governor, Mai Mala Buni, Senate president, Ahmad Lawan , his deputy, senator Ovie Omo-Agege, Southwest Caucuses in the Senate and the House of Representatives and business mogul, Sir. Adebutu Kessington, an Ogun state indigene. There were no congratulatory adverts from South-South, South-East, North Central and Northeast. Of course, elements from these geo-political zones could have paid courtesy calls at Tinubu's den on Bourdillion Road, Ikoyi, Lagos. Although his more auspicious 70th birthday in 2022, a year to the 2023 general elections, will make a more definitive statement, nevertheless, the limited advert spread deserves interrogation, if only from an academic standpoint, especially for an aspirant to national leadership.
Opponents of Bola Ahmed Tinubu acknowledge his political sagacity, even if grudgingly. He has demonstrated this in practical terms, the icing being the political engineering that birthed the All Progressives Congress (APC) which morphed into a political tsunami that swept the ruling Peoples Democratic Party (PDP) from power at the federal level in 2015 and retained power in the 2019 elections. Tinubu has made governors, ministers, board chairmen, legislators and empowered people with sundry other political offices which are political IOUs that he can call up, going forward. But success has its albatross and it is this albatross that could weigh heavily on the Jagaban when and if he makes manifest his ambition to run for the office of President of the Federal Republic. It will be the day of the long knives and he would have to watch his back. There are those who hated his guts with a passion, while many of his mentees do not project similar passion as faithful disciples. Tinubu will need to learn from recent political history in the country. Chief M.K.O. Abiola invested for decades on his presidential ambition by spreading largesse throughout the country that earned him over 200 chieftaincy titles nationwide. He amassed millions of admirers and June 12, 1993 was his payday when Nigerians across all divides voted massively for him at the presidential elections. He won convincingly, but Gen. Ibrahim Babangida, head of the ruling military junta, was intimidated by junior officers to annual the election. When Abiola needed his national spread base most, to stand by him, he was let down simply because as admirers they were not fanatically supportive to dare the guns. It instructive that in his congratulatory advert, Dr. Fayemi had stated : ''To those of us who are your admirers ….'' That word , admirer, contextually is tepid, flat but loaded. Tinubu could be facing a clash of ambitions in his backyard. And he needs to blunt some emergent potentates by reconciling with the old warriors in Afenifere. Some dismiss them as of no electoral value, but they still retain some moral, cultural backbone.
At 68, Tinubu, the swash-buckling fortyish governor of 1999, has turned a political, graying lion, a veteran who has successfully navigated Nigeria's shark-infested political waters, so far. The final call, the father of all political battles beacons. Can he, Will he dare ?
DR. BISI OLAWUNMI, Public Affairs Analyst is a former Washington Correspondent of the News Agency of Nigeria. Email :olawunmibisi@yahoo.com Phone : SMS ONLY 0803 364 7571