The State of Type 2 Diabetes: When Health Becomes a Full-Time Job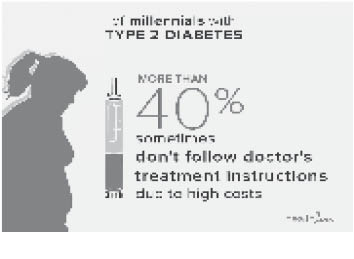 Living with type 2 diabetes can feel like a full-time job. On a basic level, this chronic condition affects the way the body metabolizes sugar, which is an important source of fuel. More than most, people with type 2 diabetes need to eat in ways that maximize their health, exercise regularly, and make other healthful lifestyle choices every single day. On top of that, they need to monitor their blood sugar levels. Many take medication daily.
Although type 1 and type 2 diabetes differ in important ways, both involve problems with insulin, a hormone that regulates the movement of sugar into the body's cells. When the body doesn't produce insulin, or stops using it effectively, sugar builds up in the bloodstream and causes a condition called hyperglycemia. In the early stages, this high blood sugar causes subtle symptoms, such as thirst and frequent urination. Left unchecked, it can damage blood vessels, nerves, eyes, kidneys, and the heart.
Some diabetes medications raise the risk of hypoglycemia, or very low blood sugar. This condition can cause serious problems, including loss of consciousness or even death.
Type 2 diabetes develops when the body becomes resistant to insulin — meaning the hormone isn't used effectively — or doesn't produce enough insulin to keep blood sugar within a target range. It differs from type 1 diabetes, which is an autoimmune disease that halts the production of insulin. Type 1 diabetes often develops over the course of weeks, usually in children or young adults.
In contrast, type 2 diabetes often develops slowly. People can go years without knowing they have it. To manage it, doctors generally recommend blood sugar monitoring, lifestyle changes, and daily oral medications. In some cases, treatment with insulin is needed. Depending on body mass index (BMI) and other factors, doctors may recommend weight loss surgery. According to the National Institutes of Health, a high BMI is linked to insulin resistance.
It's overly simplistic — even hurtful — to call type 2 diabetes a "lifestyle disease." No one is to blame for developing it. The exact cause is unknown. Both genetic and environmental factors likely play a role, reports the Mayo Clinic. Family history puts people at higher risk. Certain racial or ethnic groups, such as African-Americans, Native Americans, and Latinos, are also at increased risk. The disease is more common in people older than 40, though it increasingly affects young adults.
No matter when it's first diagnosed, type 2 diabetes irrevocably changes people's lives. Frequent doctor visits and tests to monitor blood sugar levels are recommended. Many people set dietary and exercise goals. They might need to address risk factors for complications too, such as high blood pressure or cholesterol levels.
Learning to reduce stress is also crucial. Mental stress can raise blood sugar levels — and living with type 2 diabetes can be stressful. It takes effort to juggle everyday life with the demands of a complex chronic condition.
Lifestyle affects the risk and severity of type 2 diabetes, and in turn, the condition can transform a person's lifestyle. That's why Healthline's survey focused on how people with type 2 diabetes fare on a day-to-day basis and how they feel about the disease's impact on their lives.
Lifestyle work
Healthline's survey found that most adults — especially older adults — feel pretty good about how they're managing type 2 diabetes. The vast majority said they're well supported by loved ones. More than half reported feeling knowledgeable, self-reliant, or resilient on a daily or weekly basis. Following their diagnosis, most said they started eating more healthfully, exercising more, and managing their weight better.
But there's a flip side to that sunny picture. Two-thirds of survey participants said their current weight negatively affects their health. More than 40 percent said they rarely exercise hard enough to break a sweat. And sizable minorities — especially younger adults — reported feeling exhausted, anxious, or guilty about how they manage the condition.
These results may seem contradictory, but type 2 diabetes is a complex condition. It's a rare person who can follow all their doctor's directions to a T. That's why it's important to stay realistic. Managing the disease is a balancing act: a small square of chocolate once in a while is fine, but a king-sized candy bar every day isn't.
"You're meeting people where they are, and you're helping them to make realistic lifestyle choices," said Laura Cipullo, RD, CDE, who authored the book "Everyday Diabetes Meals: Cooking for One or Two." In her practice, she helps people focus on long-term changes, not quick fixes.
But even people who commit to changing their habits might find their efforts stymied by the occasional birthday party, work commitments, or factors beyond their control.
"When I was diagnosed, I was 45 pounds heavier than I am now," said Shelby Kinnaird, author of the blog Diabetic Foodie and the book "The Pocket Carbohydrate Counter Guide for Diabetes."
Though she's kept the weight off, her busy travel schedule makes daily exercise tough. Lately, she's been experiencing the "dawn phenomenon," which refers to high morning blood sugar caused by a surge of hormones. So far, she hasn't found a long-term solution. "Everything I've tried doesn't work consistently. That's the biggest challenge I'm facing at the moment."
Similarly, Cindy Campaniello, a leader for the Rochester, NY, chapter of the support group DiabetesSisters, works hard to balance the requirements of managing type 2 diabetes with the responsibilities of a busy life. Trying to stay on a specific diet is "horrendous," she said, not because the food isn't tasty but because of the time it takes to plan and prepare meals.
"You know, we have a life," said Campaniello. She told Healthline about the challenges of raising two active boys while preparing healthy meals with proteins, fresh produce, and limited carbohydrates. "You can't say to your kids, 'We're going to have McDonald's tonight,'" she explained. "You can't function with diabetes by getting some processed food on your lunch break."
Weight and stigma
Despite the effort they've poured into making healthy changes, close to half of participants in Healthline's survey said weight management remains a big challenge: they've tried to lose weight multiple times without long-term success.
Dr. Samar Hafida, an endocrinologist at the Joslin Diabetes Center in Boston, told Healthline that on average, the people she treats have tried three or more fad diets. "There is no diabetes management that doesn't include healthy eating and physical activity," she said, but trendy diet advice can lead people astray. "There is an abundance of misinformation out there."
That's one of the reasons why permanent weight loss eludes so many. Another is that people facing weight challenges may not receive helpful medical interventions, or any help at all.
Piled onto these challenges is the stigma associated with type 2 diabetes and weight, especially for younger people.
"I had a girl just the other week who was slightly overweight," said Veronica Brady, PhD, CDE, a spokesperson for the American Association of Diabetes Educators who also works at a medical center in Reno, NV. "What she said to me when I met her was, 'I really hope I have type 1 diabetes and not type 2.'" With type 2, the young woman feared, "'people are going to think I have diabetes because I didn't have any self-control.'"
Actress S. Epatha Merkerson, of Law and Order and Chicago Med fame, knows the stigma of type 2 diabetes — largely from experiences with family members who had the disease but never talked about it. Her relatives didn't even say the word "diabetes."
"I remember when I was a kid, the older folks in my family would always say 'Oh, she has a touch of sugar,'" Merkerson told Healthline, "So I found myself saying that and not really understanding, what is a touch of sugar? You're either diabetic or you're not."
By being forthright about her condition, Merkerson hopes to lessen the embarrassment that many people feel. That's why she's an advocate for America's Diabetes Challenge, sponsored by Merck and the American Diabetes Association. The initiative encourages people to make lifestyle changes and follow treatment plans to improve type 2 diabetes management.
When Merkerson was diagnosed 15 years ago, she had to come to terms with how much weight she had gained. By the time she left Law and Order, she said, "I had a closet that went from a 6 to 16." She felt some embarrassment about seeing her size increase on national television — but also was motivated to make changes.
"I was 50 when I was diagnosed," she explained, "and I realized at the time that I was eating like a 12-year-old. My table, my food, and my choices were so off the chart. So, that was the first thing I had to do, was to figure out how to eat better, how to cook, how to shop — all of those things."
Stress and fatigue
Given all the work involved in managing type 2 diabetes, it's little wonder that nearly 40 percent of people surveyed said they feel exhausted on a daily or weekly basis. Just as often, more than 30 percent said they feel guilty about how they're managing the condition.
Lisa Sumlin, PhD, RN, a clinical nurse specialist in diabetes, finds these perspectives familiar. Her clients in Austin, TX, tend to be low-income immigrants, often working multiple jobs to make ends meet. Adding the tasks needed to manage type 2 diabetes requires yet more time and energy.
"I tell patients all the time: this is a full-time job," she said.
And it's not one for which they can take shortcuts.
Even essential medical tests can trigger stress. For example, doctors order an A1C test to learn about an individual's average blood sugar levels over previous months. According to our survey, nearly 40 percent of people find it stressful to wait for their A1C results. And 60 percent feel like they've "failed" if the results come back too high.