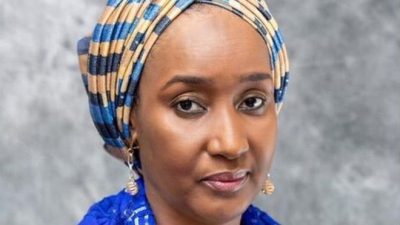 The federal Ministry of Humanitarian Affairs, Disaster Management and Social Development is, in a manner of speaking, building a social investment bridge for the nation's very poor and vulnerable to walk out of dehumanizing poverty. Created to bring all services in the emergency management sector under one supervisory authority, the humanitarian ministry has had its hands full from the beginning. Natural and man-made disasters, economic and political instability, social unrest and an increasingly restive youth population have made it very visible and, therefore, exposed.
Cynics and opponents of the government of the day have taken advantage of the ministry's visibility to undermine its work, using the social and sometimes mainstream media.
However, the minister, Hajiya Sadiya Umar Farouk, graceful and self-effacing, is determined to soldier on. She will not be distracted by the insults, innuendos and scorn regularly thrown at her. Like President Muhammadu Buhari, Sadiya has set her sight on the goal, defying naysayers and ignoring distractions and her detractors. Her doggedness is yielding results in the various social incentive programmes her ministry is implementing to give succour to the nation's poorest of the poor. The Conditional Cash Transfer (CCT) scheme, for instance, involves the financing of safety net transfers to targeted poor and vulnerable households captured in the National Social Register (NSR). It is delivering cash transfers in a way that is accessible to beneficiaries and with benefit levels that are consistent with project objectives. Thirty four of the 36 states, including the Federal Capital Territory (FCT), have established State Cash Transfer units responsible for implementing programmme activities at the state level. Ebonyi and Ogun states will be brought on board too very soon. 2, 396, 010 households are already benefiting from the CCT scheme. The figure changes as more households are captured in the National Social Register and subjected to the Proxy Mean Test ranking. 11, 649, 522 individuals make up the over two million households. A N5, 000 stipend is paid to every household every month. But because of the challenge of logistics, N10, 000 is paid in a two-month cycle.
Also, an orientation step-down training, aimed at equipping Cash Transfer Facilitators (CTFs) with skills that will enable them to communicate effectively with the beneficiaries of the CCT programme, has been carried out for 80 and 30 CTFs in Delta and Lagos states respectively. A total of 1,218,709 households with 6,107,524 beneficiaries have been enrolled into the National Beneficiary Register in 34 states and 425 local government areas. As at the last payment cycle in April/May 2020, a total of 748,684 beneficiaries in 24 states received payments. The June/July 2020
Disbursements are ongoing and the number of beneficiaries is expected to increase.
Eleven states are participating in the top-up component of the programme and 30,071 beneficiaries that adhered to co-responsibility benefited in the last payment cycle. Ten states have concluded the soft co-responsibility training and commenced the hard co-responsibility which is school attendance, antenatal for pregnant women, immunization for children and
environmental sanitation, depending on the state's selected co-responsibility. Co-orientation training was carried out for Cash Transfer Facilitators (CTFs) in Ekiti and Niger states. The CTFs, after the training, carried out field validation of top-up beneficiaries in their respective states. A lottery/public community selection was carried out in 12 LGAs in six states (Anambra, Bauchi, Cross River, Jigawa, Niger and Oyo). Rural and urban LGAs were selected in each state. Communities that will participate in the three packages (A-Base, B-Base, Top-up and Livelihood and C-Base and Top-up) were openly selected. A total of 627,662 beneficiaries have been trained on savings and group mobilization (SGM). The training has facilitated the formation of 28,817 savings groups and 10,354 registered co-operative groups. The savings groups have built up savings amounting to N1,147,084,650.
In the wake of the Corona Virus pandemic, some of the activities carried out to facilitate the implementation of the CCT scheme include: Design and printing of fliers on safety protocol on Covid 19 for the purpose of sensitization of SCTUs and beneficiaries; Covid 19 payment guidelines sensitization meeting with Payment Service Providers (PSPs); Constitution of Covid-19 response committee at NCTO who went round to collate CCT beneficiary payments and other activity updates in the implementing states for regular submission of reports to the Ministry of Humanitarian Affairs; Monitoring and reporting of payment to ensure guidelines are followed; Enrolment of new beneficiaries in Lagos, Kogi, Delta, Bauchi and Niger states; Provision of Technical support to the states on Behavioural Change Communication (BCC) to beneficiaries on personal hygiene and Provision of personal protective equipment to states' cash transfer units.
No doubt, the establishment of a National Social Register (comprising State Social Registers) of poor and vulnerable households through a tripartite method of poverty mapping, community-based targeting and proxy means testing has gone a long way in identifying and providing palliatives for the poor and vulnerable. Yes, it may be that only about 60% of the households, determined as the neediest through a Proxy Mean Test ranking system, are benefiting from the CCT programme. But the remaining 40% have been captured as potential beneficiaries of other social protection programmes by the government or development partners.
It is also true that the CCT programme has faced numerous challenges such as limited access to technological infrastructure such as mobile phone coverage and the internet as well as poor financial infrastructure. To remove such obstacles, beneficiaries affected by them are paid offline by utilizing the services of Payment Service Providers (PSPs).
Those are no mean achievements, made more significant by the hostile social political environments in which the ministry works. We, therefore, commend the government for giving the extremely poor citizens of this nation access to some form of monthly income, along with training and mentoring over a defined period of time until they are able to come out of poverty. Although N5, 000 may be considered only a drop in the ocean of poverty, it can go a long way to cushion the effects of poverty on many extremely poor citizens in our rural communities who do not earn anything in the region of N5, 000 a month.
However, we dare suggest that critics of the programme be not dismissed because the ministry finds their criticisms uncomfortable or because they are politicians in the opposition. Constructive criticisms should be welcome to sharpen the content and focus of the programme to make its goals deliverable.