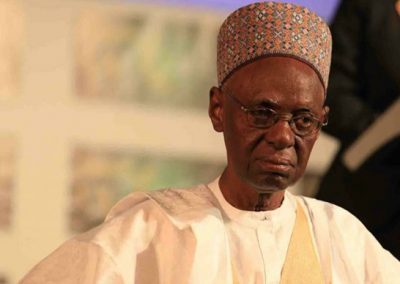 Monday Column by Emmanuel Yawe
royawe@yahoo.com | 08024565402
I seek your permission to donate my column this wek to Alhaji Bamanga Tukur whom I served as Press Secretary when he was Governor of Gongola State. He wants to use it to pay tribute to President Shehu Shagari. – Emmanuel Yawe
By Alhaji Bamanga Tukur
President Shehu Shagari is a leader I admired and respected for all the years we came to know ourselves over half a century ago.
When I joined the Nigerian Ports Authority in September 1960, Shehu Shagari was already a top-flight politician. Preparatory to independence in 1960, he had been Federal Minister for Commerce and Industry in 1958 -1959 and Federal Minister of Economic Development 1959 -1960. At independence he was made Minister of Pensions 1960-1962 and Federal Minister of Internal Affairs 1962 -1965. From 1965 – 1966, he was Federal Minister of Works.
What I found unusual about him in those early days of our contact was his humility and commitment to the cause of Nigeria's unity and development. Those of us from the then Northern region in the Federal Civil Service in Lagos were very few. Lagos was a strange environment and many people from the North did not find it conducive. Those of us who stayed on in Lagos did so because Alhaji Shehu Shagari encouraged and exhorted us to stay on. He often told us that Nigeria will not be united if the Federal Civil Service did not sufficiently reflect all its component parts.
As a politician we also discovered that Shehu Shagari was a stabilising factor in the unusual political situation we found ourselves in the first republic. At the end of the general elections in 1959 to usher in the first republic, the Northern People's Congress (NPC) emerged as the party with the majority of members in the House of Representatives. Consequently, it was expected that the leader of the Party, Sir Ahmadu Bello, the Sardauna of Sokoto would emerge as the first Prime Minister in 1960. But he opted to be the Premier of the Northern Region and delegated his Deputy, Sir Abubakar Tafawa Balewa to be the first Prime Minister
This situation created cracks within the ruling NPC that were not very visible to outsiders. But those of us in close contact with our northern leaders knew that there emerged the Lagos group and the Kaduna group in the party. Some of the members of the Lagos group in order to display their loyalty to Sir Tafawa Balewa behaved as if they did not have much regards for the Premier of the North and leader of the NPC Sir Ahmadu Bello. Under these difficult circumstances, Shehu Shagari proved that he was different. He remained loyal to both the Prime Minister and the Premier and as a good party man was thus able to mediate and resolve all grey areas that emerged in the difficult relationship.
After the military coup of 1966, Shehu Shagari again displayed uncommon humility when he refused to hang around Lagos or even Kaduna but went back to his roots in Sokoto. From his high horse as a Minister of the Federal Republic of Nigeria, he came down to accept the lowly position of Secretary of the Sokoto Province education development fund in 1967.
This great show of humility paid off and the following year, 1968, he was made the North Western State Commissioner for Establishments. General Yakubu Gowon the Head of State later appointed him a Federal Commissioner and he served in such sensitive ministries as economic development, rehabilitation and reconstruction up to 1975 when the Gowon government was overthrown.
By the time he returned to Lagos as a Federal Commissioner, I had also risen in my Civil Service Career at the Ports Authority to a fairly senior position and as I became more intimate with him, my admiration of him grew. He inspired and encouraged me until I was appointed the Chief Executive of the Nigerian Ports Authority
Shehu Shagari the proverbial cat with nine lives still returned to Lagos after the Government was overthrown. This time he came as the first Executive President of Nigeria. By virtue of the two offices we held, we had no option but to work closely together. He gave me unfettered support to develop and complete most of the port development projects that had been embarked upon by his predecessors. And my admiration of my President grew even more.
By 1982 when I made up my mind to retire from the Ports Authority and pursue a career in politics, I first of all consulted with my President and role model, Shehu Shagari. My mind was already made up on what party to join. With him as a President elected on the ticket of the National Party of Nigeria, NPN, I had no option.
He encouraged me with words of advice, derived from his deep wisdom and long experience in politics. In the 1979 elections, his party lost woefully in my home State of Gongola. We had a GNPP governor and only one Senator out of five. In the State House of Assembly, we were also in the minority. He was full of hope that my entry into the party would inject energy into the party.
I am happy to say that working with other party members and with the blessings of Allah, we did not fail our President. In 1983, I emerged as Governor at the elections and our party won a clear landslide in all the legislative elections. President Shagari was so happy with our performance that he wrote me a personal letter congratulating me and other party members.
Sadly, our days in government were cut short by military intervention. But within the three months that I was in office as Governor of Gongola, President Shagari was my guardian angel, constantly advising me and giving me support to succeed. Fortunately, the manifesto of the NPN which placed emphasis on food and shelter favoured my State and I was determined to work with him to achieve the set objectives of our great party.
It is instructive to note that despite the fact that we in Gongola did not vote for his party, he decided to launch the National Housing Scheme of his government for the whole country in Yola the Gongola State capital in 1980. A great lesson in fairmindedness and political tolerance.
In my three months as governor of Gongola State – a mini Nigeria made up of over 100 ethnic groups – Shagari's sense of justice was a guiding principle.
Sadly, we were overthrown after a brief spell of three months. Even then, he conducted himself after his overthrow with dignity befitting the Presidency he embodied. He was neither bitter nor harbored ill feelings against those who overthrew him.
Nigeria has a lot to learn from this great man of all times.