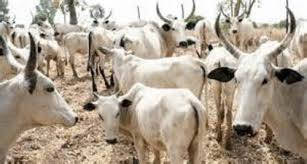 At the zenith of the herder/farmer conflict, the federal government was accused of doing nothing to end the conflict that has claimed several lives and destroyed hectares of farmland and crops. Now that the government has moved to do something, the hullabaloo isn't receding.
What is it the government is doing or wants to do? It has proposed what it calls "Ruga" settlements in rural areas for all owners of livestock, not just Fulani nomads. The scheme will take off on a pilot basis in 12 states that have accepted it. Presidential spokesman Garba Shehu explains it thus: "Ruga settlement (is) a rural settlement in which animal farmers, not just Fulani herders, will be settled in an organised (manner) with provision of necessary and adequate basic amenities such as schools, hospitals, roads, veterinary clinics, markets and manufacturing entities that will process and add value to meats and other animal products." He said those that would benefit from this plan "include all persons in animal husbandry, not only Fulani herders".
The ultimate goal of the government, according to Garba, is "a drastic reduction in the conflict between herders and farmers, a boost in animal protection, complete with a value chain that will increase the quality and hygiene of livestock in terms of beef and milk production, increased quality of feeding and access to animal care… Stripped of the politics and howling that have attended recent comments, there is no government plan to seize state lands, colonize territory or impose Ruga on any part of the federation."
It is true that the Land Use Act places lands in the states under the control of their respective governments. The rational is that it should be easy for them to take land for development projects which will benefit all and sundry. However, the argument of the states opposed to Ruga is two fold. One, by gazetting lands in all the states of the federation, the federal government does plan to ultimately impose Ruga on all states. If that happens, it is not right to say ruga is voluntary.
The second strand of the anti-ruga argument is a revised version of what state governments had accepted during the meeting of the National Economic Council in January, this year. They reportedly agreed on a National Livestock Transformation Plan (NLTP) that would promote ranches, owned by individuals, not government. Like Ruga, the ranches would take off at a pilot level. Incidentally, the ECOWAS Authority of Heads of State and Government is reportedly in support of this arrangement.
The federal government has explained why it dropped the NLTP. It should do so quickly to remove the suspicions that Ruiga has kicked up. A programme that has all the good intentions attached to it should be made as transparent as it can be.