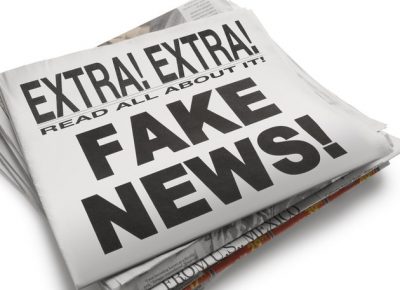 TUESDAY Column by VICTORIA NGOZI IKEANO
vikeano@yahoo.co.uk 08033077519
President Donald Trump of the United States of America it was who popularised the advent of fake news with his (in) famous fake news Awards for year 2017. In truth the fake news phenomenon gained traction during the 2016 US presidential election with its related drama when Russia was accused of having allegedly influenced its outcome through pushing out of a series of fake news in the social media meant to sway voters. Till-date the relevant American institutions are still investigating those claims and it is one of the allegations hanging ominously on Trump's neck like the sword of Damocles. Fake news reports are associated more with the social, online media. But these days even the conservative, once respected traditional media are also falling prey to it. For, often we hear of people countering some reports we had all swallowed hook, line and sinker. Alas the bug of fake news has also caught up with our media. The bottom-line is that anybody reading through our newspapers would have to put on his/her thinking cap, read between the lines to be able to separate the wheat from the chaff, to sift out what is true and what is false.
Here are samples of a few fake news reports in our country in recent times: "Senator Jang denies saying Hausa/Fulani will never rule Nigeria again". Any informed, unprejudiced and thinking person ought to realise or better said, ought to have doubts about the initial report in one Zuma Times quoting a senator of the Federal Republic of Nigeria as having said that a "Hausa/Fulani man will never rule Nigeria again". For, Senator Jonah Jang who represents Plateau North in the National Assembly being a politician, a governor and an arewa man is very well aware that elections are a game of numbers. It does not lie with him to decree by fiat that a Fulani man will never step foot into the Aso Rock villa again as even the votes in the length and breadth of his state represent a small percentage of the total votes required nationwide to elect a Nigerian president. Suppose the Zuma Times story was true, the unbiased reader would consider it as a foolish remark by a senator, former governor and northerner for that matter.
However, Senator Jang vehemently repudiated the news report credited to him, averring, "It is only a mad man that would say that in a democratic dispensation". In throwing it back to the purveyor of this fake news, the senator appears to have spoken out of anger when he said further, "Senator Jonah Jang remains a giant among his equals, a beacon of hope to his people and a committed person to the suffering of the minorities in the north who are persecuted for their beliefs, convictions and persuasions. He can never be deterred by a publication of no consequence sponsored by those who have been rejected by a vast majority of Nigerians". Senator Jang cannot truly say that the publication is one of "no consequence" for, if it were so, he would not be taking it so seriously to warrant a strong rebuttal from him. Fact of the matter is that in this digital age any report about us is permanently recorded and can be culled at anytime, anywhere from the internet. For the western countries that take what is on print as the gospel truth, they use it to formulate your character — your tendencies, etc. And this could be one of the things they reckon with when considering whether to grant you a visa, to let you into their country. So, refuting fake news about you is of great importance.
Governor Rotimi Akeredolu had to disown news reports that five delegates to the Second National Council on Niger-Delta died in an auto crash in the state. The fake reports were quoting an unnamed "eyewitness" who said that five people lost their lives in the accident. But the governor in a press statement by his chief press secretary, said, "Contrary to reports in the media that some delegates heading for the town hall meeting of the Second National Council on Niger Delta in Igbokoda, Ilaja local government area hosted by the Ministry of Niger Delta Affairs in collaboration with Ondo State government died in an auto crash on the Okitipupa-Ore Road, the government wishes to state that none of the delegates who attended the town hall meeting was involved in the auto crash". The government stated that the town hall meeting with Vice President Yemi Osinbajo in Igbokoda was successful, stressing that no delegate or other participants of the meeting were involved in the auto accident. Fake news. Eyewitnesses should be named for veracity
One newspaper had this scaring headline, "I will Destroy Nigeria Trump Vows; Calls Buhari 'Senseless Man'. The paper wrote, "In what appears to be a major diplomatic face-off over Nigeria's vote at the United Nations against Jerusalem as Israeli capital, United States President Donald Trump has vowed to sink Nigeria and destroy its leadership, according to a report by a Jewish newspaper. According to the newspaper, (Jews News) Trump has threatened to impose sanctions on Nigeria in response to how Nigeria voted against Jerusalem at the UN meeting. In a report entitled, 'So it begins: Trump majorly sanctions Nigeria over vote against Jerusalem – who is Next?', the paper said, "The US president's remarks were followed by a statement pointing clear that Nigeria vote against Jerusalem makes her a threat to peace.
"Trump said in a tweet he had spoken with the Chinese leader XI Jinping about the "provocative actions of Nigeria and promised: 'Additional major sanctions will be imposed on Nigeria. This situation will be handled'. "In remarks later on Friday at a public event in Missouri, Trump departed from a speech about tax cuts to aim a barb at the Nigeria leader, Muhammadu Buhari who he has previously referred to as, 'A senseless Man'. 'Senseless man he is a sick puppy"'.
There are loopholes in this report to doubt its credibility and pass it off as fake news. In the first place Nigeria is only one of the 128 countries that voted against America at the UN meeting. US allies and friends voted against the US. Indeed apart from the US itself and Israel, the only countries in favour of the US action as per the votes at the UN meeting are, Togo, Guatemala, Honduras, The Marshall Islands, Micronesia, Nauru and Palau. So why would President Trump single out Nigeria for 'punishment'. Why not start with its neighbours and other big allies that went against its wish too – the European, North American and Latin American countries? How does Nigeria's vote against Jerusalem "make her a threat to peace? That means the other 127 others that voted the way Nigeria did are also a threat to peace'? Why talk to the Chinese leader about the 'provocative actions' of Nigeria? Since when did Jinping start taking orders from Trump? Remember recent standoff between North Korea and America in which the Chinese leader flatly refused President Trumps pressure to impose sanctions on North Korea over the missile threat? And did Trump really call our president, Buhari, a "senseless, sick puppy?" I very much doubt it. If he did our envoys in
Washington, the United Nations and government officials here at home would have made a great noise over it and demanded for unreserved apology from the American president. Was it not only recently that Trump at the World Economic Summit said that he had deep respect for Africa while retracting the "shithole" comment he made about the continent? I consider this report as fake news.
Here is a variant of fake news as reported by a national newspaper."The police in Taraba State faulted the claim by the state government that a helicopter loaded with arms and ammunition had in the night landed in Jibu, a village in Wukari local government area of the state. Commissioner of Police in Taraba, Mr. Dave Akinremi at a press briefing in Jalingo said the report was false, misleading, unfounded and a deliberate attempt to misinform the people of the state.
"However, Senior Special Assistant to Governor Darius Ishaku on Media and Publicity, Mr. Bala Dan-Abu insisted that the Taraba State government still stood by her earlier statement
"'We also have our channels of getting information and I tell you that indeed a helicopter landed in that village with arms. We got our information from a credible source and we still stand by our words". In this case it is either the Police or the state government is giving out fake information.
Fake news of course knows no boundaries. Dr. Nkosazana Dlamini-Zuma former chairperson of the African Union (AU) and also an ANC member of parliament in South Africa has just rubbished reports that she wants to quit parliament because she is "tired, fatigued and exhausted". She said in a statement by her representatives, "Dlamini Zuma wishes to emphasise that she remains at the service of South Africa as a member of South African parliament and no fake news will dissuade her from her duties. Dlamini Zuma remains a loyal member of the ANC collective as a branch, National Executive Committee (NEC) and National Working Committee (NWC) member and no mischievous attempts of wedge driving will persuade her out of the movement she has dedicated all her life to. Dlamini Zuma remains full of energy and is neither resigning nor fatigued".