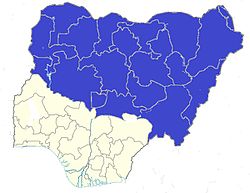 Monday Column by Emmanuel Yawe
royawe@yahoo.com | 08024565402
It sounded like the Biblical cry in the wilderness or the monotonous song of Governor Samuel Ortom in Benue State:
"Hon Minister, tell the president that we have to take very good care of our people, security first. All these programmes, as good as they are, cannot be without security. Security is first and fundamental, Every day, I receive reports of kidnapping and killings from district and village heads,"
This was the lamentation of a traditional ruler, to boot, the Emir of Katsina, Abdulmumini Kabir Usman last week while entertaining the Minister of Agriculture Audu Ogbe and the Governor of Central Bank of Nigeria Godwin Emefiele. The duo of top government functionaries were at the emir's palace in Katsina to pay homage ahead of the national launching of distribution of cotton seeds/inputs to farmers for the 2019 planting season.
Incidentally, President Buhari hails from Katsina state.
"What are you to gain by killing, kidnapping people? It's very unfortunate. I have not seen this kind of country; how do we live like animals? Three days ago Magajin Gari (of Daura emirate council) was abducted, nobody is safe now, whether in your house or road, wherever you are," he added.
Again, incidentally, the President hails from Daura emirate.
When the bloodletting started in Zamfara a few years back, President Buhari did the extraordinary thing of donning his combat uniform which he had not touched for almost forty years and went there to launch a special squad to tackle the menace. The state of anarchy in Zamfara has gone on regardless.
It has even gone beyond Zamfara and moved to parts of Katsina State, especially communities that share boundaries with Zamfara State. Killer squads, bandits and cattle rustlers have found home in these areas and are operating freely.
"What we want you to do for us is to stop the fight. Many people have deserted, abandoned their farms in fear of kidnapping and killings and other atrocities, it's very unfortunate,"
Nobody could have put it more politely and in a more civilized manner than the Emir of Katsina, who has earned my respect for standing and speaking out at this hour of our regional malady.
If the President is not embarrassed by the recent turn of events in the north, some of us are. In the run up to the 2015 elections, there was a spirited effort to cast him in the mold of an Islamic fundamentalist in the north by the PDP. Some of us who come from predominantly Christian communities had a hard time convincing voters that the issue at stake was not religion but who was better placed between President Jonathan and candidate Buhari to check the deteriorating security situation in the north.
We were happy he won in 2015; are still happy he won again in 2019 but certainly not happy that he has failed to secure life and property in the north which is currently under siege. Emirs in the north do not talk carelessly. There must be something terribly wrong for the Emir of Katsina to lament openly like he did last week.
To the Presidents credit we must give the check on the rapid expansion of Boko Haram which was spreading its deadly tentacles from the North East to other heavily populated northern towns like Kano, Abuja, Jos, Kaduna etc. Now they have been boxed to the North East even if we wished they were more decisively dealt with.
But the gains made it the fight against Boko Haram are now being wiped out by the spread of kidnapping and the endless clashes between farmers who are sedentary and the highly mobile cattlemen. The security situation now is so terrible that it is daily becoming impossible to continue with the peaceful lifestyle that was typical of the northerner. Kaduna, the town that served as the capital of the northern region and which serves as capital and has loaned its name for use by a leading North Western state has become a nightmare. Daily, inhabitants of Kaduna are hunted down like wild beasts, kidnapped and or killed. Those who try to flee to the relative peace of Abuja are ambushed and kidnapped for ransom or killed.
The insecurity in Zamfara, a combination of cattle rustling and illegal mining activities is fast spreading to contiguous states like Katsina and even the seat of the Caliphate in Sokoto.
When you come to the North Central, you are faced with a much more complex scenario. Here, the endless clashes between mobile cattle breeders and more sedentary farmers sometimes takes the inflammatory zeal of religion and ethnicity. Politicians always in search of such crack lines readily exacerbate the cleavages. It is there in Benue, Plateau, Nassarawa, Kogi etc. Kidnappers are also on the prowl here.
When you move to the North East, you are going into the Lion's den, the home of Boko Haram. They may have been "technically defeated", whatever that means, but they are still kicking, killing and abducting innocent citizens. Recently too, we saw the reemergence of the frightening Tiv/Jukun ethnic wars in Taraba that in the past led to the horrors of Zakibiam in 2001. Kidnapping has become such a favorite money spinner in Taraba; it is threating to eclipse all other economic activities in the state.
When President Buhari presides over the National Security Council of Nigeria, he is surrounded overwhelmingly by northerners. There have been repeated calls for him to rejig this "security architecture", a euphemism for him to reduce the over representation of the north on that council. By my training and upbringing, I do not engage in such pedestrian line of argument.
Still, I believe the President is poorly served by his security chiefs. Whether they are northerners or not is irrelevant to me. The current siege on the north is eloquent testimony to their failure. Additionally, when they open their mouths, they make simplistic, unscientific, senseless and senile statements on our security situation; you wonder how they got into those offices in the first instance.