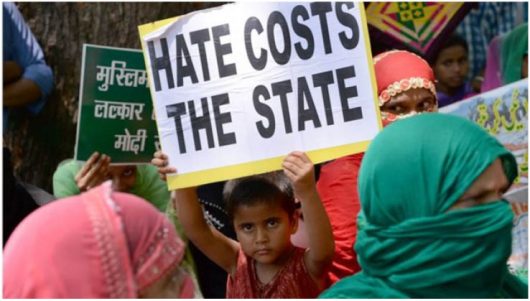 Over the last month, Dalits (formerly untouchables) across India have been threatened, beaten and killed for seemingly mundane reasons, highlighting again how vulnerable the community is. On Sunday, a groom was threatened for riding a horse to his wedding – because doing so is considered an upper caste privilege.
Here are five reasons why Dalits have been attacked and threatened in the last month alone.
Threatened for riding a horse
On 17 June, Prashant Solanki, a Dalit man in his late 20s, was on his way to his wedding riding a colourfully decorated horse, as is common practice, when he was ambushed by a group of upper-caste villagers. They insisted that riding a horse was an upper-caste privilege and threatened to attack Mr Solanki and his family.
Fearing for his life, Mr Solanki had the police accompany him to his bride's home and also to his wedding.
This is not the first time a Dalit riding a horse to his wedding has been threatened. A similar incident occurred in 2015 when villagers hurled stones at a Dalit groom in the central state of Madhya Pradesh.
Killed for sitting cross-legged
Two Dalit men in the southern state of Tamil Nadu were killed by upper-caste Hindus after a Dalit man sat cross-legged in front of them during a temple ritual.
The upper-caste Hindus called it a "dishonourable and insulting" gesture. About 15 of them went to the Dalits' neighbourhood and mounted an ambush. In addition to the two men killed, six others were injured and houses were damaged, according to police.
"The men who suffered injuries had deep cuts on their bodies made with sickles," a senior police officer is quoted as saying in the Indian Express newspaper.
Stripped and beaten for swimming
Three Dalit boys were stripped, beaten and paraded naked by villagers in the western state of Maharashtra last week for swimming in a well that belonged to an upper-caste family, police said.
In a video that was posted online, two of the boys are seen covering themselves with leaves as a man hits them with a stick and a belt. Laughter can be heard in the background.
"We are still afraid of further attacks," one of the victims' mothers told BBC Marathi. She learned about the incident when she saw the video online.
Police have arrested two of the men accused of involvement in the assault.
Beaten for wearing 'royal' shoes
Mahesh Rathod, a 13-year-old Dalit boy, was allegedly attacked in the western state of Gujarat for wearing a pair of "mojris" – leather shoes traditionally seen as royal footwear and worn by upper-caste members in some parts of India.
According to local media, he was approached by a group of men who asked him which caste he belonged to and when he said he was a Dalit, they abused him for "posing as an upper-caste member by wearing jeans, mojris and a gold chain".
In a video that went viral last week, a group of men can be seen beating Mahesh with a stick while he pleads for mercy.
He is reported to have been given police protection after that.
Violence over a Facebook name
Dalit and upper-caste men attacked each other in a town in Gujarat after 22-year-old Maulik Jadav decided to add a suffix to his first name on his Facebook profile.
Mr Jadav, a Dalit, changed his name to include "sinh" – a suffix that is traditionally used by an upper-caste community in the state.
"I changed my name from 'Maulik' to 'Mauliksinh' thinking we are free to keep the name of our choice," Mr Jadav is quoted as saying in the Hindustan Times newspaper. He added that he received threats on Facebook and over the phone. "They told me to remove 'sinh' from my name or to face the consequences."
The threats turned into violence when a group of men attacked Mr Jadav at his home the following day, leading to Dalit residents retaliating by storming the house of an upper-caste Hindu man.
Source: BBC