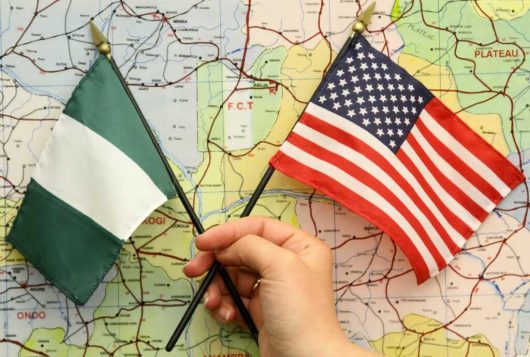 Thirteen U.S. military flag level officers and two government senior executives have been visiting Nigeria to strengthen strategic partnership against terrorism. The visit is part of a two-week "Capstone" tour. The United States Embassy in Abuja, Wednesday, explained that "In pursuit of these objectives, the United States continues its commitment to help African governments, including Nigeria's, to defend themselves against terrorism".
The strategy, it said, "helps build the capacity of local security forces and institutions to improve their ability to counter terrorism, transnational crime, and illegal trade in narcotics, human trafficking, and natural resources. Annually, U.S. Capstone participants visit approximately 50 countries during 12 field studies. The Capstone experience enables participants to gain firsthand observations of how U.S. and foreign officials integrate elements of national power to address national and regional threats and opportunities.
"Cultural events help the fellows gain a greater understanding of the countries visited. This group is one of three cohorts from the same class. The Goldwater-Nichols Department of Defense Reorganization Act of 1986 rendered the Capstone program mandatory. Success on the battlefield requires knowledge of military doctrine, the ability to operate in coordination with allied forces, and a global perspective on the part of senior government and military leaders to execute their strategic plans."
The tour took off on August 6 when the delegation, led by senior fellow U.S. Marine Corps General John M. Paxton, Jr. (rtd.), visited the Nigerian Defense Headquarters to meet with their Nigerian military counterparts and to express their appreciation for their enriching visit to Nigeria". The Embassy said U.S. government's strategy for Africa "focuses on three core objectives which are, advancing trade and commercial ties with key African states; protecting the United States from cross-border health and security threats; and supporting key African states' progress toward stability, citizen-responsive governance, and self-reliance".
We have always welcome American help towards defeating terrorism on Nigerian soil, represented by mainly Boko Haram. This assistance that has been coming in large doses since 2015 when Muhammadu Buhari became Nigeria's President has helped the Nigerian military to downgrade the potency of Boko Haram. Before Buhari, America was less enthusiastic about helping Nigeria militarily. The first indication of a thaw in relations between the two nations emerged in February 2019 when Washington, for the first time, agreed to sell super fighter planes worth. hundreds of millions of U. S. Dollars to Nigeria. This strategic cooperation has grown ever since.
However, we do have some concerns that threaten to undermine the good relationship between the two governments. These have to do with the harmful activities of so called rights groups and news media organisations based in the United States. Amnesty International, in particular, has been a pain in the Nigerian military's neck. It gives away information about troop movements that the enemy intercepts to kill government soldiers in ambushes. The media, on their part, spread fake news about the military's handling of the corpses of soldiers killed in battle. The Wall Street Journal only last week reported the military has buried thousands of its dead in secret graves. The aim can only be to dampen troop morale and destroy public confidence in the military.
We are not, by any means, suggesting that the U. S. government clamp down on these those organisations. American laws allow them to operate on American soil. All we are asking is that the government takes steps to ensure that people it sends to Nigeria in the name of strengthening "strategic partnership" do not turn out to be the same ones that hurt this partnership. It could be that they are the ones giving information about Nigeria to the organisations whose activities hurt our own strategic interests.