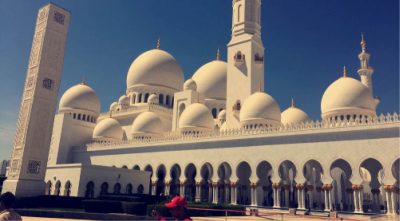 By Sumaiya Musa, just back.from Abu Dhabi
The United Arab Emirates is a tourist attraction any day. Beautiful people, alluring architecture, tourist sites, and an emerging international trading hub too. From the artificial canal cutting through the desert hinterland which connects the gulf water to the sea, to the magnificent tallest building in the world – Burj Khalifa and a host of other amazing architectural masterpieces, the UAE also has a mosque which is characterised by several distinctions.
The grand Sheikh Zayed Mosque was constructed between 1996 and 2007 designed by Syrian architect yousef abdelky. It is located at Abu Dhabi, the capital city of United Arab Emirates. It is said to be the largest mosque in the country. it is a key place of worship, and accommodates more than 50,000 worshippers.
The construction cost 2 billion Dirham (US$ 545million). Sheik Zayed Mosque was launched but the late president of UAE Sheikh Zayed bin Sultan al Nahyan who was buried on the ground of the mosque.
The mosque has the world largest carpet and a masterpiece of modern Islamic architecture and design which contains seven chandeliers, each made up of millions of Swarovski crystals.
The overwhelming impression of the breathtaking interior is contemporary with three steel gold brass and crystal chandeliers filling the main prayer hall with shafts of primary coloured light.
Also, vistiors and non-worshippers are welcome to enter the mosque except during prayer times. It also has a dress code in which men are expected to wear long trousers and full sleeve short or half sleeve and the women are required to wear hijab and abaya.
The grand mosque is the most beautiful mosque I had seen so far – the beaty is one of a kind. I also met a lot of people with different backgrounds across the world in the mosque. It was a great privilege being there and would also like to take a tour another time.