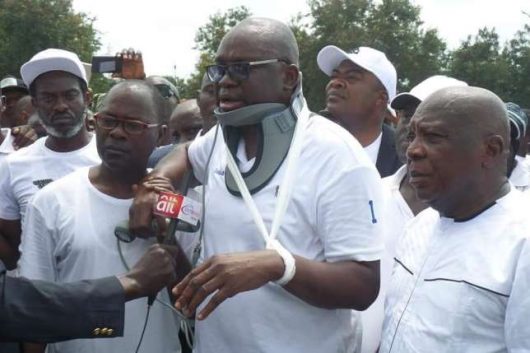 Ekiti state voters will, all being well, elect a new governor tomorrow to replace outgoing Ayodele Fayose of the Peoples Democratic Party (PDP). Thirty five registered political parties are fielding candidates in the election in which the stakes are understandably very high. The field looks crowded but the contest is really a two (or is it three?) horse race between Fayose's deputy, professor Kolapo Olusola and Dr Kayode Fayemi, the candidate of the All Progressives Congress (APC). In truth, it is a fight between two FAs – Fayemi and Fayose, both former governors. In 2014, Fayose and his PDP trounced Fayemi, then the sitting governor and his old party, Action Congress of Nigeria (ACN) in all 16 coucil areas of the state. In today's poll, Fayemi wants to redeem his badly bruised ego and Fayose wants to put his own man in Government House in Ado Ekiti to prove he is the state's political Titan. However, he is up against a formidable foe, backed by a federal force from Abuja.
The pre election campaign has been strident and often belicose. An election monitoring institute based in the United States predicted violence before, during and after polling. The Nigeria Police Force said its threat assessment had identified some flash points and based on that they had deployed 30,000 officers, led by a deputy inspector general of police, to police the July 14 election. Besides, other security agencies have sent their men to Ekiti. The police deployment is made up of officers from the Mobile Police Force, Counter Terrorism Unit, Special Protection Unit, Anti Bomb Squad and the Armament Unit, among many others. All this for just one state! Is Ekiti at war? This is the question people are asking. Secondly, the police are giving the the impression that they are the ones conducting the election, not the national election umpire, the INEC.
We have consistently canvassed demilitarisation of the electoral process in this country. Too visible a security presence is sure to keep voters at home than want to go out to vote. We saw it in Ekiti in 2014, and after that in Anambra, Ondo and Edo states. Again, as we witnessed in those states, the police presence did not prevent violence but indeed provoked it. Just this last Wedneday, violence erupted at a rally of the PDP, just few metres from the entrance of Government House, Ado Ekiti. Governor Foyose claimed he was pulled down by armed policemen. He appeared on TV later, giving impression his neck was affected. He wept as he narrated his ordeal. Force Headquarters spokesman ACP Jimoh Moshood denied the governor's claims, accusing him instead of inciting his party's supporters to violence. But is it not to prevent such accusatios as made by Fayose that the police should not assume too visible a role in elections? If the electoral umpire does not ask for a massive show of force, there shoouldn't be any. In this case, we have no evidence INEC asked for any. As the saying goes, the police must not be more Catholic tthan the Pope.
Clearly, what is happening in Ekiti does not portend well for the national elections coming up next year. Elections should not descend into cut throat competion but should offer a platform for people to offer themselves for service to their communities or the fatherland. This is how it is done in the advanced democracies. It is high time we advanced to that decent democratic culture. God help us.