That attack on Emir Al-makura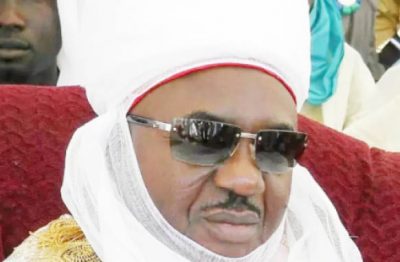 Tuesday Column by VICTORIA NGOZI IKEANO
vikeano@yahoo.co.uk 08033077519
Shocking is perhaps an understatement for recent attack by irate youths on the Emir of Kwandere in Lafia local government area of Nasarawa State, Alhaji Ahmadu Al-makura, a first class traditional ruler who happens to be elder brother of incumbent Governor Umar Tanko Al-makura, albeit, his relationship with the governor is of secondary importance in this write-up because to view the matter from that perspective is to be tempted to dabble into the realm of partisan politics. I wish to view the issue mainly from the prism of our traditional institution and evolving times.
The event in Kwandere was shocking not least because in this part of the country especially, the traditional institution is still very much revered. Of course, in recent times we have been inundated with reports of politicians from Senators to Assemblymen being stoned by their seemingly dissatisfied constituents. Politicians after all, are supposed to be servants of their people who elected them, accountable and responsible to their constituents and whose positions are consequently at the whims and caprices of their people, (never mind that once sworn into office these politicians overnight become masters of sorts lording it over their supposed lords). Whereas in politics practically anybody can be elected into any office, in the traditional institution the opposite is the case for whoever climbs to the revered stool of a traditional ruler must be morally and physically sound.
The concept of philosopher king pertains to the traditional institution, for, the King, traditional ruler not only oversees the earthly affairs of his people but is also their spiritual leader. This is still true of traditional rulers (Emirs) in northern Nigeria. Against this background, the attack by protesting youths on the traditional ruler of Kwandere, Alhaji Al-makura on his way to Lafia, the state capital after the Friday prayer in his domain which he led, is an assault on our traditional institution. It is an indication of the increasingly deviant behaviours of our youths in these changing times. My grandmother would say that it is a sign that our world is turning 'upside down'.
The Kwandere youths were reportedly protesting takeover of their farmlands for public projects amongst which are the cargo airport, international market and comprehensive health centre, with little or no compensation. The Comprehensive Primary Health Centre was commissioned in February by President Muhammadu Buhari during the first presidential official visit to the state. The federal government plans to build 100 housing units in Kwandere.
Giving a background to the attack the Emir of Kwandere said, "They said they would not give their lands for the building of 100 housing units by the Federal Mortgage Bank in the area. They also said that their lands were taken over for the building of Comprehensive Health Centre, International market, among others. So, they said that I should talk to the governor, that they would no longer give their lands for further projects".
Continuing the royal father disclosed that he had earlier had a meeting with the aggrieved youths during which it was agreed that they should outline their grievances in writing for onward transmission to the state governor.
"I offered to lead the delegation to the governor but to my surprise, they still attacked my convoy, destroyed my vehicles and attacked even policemen", the Emir narrated. The exact number of casualties and damages could not be ascertained even as the youths alleged that one Hussaini Yahuza was killed in the fracas but this could not be confirmed by the state police command.
Youths in the area alleged that their protest was peaceful until the shooting of a protester by a policeman in the Emir's entourage which enraged them and aggravated the fracas. But Emir Ai-makura denied ordering policemen to shoot at them, his subjects. Leader of the youths, Ibrahim Musa stated that after the fracas, some youths suspected by some to be "palace thugs" razed down his house in the night. "The youths stormed my residence and set my house ablaze including all my properties and N1.2 million of land I sold to someone".
Every Nigerian politician longs to use the rare opportunity at his command, to develop his hometown, to bring the dividends of democracy to his people. This is what Governor Almakura is doing by siting those projects in Kwandere. Ordinarily those projects should rub off beneficially on the populace. As farmers who live off their lands, their lands are important to them. All things being equal the benefits derivable from a project should outweigh its cost. Could it be that after doing their own cost/benefit analysis, the people of Kwandere do not see many positives in these projects, do not think that the proposed federal housing units would directly touch lives of majority of them, hence their reluctance to part with more of their lands? Or could the whole problem be due to lack of proper communication and education? Still, the youths and others are in the wrong in attacking their traditional ruler. We should respect constituted and traditional authority. Dialogue, rather than violence is the best way to solve any problem for, violence is an ill wind that blows no good.