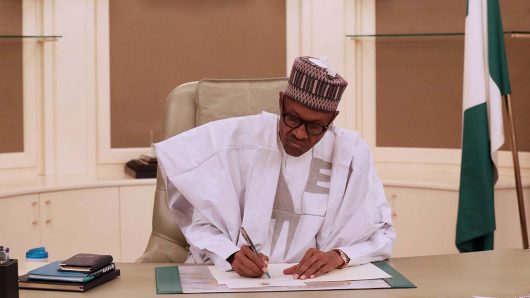 President Muhammadu Buhari, last month, signed into law a bill that limits a vice-president or deputy governor who completes the term of their principals to election only once. It is one of four election related bills he signed on June 9.
Presidential Senior Special Assistant on National Assembly Matters, Ita Enang, speaking the first bill (#16), said the new legislation would ensure that "a vice president or deputy governor who succeeds and completes the tenure of a president or governor can only run for the office one more time. The point "is that having taken the oath as President once, you can only contest once again and no more. That is the intent of this amendment."
Before now, the practice was for the vice president or deputy governor to finish his principal's term and go on to run for two more terms. Former President Goodluck Jonathan benefitted from that old constitutional arrangement. He succeeded President Umaru Musa Yar'adua who died in office in 2010. He won the Presidential election of 2011 and ran again in 2015, losing to today's incumbent President Muhammadu Buhari.
Mr. Enang also announced an alteration to the law governing the conduct of by elections by the Independent National Electoral Commission (INEC). The umpire now has up to 21 days to do so. Before it was given only seven days. "This amendment number 9, now an act, gives the Independent National Electoral Commission sufficient time to conduct by elections. It has increased the time from seven to 21 days and generally widened the latitude of the Independent National Electoral Commission to handle election matters upon vacancy occurring." He said "There is another of the acts which has come into force today, Constitution Amendment Number 21 which relates to the determination of pre-election matters. It has reduced the date and time of determining pre-election matters to ensure that pre-eletion matters in court do not get into the time of the election and do not pend thereafter. The relevant sections of the Constitution had also been amended by this act."
We welcome these constitutional changes, coming as they are 21 years after the 1999 federal constitution took effect. Under it, we have had over 20 years of uninterrupted democratic rule. There have been bumps here and there, not totally unexpected. It is all a learning process. The aim is that as we stumble along, we shall learn. What is learnt should enrich the Constitution and so deepen our democracy. We expect more of such changes in the near future. The next one should give the third tier of government (local administration) its independence.