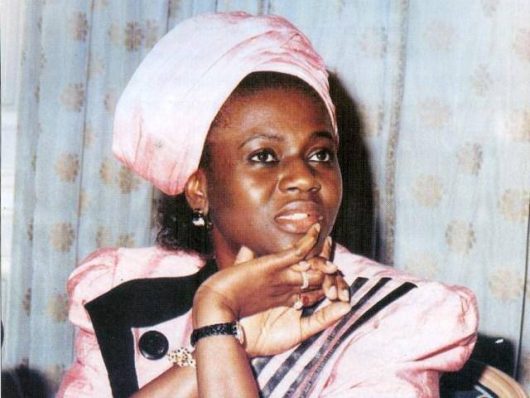 Monday Column by Emmanuel Yawe
royawe@yahoo.com | 08024565402
On 28th December 2009, I was home in my rather remote village for the end of year festivities. My old mother was still alive then and as the evening closed the day, I was looking forward to the next day for the breakfast she served me every morning: roasted yam with red palm oil.
Then my phone rang. A reporter from Abuja was crosschecking with me if the news about Maryam Babangida's death was true. I told him I had no such information but promised to get back to him. Then I called the Babangida home to ask. The angry voice of a close aide of President Babangida answered me.
"Emmanuel where the hell are you? There is a tragedy in the family and we can't see you? We can't even get you on phone?" I tried to explain that I was in the village. Given the mood in the Babangida home at the time, I am not sure my explanation made sense to him.
After that, I called the meticulous journalist to confirm the sad news: Maryam Babangida is dead.
First thing the following morning, I jumped into my old banger and kicked off to Abuja. My mother was solely disappointed not because I left her with her roasted yam and palm oil but more because of the death of Maryam Babangida.
About seven years later, Babangida called me on April 9th 2016 to condole me on the death of my mother, which sad event took place on 30th Mach 2016, I was taken aback and then moved. Here was a completely rural illiterate woman whom he never met; still the former President had the presence of mind to call me, her son, to condole me on her death. I quickly recovered from the shock of answering the presidential call and told him that he is the one that needed condolence and not me. I told him that up to her death, my mother was a fanatical follower of his late wife – whom she never met – Maryam; that she kept asking me questions about Maryam that I could not answer.
This is a true testimony. My mother was given out to my father in marriage at the age of 13. She often told me that she saw her first menstrual period in my father's house. Given the circumstances that surrounded her life, she never had the opportunity to go to school. She spent all her life in the rural area, surviving on the backbreaking subsistence farming people of her class were condemned to.
Often, when I went home to see her, she and the other women of her class would be clustered under the shed of the mango tree in our compound, discussing or gossiping endlessly. Then in September 1987 Maryam Babangida the wife of President Babangida came up with the idea of Better Life for Rural Women or BLP. She often told me that she was born under and had experienced colonial rule, civilian and military rule in Nigeria and that no government programme made any meaning to her like the Better Life.
I noticed that they were still sitting under the mango tree. But far from just gossiping, they were discussing things that were meaningful to their lives. The Better Life Program had stimulated them to start discussing the relegation of rural women in discourses affecting national development and invisibility of positive actions towards causes favoring rural women. All this was possible because as the leader of their group, my mother started attending meetings at the Ward level. She soon got promoted to represent the Ward at the Local Government Headquarters and then became a delegate of the Local Government at the State Headquarters. Here she attended meetings of a committee under the headship of the wife of the military governor, that included a director general and leading female government employees who managed and implemented BLP projects in her state.
It was at these meetings that she gained exposure to the issues of rural women and how they could be solved.
When the project started, the objectives were to reduce maternal and child mortality rate by increasing basic healthcare facilities for women, provide income generating opportunities in agriculture and cottage industries, integrate rural women into national development plans and develop educational training for women.
Better Life Programme focused on key areas of nutrition, education, agriculture.
In agriculture, BLP created strategies that mobilized some rural women farmers to produce affordable food crops that have nutritional and national development values such as Cassava for starch production and grain produce. Women farmers were encouraged to unite under cooperative societies to increase access to credit and land grants, extension services and technology.
The programme introduced basic farm and mechanized inputs such as cutlasses and subsidized tractor for hire service. Food processing machines were also made available to women farmers.
Additionally, a strategy to increase literacy and the agriculture know how of rural women was adult literacy programmes tailored to functional and vocational subject areas such as dress making, knitting and mathematics.
Also, BLP mobilized the provision of primary health care centers close to rural settlements. It mobilized women to get immunizations, established small pharmacies and trained mid-wives and provided VVF centers. The programme was also involved in extending family planning services to rural women and providing education about health and safety issues concerning child marriage and sexually transmitted diseases.
How did Maryam Babangida come by this comprehensive programme for rural women?
Prior to the launch of Better Life, she held consultations with various stakeholders such as the Directorate for Food and Rural Infrasturcture and women organizations about economic and social constraints affecting rural women. In 1986, she visited two villages close to Lagos, Igbologun and Ilado-Odo. The villages did not have clean water and power distribution infrastructure. The visit confirmed her understanding that more actions should be directed towards rural development. In 1987, a workshop on the role of rural women in development was held in Abuja and led to the establishment of BLP.
These were issues and processes that were beyond the understanding of my mother. She simply saw a programme that made life much more meaningful to her and as far as she was concerned, the woman who introduced the programme was a good woman. She often asked me why governments that came to power after President Babangida were not keen on going ahead with it.
This was a question I could not provide an answer to until my mother's last breath.