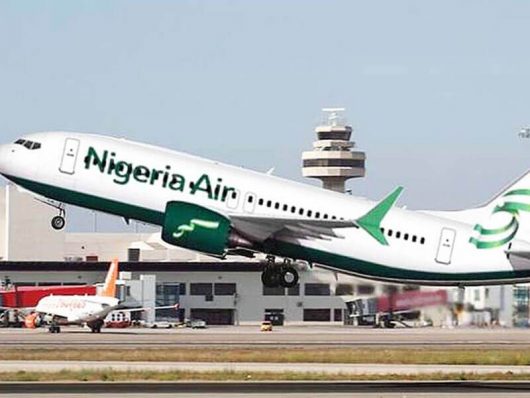 The federal government, recently, made the right decision to "suspend indefinitely" the take-off of the proposed national carrier, Nigeria Air. Its inaugural flight had been fixed for Dec. 24 this year, after its unveiling July 18 in London. Anouncing the decision on his twitter handle, aviation minister Hadi Sirika said, "I regret to announce that the Federal Executive Council (FEC) has taken the tough decision to suspend the national carrier project in the interim. All commitments due will be honoured. We thank the public for the support as always."
Hadi did not give the reasons for that "tough decision". However, we recall that before now, April this year precisely, he had explained the "slow take-off" of the proposed Nigeria Air. "We don't want to rush into establishing a national carrier, because if we fail, it would be disastrous and nobody will believe us again. So, we need to tread cautiously. We will fast-track, and be quick so that we can produce something that would stand the test of time," he told the Senate's Aviation Gommittee, headed by senator Adamu Aliero.
Beyond what the minister had said, industry insiders have speculated on the 'real' reasons for the government's latest action. These include investor apathy, the structure of the new airline and funding. According to the Outline Business Case (OBC) approved by the Infrastructure Concession Regulatory Commission (ICRC), the airline is a public private partnership (PPP) project, with 95 per cent shares pushed to investors while the government will own the rest. For it to take off, the government is expected to provide N3.168 billion ($8.8 million) initially. It was learnt that the N3.2 billion is part-payment for the government's five per cent equity in the investment, estimated at N108 billion ($300 million) over the next three years.
Whatever the actual reasons may be, it is obvious that the majority of Nigerians do not want a national airline set up and run by government. They are mindful of the sad debacle of Nigerian Airways, the severance entitlements of its 6000 workers still unpaid, several years after its scrapping. Then there was the failure of Air Nigeria on arrival. What grounded the two national airlines was official corruption. There is no concrete proof that this cankerworm has been removed. Yes, the Buhari administration is fighting corruption very hard, but the corrupt ones are fighting back.
So, if today, the government has realized that a new national carrier initiated and run by it will not succeed and therefore has decided not to go ahead, so be it. Our only regret is that the decision did not come sooner. Money already put into the project would have been saved. All the same, we praise Buhari for plucking the courage to reverse himself in this matter.