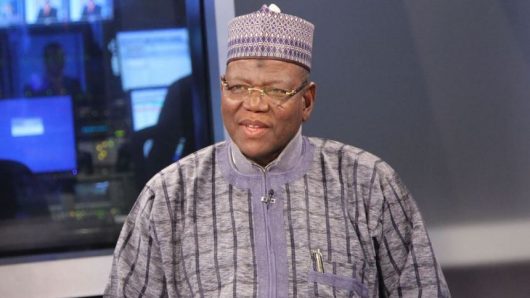 From Uche Uche, Damaturu
PDP presidential aspirant for the 2019 general election, Sule Lamido, has carried his campaign train to Yobe state where he urged the people to vote for PDP to install a government of inclusiveness devoid of segregation, sectarianism, where every Nigerian, irrespective of his religion, tribe or political affiliation will be treated equally as being a Nigeria.
He promised that if given the mandate to serve the country as president, his administration would treat everybody equally under the law, improve the presently battered economy and give the youths the opportunity to grow to become good Nigerians of tomorrow.
He regretted that insecurity is increasing and spreading all over Nigeria where peace had existed and there is no sign of improvement but great loss of lives and properties as the result, thus hindering any meaningful development of the country.
He said PDP has visionary leaders who are Nigerians of old who forth to bring a democratic government to the country and thus commended former leaders before and after independent who insists in unity of the country without discrimination, saying the future of this country lies in the hands of the like leaders.
He therefore urged the people to vote for him, do their best to restore the lost glory of PDP in Yobe state under the founder and pillar of the party, Alhaji Adamu Maina Waziri who has remained resilient in his effort to keep the flag of the party flying despite several years of adversity and adverse treatment against his person and the party in the state.
He promised to bring changes in the fortunes of the people, stating that it was for that reason that he visited Yobe personally, as the first presidential candidate to do so, in order for him to see things for himself and know the needs of the people, first hand, and put up plans on how to improve their situations.
To buttress his point, he asked the people to consider his achievements in the development of his own state, Jigawa in terms of provision of infrastructure in areas of road network, health, education, to mention just a few, pointing out that Yobe state in particular, and the country in general would experience impartial, nondiscriminatory development for all the states.