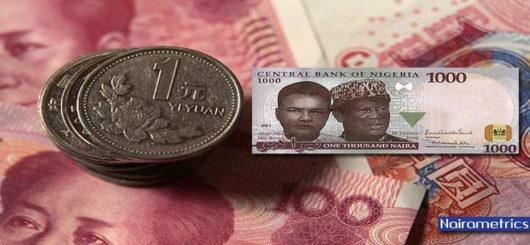 Nigeria and China recently agreed a currency swap deal that will allow their central banks to accept business transactions in the Nigerian Naira and the Chinese Yuan Renminbi, Yuan for short. One obvious advantage of the deal, as it were, is that the pressure on the Naira will ease off as demand for the US Dollar reduces. In other words, the exchange value of the local currency will increase.
However, Nigerians fear that the deal will open the Nigerian market to all manner of imports from China, thereby further weakening the national economy that only recently came out of recession. However, Central Bank of Nigeria's acting Director of Communications, Mr. Isaac Okorafor has dismissed such fears as unfounded. He said imports allowed under the deal "are not necessarily finished goods". Besides, the 41 items for which foreign exchange was denied in 2015 are still under ban. They include rice, cement, private jets, toothpicks, ceramics, tinned fish, poultry products, furniture and table wares. The purpose of the ban was to save foreign reserves, encourage local production and create jobs.
Another question Nigerians are asking over the deal is which country stands to gain more from it, China or Nigeria? At present, China accounts for over a quarter of Nigeria's total annual imports, which in 2017 stood at over N9 trillion. However, Okorafor believes the benefits will be mutual. He said under the deal Nigeria would "focus on exports to China". He added, "Remembed that we already export cassava, leather, hides and skin, among others items to China."
Yet a third issue is the exchange rate of the two currencies. The draft deal does not mention the rate but Okorafor assures that "the exchange rate will be will be such that it will be competitive, fair to all and will not hurt our local producers and importers." He said once the deal was finetuned, "Nigerian entrepreneurs will be able 4o access the Yuan through money deposit banks, using similar rules for the dollar." But there will be clearing house for all transactions. And the clearing bank must have a branch in China. This should not be a problem because many Nigerian banks already have branches in that country.
What will make Nigerians happy about the deal is the emphasis on Chinese firms setting up production lines in Nigeria. The deal also states that the production lines, as much as possible, should be manned by Nigerians. "If they produce here", Okorafor reasons, "it will be better for them. The cost of transportation, shipping will be eliminated. We have a good environment, so a good number of them are interested in setting up production lines here."
This all sounds too good and too easy to be true. We hope it is true. China is no Father Christmas. As far as we know, that country does not give out free launches. Something must give. This is why we suggest the Nigerian government study the deal very well to know what Nigeria is giving away and what it is getting back. We must not rush headlong into the deal.